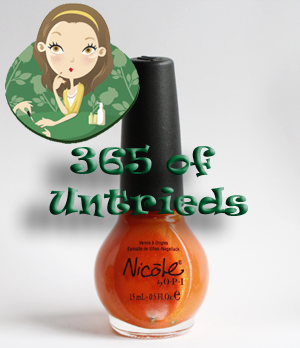 365 of Untrieds is my personal challenge to weed through the polishes in the ALU stash that I've been wanting to try but just haven't gotten around to.
Three years ago, Rihanna stopped traffic on the Grammy red carpet when she paired an electric blue dress with nails adorned in traffic cone orange, kicking off the orange nail polish trend of Summer 2008.  Well orange is back people.  It's one of the biggest trends for Spring/Summer 2011 though this time around it's more about brights than neon.
I've worn a lot of orange polishes in the past so I wasn't sure I would find anything that I haven't at least tested on one nail and then I came across Nicole by OPI Fresh Squeezed.  Fresh Squeezed came out last year when I was all up in my turquoise phase and couldn't get into it but, its time has come.

Formula & Application: Nicole by OPI is a 3-Free brand.  The bottle shape is distinctive with its bulbous base and long, tapered, matte plastic cap.  The round brush reminds me of the old OPI brushes, pre pro-wide.
This particular polish applied somewhat thin and watery which resulted in a semi-opaque coverage even after three coats.  I can still see VNL (visible nail line) in most lighting so I can't really classify this color as opaque.  In spite of the opacity issue, the brush and polish work very well together giving great control over placement on the nail.

Nicole by OPI Fresh Squeezed is a reddish orange, jelly type polish peppered with metallic orange flecks of glitter.  The glitter is pretty tonal which helps the base hue stay true but because it's metallic it dances in the light, the nail polish equivalent of "jazz hands."   The color itself is a bit more nectarine than tangerine or true orange.  That hint of red in the base lends itself to being classified as a soft melon but it's a bit too radioactive to be considered cantaloupe.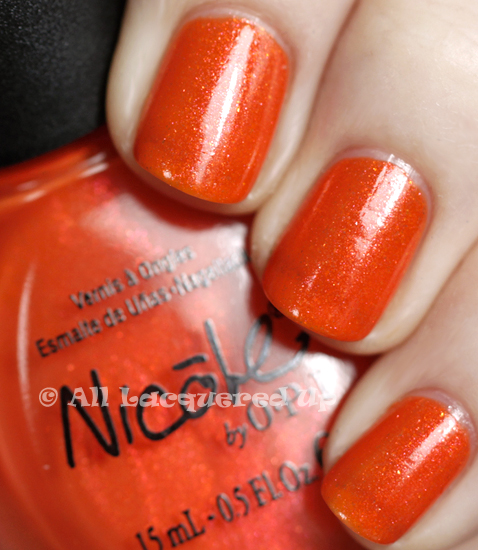 Bottom Line: I love the color but the opacity issue bothers me.  I don't know if Nicole by OPI could pack more pigment into this one and maintain its lovely application but I wish they would have tried.  VNL after three coats is a no-go for me, especially since this is the type of shade I would wear on my toes.  VNL on toes, I don't think so.
365 of Untrieds Stash/Share Verdict: Unfortunately, it's heading to my SHARE bin.
Nicole by OPI nail polishes are available at mass retailers including Meijer, Target and Walmart. Nicole by OPI retails for $7/ea for a .5oz bottle.
Thoughts on NbO Fresh Squeezed?  Would you give up a polish because of VNL, layer it or just deal with it as is?  What's your favorite orange polish?  Do you plan to embrace the orange trend this summer?
Disclosure: A product sample was furnished by Nicole by OPI. For more info view my Disclosure Policy.