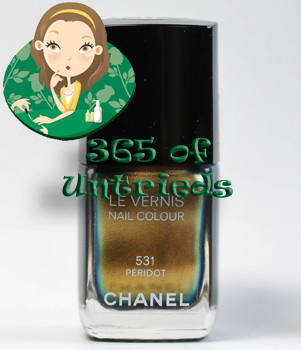 365 of Untrieds is my personal challenge to weed through the polishes in the ALU stash that I've been wanting to try but just haven't gotten around to.
Even though Chanel Graphite is the Fall Chanel color that caused me to swoon, it's Chanel Peridot that is getting all the buzz. I even saw Bobbie Thomas mention it on her Today Show "Minute Buzz" segment along with LCN Magnetic Polish (yay!).
Now you know I'm all about the greens but I haven't exactly been champing at the bit to wear Peridot. Yellow greens are just not my thing. They remind me of cat's eyes which, as much as I love my furballs, are a creepy color.
I did a nail wheel swatch of Peridot when it arrived and felt pretty "meh" but I'm finally taking the plunge since so many of you have asked about it.

Formula & Application: Chanel nail polish is 4-Free (includes formaldehyde resin) plus there's no camphor, which can be an irritant. The signature square glass bottles are topped with a black square outer cap that is removed to reveal a stubby, round, ribbed inner cap. The brush is round, medium in length and width and reminds me of the old OPI/new SOPI brushes. It easily fans out and covers the nail without much resistance.
Peridot is a metallic so expect to see some brush strokes, which is why I'm not typically a fan of that finish. The bonus is that it applies nice and thin so if you have a good technique, you can get it on with minimal brush marks in two coats. Application tip: Wait until the first coat is dry. Applying a second layer of metallic over wet polish will amplify the problem.

Chanel Peridot is a duo-chrome, meaning it flashes two colors, that looks more gold than green. You can see traces of a mossy hue at the edges and at certain angles but from straight on this is a tarnished gold.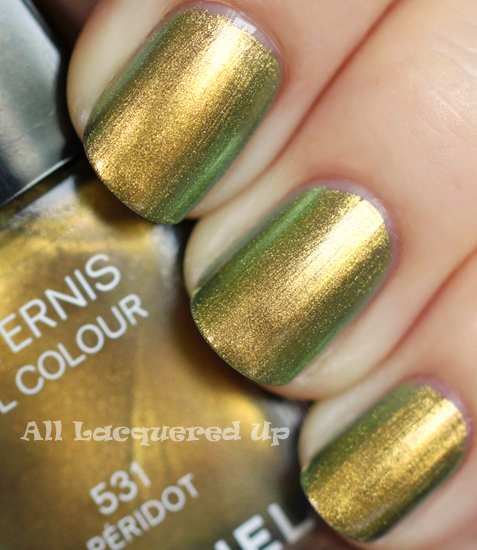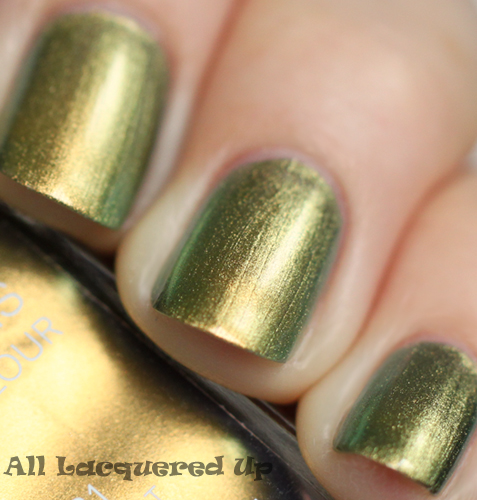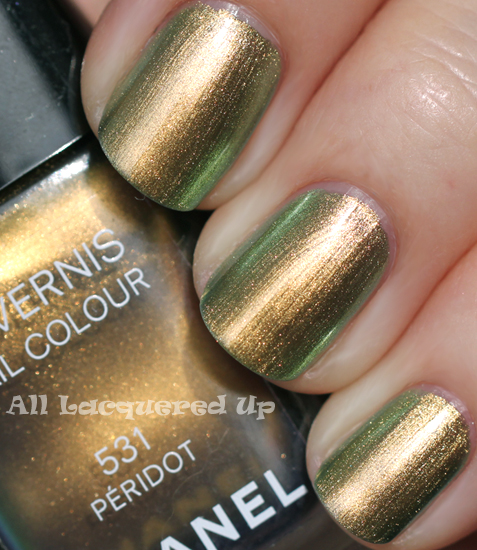 I've heard that a European Sephora nail polish called Diving in Malaysia is a pretty close dupe to Peridot but no twins exist in my stash. I'm sure part of it is that I'm not a fan of these types of colors. Like I never jumped on China Glaze Cat's Eye. In my collection, the only colors I own that even come close are Nubar Wildlife (a bronze green duo-chrome), China Glaze Peace on Earth, Quirius Cresskill Eye and OPI Simply Smashing but none of them are a match.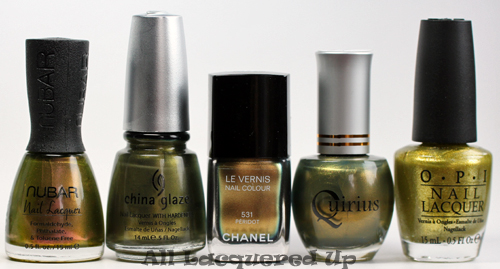 Peace on Earth is way too green with no duo-chrome effect and Cresskill Eye is muted, as though there is a teal film on the surface. Peridot is definitely a stand out shade.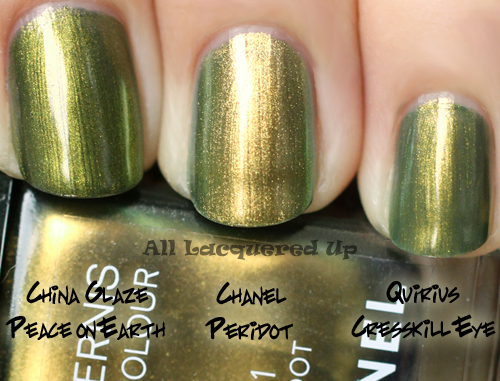 Bottom Line: I'm torn. Peridot is definitely a unique shade and a Chanel duo-chrome is something worth getting excited about plus its relatively low brush stroke tendency is a bonus.  If this color is in your wheelhouse, I have no doubt you'll adore it however, on my nails I'm not like ready to do a Jersey Shore fist-pump over it.
365 of Untrieds Stash/Share Verdict: Hmm, I honestly don't know. I feel like I should STASH it because it's unique and I don't have anything like it but that seems like such a Hoarders-esque rationale. What do you all think? STASH or SHARE? And WHY?
Chanel Peridot is a limited edition shade and it's available now at Chanel counters nationwide and online at Chanel.com and department store websites like Nordstrom.com. Chanel nail polish retails for $25/ea for a .4oz bottle.
Thoughts on Peridot? If you haven't yet purchased it, do you plan to? Are you a fan of the gold-greens? Can you think of any US nail colors that might be similar?
Disclosure: A product sample was provided by Chanel. For more info view my Disclosure Policy.