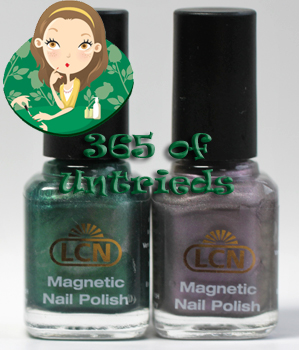 365 of Untrieds is my personal challenge to weed through the polishes in the ALU stash that I've been wanting to try but just haven't gotten around to.Once upon a time, Lancôme released Le Magnetique, a magnetic nail polish, and people even outside the nail fanatic realm were fascinated. Tiny metallic particles in the polish formed a star sapphire pattern on the surface when a special magnet was placed in front of it. What a crazy and unique concept, no?

Of course, Le Magnetique was a US limited edition which upset international fanatics, rightfully so. Then L'Oreal (Lancôme's parent company) decided to release a special European version of Le Magnetique under the L'Oreal brand in a wider range of colors which upset the US fanatics, rightfully so.

That brings us to today. We haven't heard a peep about magnetic nail polishes in the US since the Le Magnetique craze and it was almost as though we forget they ever existed. But now, thanks to LCN, we have a whole new set of magnetics to play with and a new design pattern.

Formula & Application: The LCN bottles do not list ingredients and the polish is made in Germany so I have no idea if it is 3-Free or not. The short, square bottles have a smooth, stubby cap with an medium length, round brush inside.
The polish itself is somewhat thick and goopy and it has a metallic, brush stroke finish so I wouldn't recommend wearing the polish on its own, though you certainly can. I'm just not a fan of brush marks so it's not something I would reach for if the magnets weren't involved. While the polish is pigmented enough to only need one coat, the pattern will be stronger with more depth if you use two coats.

Application Process & Tips: Magnetic nail polish contains tiny metallic particles that are attracted to the specially designed magnet. Because the magnet has a pattern engraved into it, the particles create a design (star sapphire or diagonal stripes) when held over the nail. The process can be kind of tricky and takes a little practice so here are my helpful hints to working with the magnets.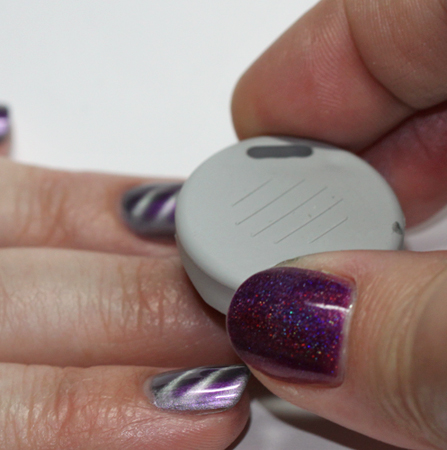 Work on one nail at a time – The nail polish dries pretty fast and it must be wet for the pattern to form so polish all of your nails with one coat and then, one at a time, apply the second coat, holding the magnet over each one as you go.
Steady the magnet by holding it perpendicular to your work surface – I had a rough time trying to hold the magnet over my nails without hitting the surface. I found that standing the magnet up, similar to the Le Magnetique magnet holder, I was able to raise my nail to the magnet and see exactly how close I was to the surface. This may not be ideal with longer nails but it worked perfectly for my length.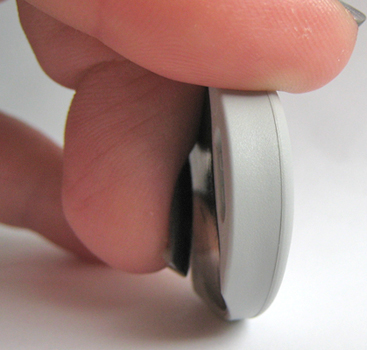 The Le Magnetique polish magnet makes better stars – I don't know if there's a difference in the strength of the magnets or if the pattern is cleaner but I had a bitch of a time creating the star sapphire pattern with the LCN magnet. One side of my nail never formed the pattern or it wasn't very strong. For me, the best stars came from using the Le Magnetique magnet though I still found the diagonals turned out best. Maybe my LCN star magnet is just a lemon.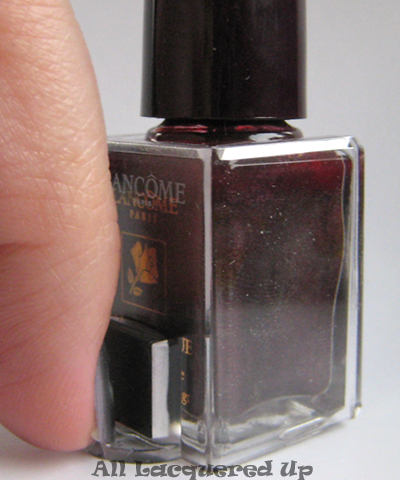 If you mess up, add a new layer – To perfect your patterns, hold the magnet over each layer of polish. You can essentially "erase" a bad pattern with a new layer of polish without having to start over. I wouldn't suggest exceeding three coats since the polish will get really thick and start to pull.
Wait until the pattern is dry to apply top coat – If the polish is still wet, applying top coat will destroy the design. Wait at least three minutes before applying your top coat.

LCN Green Temptation Magnetic Nail Polish is a forest green metallic that looks pretty silvery in the bottle but once the magnet is applied, the dark green is revealed as the design forms.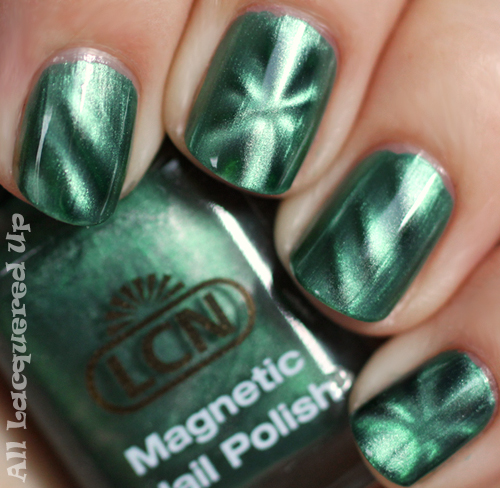 LCN Amazing Mauve Magnetic Nail Polish surprised me as it looks like a pretty blah lilac tinged silver during application. Once the magnet is applied, a vibrant purple comes shining through. It's pretty spectacular and when you move your nails up and down they look like one of those optical illusion toys from the vending machines in grocery stores. You know, the ones by the jawbreakers and gumballs.
To give you an idea of what the rest of the LCN polishes look like when magnetized I held the magnets up to the bottles. What's cool is that the pattern stays until you roll the polish.
Copper Seduction and Nude Charm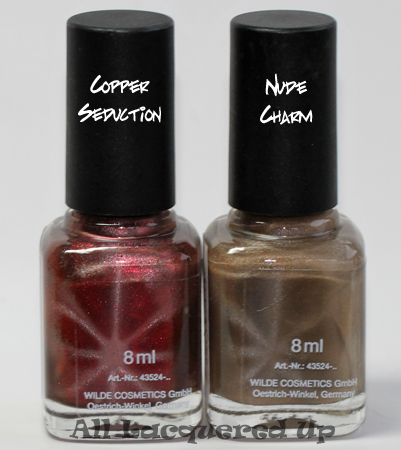 Fuschia Attraction and Magnetic Moments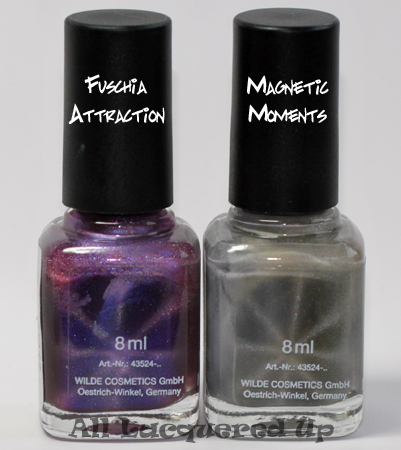 Green Temptation and Amazing Mauve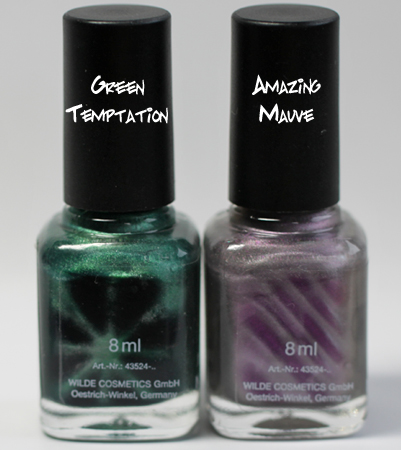 Iron Magic and Ferromagnetic Blue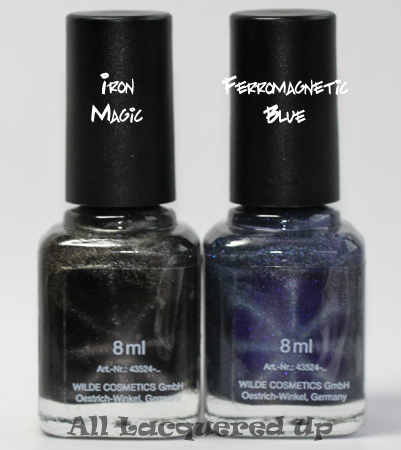 Bottom Line: Magnetic nail polish is fun and interesting and the science geek in me loves the concept. It's an easy form of DIY nail art and will surely garner attention. Even the boyfriend, who is pretty immune to nails at this point, took notice.  The thick formula of the polish can be a pain to work with and creating the patterns can be frustrating for a perfectionist like myself but the learning curve is relatively small. I wish the magnets were a little larger and more curved so the pattern would reach the sides of my nails but it still looks cool as is. My must-have colors from the set are Amazing Mauve, Copper Seduction, Ferromagnetic Blue and Green Temptation.
365 of Untrieds Stash/Share Verdict: I'm STASHing them all. They're too unique not to.
LCN Magnetic Nail Polish is available online to consumers at LCNBoutique.com and licensed professionals at LCNUSA.com. LCN Magnetic Nail Polishes retail for $9.90/ea for a 8ml bottle & the magnets retail for $19.90/ea. You can buy the whole set including 8 polishes and 2 magnets for $115.90. European Fanatics, brands including Essence and Alessandro Go Magic Twist! have magnetic nail polishes that should be accessible in your part of the world.
Are you happy to see magnetic nail polish make a comeback? Will you be picking up the LCN polishes? Which color is your fave from the set? If you already own the LCNs does your star magnet work well?
Disclosure: I purchased these nail polishes at the professional price. For more info view my Disclosure Policy.