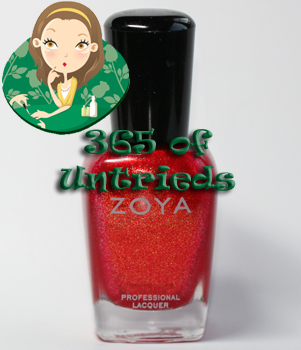 365 of Untrieds is my personal challenge to weed through the polishes in the ALU stash that I've been wanting to try but just haven't gotten around to.
"We're having a heat wave, a tropical heat wave"
I don't know what the weather is like in your part of the world but right now if feels like Cleveland is on fire! Maybe I'm overreacting just a touch, or a LOT, but I don't work well with extreme temps.
You know how most people either fall into two categories, "freeze baby" or "little heater", I'm neither. I think I'm part reptile or something though heat effects me more drastically than the cold. I turn the color of a beet in high heat. I even have to ask for cool water to be added to the pedicure tub to avoid my feet turning the color of cooked lobsters.
Since I'll undoubtedly be a crimson, not golden, goddess while these extreme temps continue, I may as well join the fiery party with a scorching hot nail polish shade. Today's selection is Zoya Kimmy from the Summer 2011 Sunshine collection.

Formula & Application: Zoya is a 4-Free brand (including formaldehyde resin) plus they leave out camphor, which can be an irritant.  Their signature Italian glass bottles have a tapered, shiny black plastic cap that rests comfortably between the thumb and index finger while polishing.  The brush is short, round and medium in girth with flexible bristles that allow for ease of control.
Zoya Kimmy is a foil glitter so the formula is thin, slightly jelly-ish and semi-sheer to keep the particles suspended. Though in spite of all that it gives great coverage. I used two coats and while I could see my smile line if I REALLY looked for it, no one else would ever notice.

Zoya Kimmy has a bright red-orange base with gold and red foil glitter. It has this intensity to it that's like molten lava with the little gold sparkles representing the random bursts of flame that rise from the surface. What's funny is that even though I'm enamored with this color I assumed that with all the reds living in my stash, there HAS to be a dupe.
We've seen foil glitters from everyone and their mother in the  past couple years. And you would think that OPI has produced just about every red imaginable between their core line and dozens of holiday collections. Alas, I came up empty handed. Like I couldn't even come up with anything close. If a dupe exists, I either gave it away or never owned it.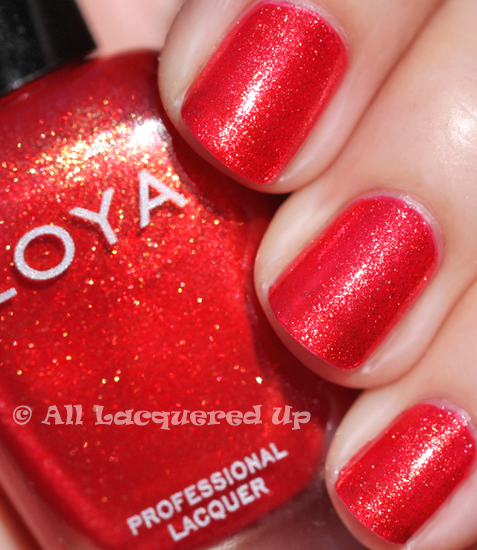 Bottom Line: It takes a rare red to surprise me. Most of them are so been there, done that. Cherry, tomato, wine, crimson. Creme, shimmer, glitter, etc. One of the reasons I'm generally not a red fan is because I feel like I've seen them all. Then along comes a color like Kimmy and I promptly insert pedicured foot in mouth. What I love about Kimmy is that it's a great summer bright that isn't, you know, BRIGHT, and it's a foil that doesn't take 3-4 coats. You hit this one out of the ball park Zoya. Well done!
365 of Untrieds Stash/Share Verdict: This one is so Unsolved Mysteries, isn't it? STASH!
Zoya Kimmy is available as part of the Zoya Sunshine collection at salons and spas nationwide including ULTA and online at Zoya.com. Zoya nail polishes retail for $8/ea for a .5oz bottle. Don't forget, you can try before you buy with the Zoya Color Spoon program.
Thoughts on our girl Kimmy here? What was the last nail polish outside your preferred color range that surprised you? Do you plan to add Kimmy to your own stash?
Disclosure: A product sample was provided by Zoya. For more info view my Disclosure Policy.