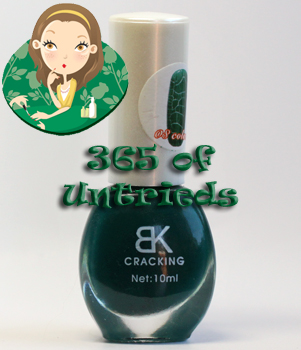 365 of Untrieds is my personal challenge to weed through the polishes in the ALU stash that I've been wanting to try but just haven't gotten around to.
I'm sure you are tired of me saying, over and over again, that I'm not a big fan of crackle manicures. One of the main reasons I don't like it is the way the new generation shatters. I loved the old school CoverGirl Crackle Lacquer with its subtle multi-directional veining. Not the thick, chunky shards that we're currently seeing.
Now last summer when I first wrote about crackle nail polish, I mentioned an etailer that sold another type of crackle called BK Cracking. I ordered a bunch but when I received them, the polish flaked off so I thought they were duds and threw them to the wayside.
THEN, the clouds parted, birds sang and I saw the light thanks to Styrch from Pretty In Dayton. She posted about a crackle polish called Kelier and thanks to her application tips I was able to get the BK Cracking to work. Check it out!

Formula & Application: The website where I purchased BK Cracking does not list the ingredients. All they state is that the polish is "Water based & nontoxic" so take that as you will. The rounded triangular shaped bottles contain a thin, round brush with stiff bristles. The brush isn't the best but it hasn't caused any dragging, from what I can tell, so it certainly gets the job done.
The polish itself is really thin and easy to apply. It flows on so nice and smooth and, in the case of the Jade Green color I used, it applies semi-sheer, so if you use a glitter/shimmer underneath it will become part of the finish.

Application Tips: Throw out everything you've learned about working with crackle/shatter nail polishes. This is a totally different animal. The only tip that still applies is: Thin coats = more crackling
Apply over WET nail polish. By the time you finish polishing all the nails on one hand, you can start applying BK Crackling.
Applying over dry nail polish will cause it to flake off in shards like metallic particles repelling a magnet.
Allow 3-5 minutes of dry time for the crackles to appear. It can take even longer depending on how thick you apply it.
You can apply a second coat immediately after the first to intensify the color
Apply top coat to prevent the crackle polish from flaking off.

BK Cracking Jade Green had me a hello. This emerald green stunner is so vibrant, pictures don't do it justice. I applied it over China Glaze Cheers To You, a silver foil, and Jade Green took its metallic texture in the finished product. It looks as though I used flakes of green nail foil. Love, love, love this look!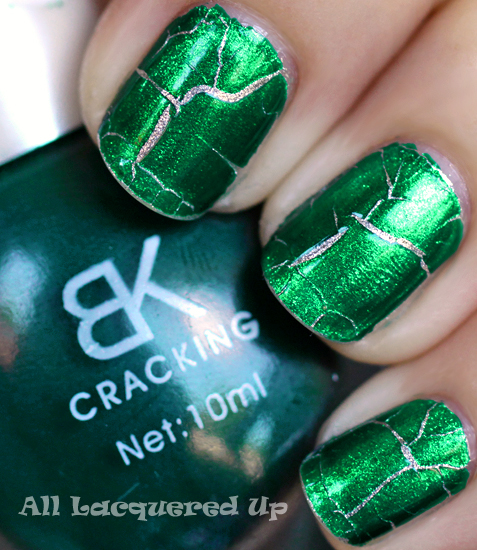 Bottom Line: Now that I actually know how to use the BK Cracking polishes I can honestly say I'm in love with crackle nails. But only this type of crackle. The thicker, shatter style still isn't really me though the metallic versions aren't bad.
365 of Untrieds Stash/Share Verdict: No one is getting their hands on my BK Cracking. STASH!
BK Cracking nail polish is available online from Trendin Cosmetics. The nail polishes retail for $6/ea for a 10ml bottle. They also sell Gradient Nail kits and FT Cosmetics Shatter but that appears to break like OPI Shatter.
Thoughts on the BK Cracking polishes? Does this style of crackle appeal to you or are you more of a shatter fan? What other brands do you know of that work like BK Cracking? I see that Kelier is no longer available from Born Pretty Store. Are there any other sellers?
Disclosure: I purchased this nail polish. For more info view my Disclosure Policy.