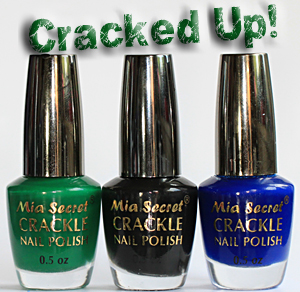 Who remembers the old CoverGirl Crackle Lacquers?  I know they were popping up in dollar stores a few years ago but I was never lucky enough to score one.  I did find one old bottle of purple Crackle in my Caboodle at my parents house a while back but it was dried and crusty.  And yes I realize I just totally dated myself with the Caboodle reference.

With nail art hitting a fever pitch it's no surprise that this look would come back. Between nail stampers, water marbling, nail art pens, ombre nails and crackle nail polish DIY nail fanatics have endless options when they want to amp up their nail style. I'm still unsure of how I feel about the crackle look but I figured I'd give it a whirl.

As I mentioned in my Link Love post on Sunday, my friend Sara from Bit By The Beauty Bug had a crackle pedicure at her salon in Boston.  Sara told me about it just before I went to Vegas and mentioned that her tech got her bottle from overseas.  So of course while I was at Cosmoprof I scoured the International section looking for crackle nail polish.  I hit the jackpot when I visited the Mia Secret booth.

Like I said above, crackle nail polish isn't exactly new but it seems to be making a comeback. TransDesign has been selling Krackpolish for a while now but I never took the plunge. I guess it took seeing the polishes in person to give me the kick in the butt I needed.
It turns out that Mia Secret only sells in large quantities to retailers but I was able to scope out the colors while in Vegas. When I got home I searched eBay and found a seller carrying the brand so I ordered bottles of blue, black and green.
I originally tested out the green using a white creme base, Barielle Enduring.  However, because the polish underneath wasn't completely dry and I put on a thick layer of the crackle polish my first swatch was a giant fail!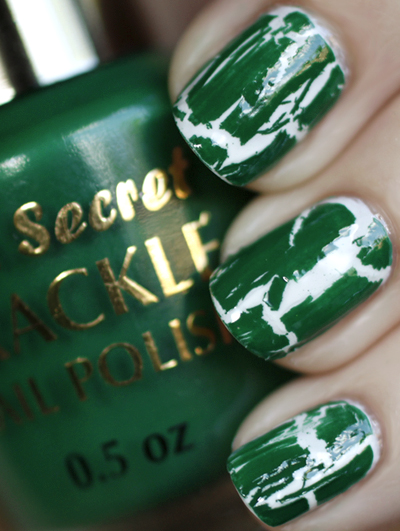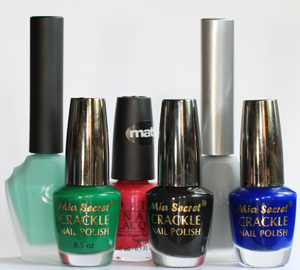 That's when I learned the three important rules of crackle polish application.

1. Choose a contrasting base color and make sure it is completely dry. The longer you wait the better.

2. The thinner you apply the crackle polish the more cracks you will have.

3. Crackle polish dries matte and flakes off without a top coat.

To get a better idea of how crackle nail polish works I asked the authorities on all things cosmetic chemistry related, The Beauty Brains.  My theory is that an ingredient is added to polish that makes it constrict, similar to how Shrinky Dinks constricted in the oven.

Thankfully the Left Brain set me straight…

You are sort of correct. Cosmetic chemists use solvents that are normally considered incompatible. When applied to the surface of the polish, the applied solvent causes uneven drying which cracks the surface. Normally, this is something you want to avoid. The final effect causes an inferior coating on the nail so it doesn't last as long.

To speed up the swatching/crackling process I chose to use matte nail polishes for the base colors since they dry so fast. If you're over the whole matte look this is a great way to use them up. I paired Knockout Cosmetics Liberty with the green, OPI La Paz-itively Hot Matte with the black and Knockout Cosmetics Concrete with the blue.
I'm showing these in the order I swatched them and as you'll see, the crackle effect gets better the more I worked with the product. Though the brush on the green was a bit janky so it ended up going on a bit thicker than I would have liked.
Mia Secret Crackle Nail Polish in Blue over KO Concrete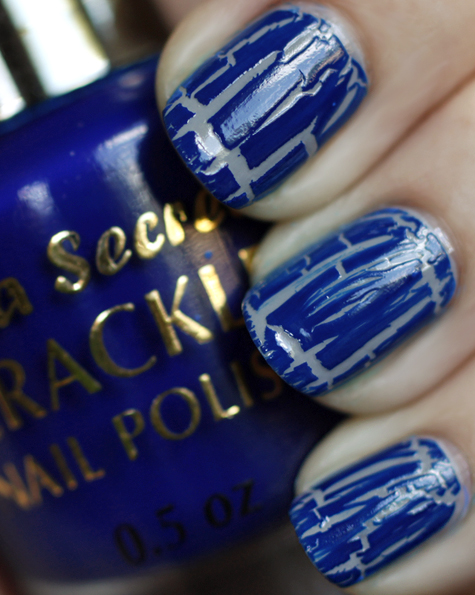 Mia Secret Crackle Nail Polish in black over OPI La Paz-itively Hot Matte
I applied the black way too thick on my ring finger and it didn't crack like it should have. You can see the cracks starting to form but they didn't come to fruition.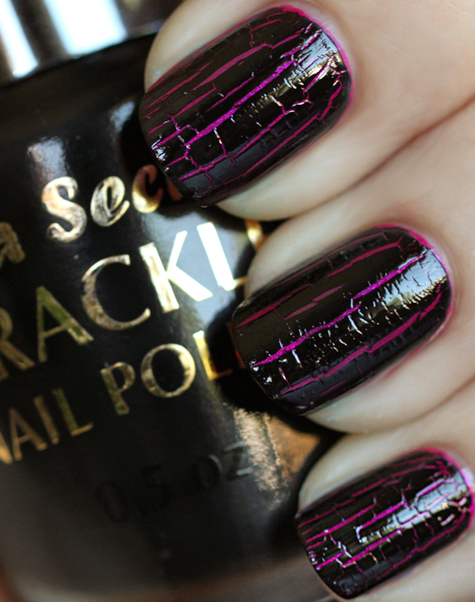 Mia Secret Crackle Nail Polish in green over KO Liberty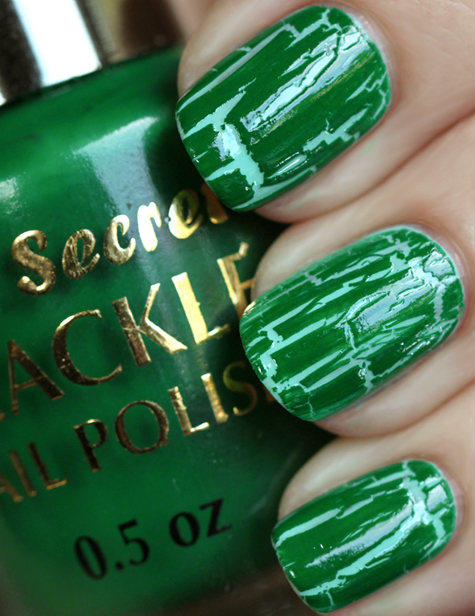 The eBay seller I purchased the Mia Secret polish from no longer has them listed but I did find other sellers carrying crackle nail polish; SimplyTheBest88 and Trendin_Sales.  Even though Trendin_Sales has limited feedback I did find their website where they sell the polish direct with free shipping, TrendinCosmetics.com.  To find an online seller or store carrying Mia Secret try contacting them via the info on their website.  TransDesign sells Krackpolish for $2.99/ea.
What do you think of the crackle nail look?  Do you want to see this trend come back full force or should it lay low?  Have you found other brands of crackle nail polish besides the ones I have listed?  I know Swedish brand IsaDora recently launched Graffiti Nails overseas but does anyone know if it will be released in the US?  Also, does anyone else find it odd that the Mia Secret bottles look just like OPI's trademarked design?

Disclosure: A sample of OPI La Paz-itively Hot Matte was provided courtesy of OPI. I purchased the other polishes. For more info view my Disclosure Policy.