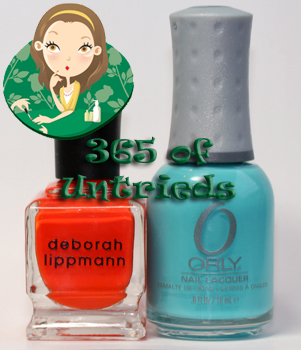 365 of Untrieds is my personal challenge to weed through the polishes in the ALU stash that I've been wanting to try but just haven't gotten around to.
I've been doing quite a few interviews lately for various publications about summer and fall nail trends. Of course we know that crackle is EVERYWHERE, nail art isn't dying out anytime soon and neutrals have been making a resurgence. But what I find funny is when looks that are pretty much "old hat" in the nail community end up being the "new" hot trend.
I was recently asked by the Style Network's StyleSpy about the "new" celebrity accent nail trend and the best ways to wear the look. Of course, this isn't exactly a new look but since so many celebrities have been rocking the accent nail it's now a thing. My advice has always been to look for contrasting or complementary color combos. Black & white, purple and gold, lime and fuchsia, etc.
For this summer my favorite combination is orange & blue or teal & coral, so I rummaged my untrieds to create a fun accent nail manicure and came up with Deborah Lippmann Lara's Theme and Orly Frisky.

Formula & Application: Deborah Lippmann nail polish is 4-Free (including formaldehyde resin) and doesn't contain camphor, which can be an irritant. Her signature glass bottle is so distinct you would know the brand even without the name on it. It's one of the best bottle shapes in the industry. The curved cap was designed with professional manicurists in mind as it is shaped to rest comfortably between your fingers.
The Lippmann brush is short, round and average in width with flexible bristles that easily fan out over the nail plate. Lara's Theme has the same creme jelly hybrid formula that I've come to expect from Lippmann. They are packed with pigment but have a squishy, jelly type feel. I was able to get great coverage in two coats but the polish was a bit temperamental and could end up streaky if you press too hard on your brush, requiring a third.

Formula & Application: Orly nail polish is 4-Free (including formaldehyde resin) and does not contain camphor, which can be an irritant. Orly polishes come with the fan fave rubberized cap. That signature easy-to-grip topper makes it easy to control the polish. The brush is long and thin with flexible bristles. I personally would like it if there were more bristles to get more coverage in each stroke.
The consistency of Frisky is kind of thick and it isn't the best at self leveling but wow is it packed with pigment. I used two coats and that almost felt like overkill.

Deborah Lippmann Lara's Theme was created with supermodel Lara Stone. Of course, the polish is named after the song from Doctor Zhivago. I had a music box that played this song when I was little and even played it on my flute. It's so haunting. The polish is a Dutch orange creme in honor of Lara's country of origin. Similar to the Summer 2010 release, Essie Vermillionaire, though Lara's Theme has a bit more intensity.
Orly Frisky is part of the Happy Go Lucky collection and even though it's described as teal, I see it as cross between sky blue and turquoise. It has a hint of green in its base though next to a polish with the same depth, Essie Turquoise & Caicos, it looks very blue. It's a much more interesting color than I expected.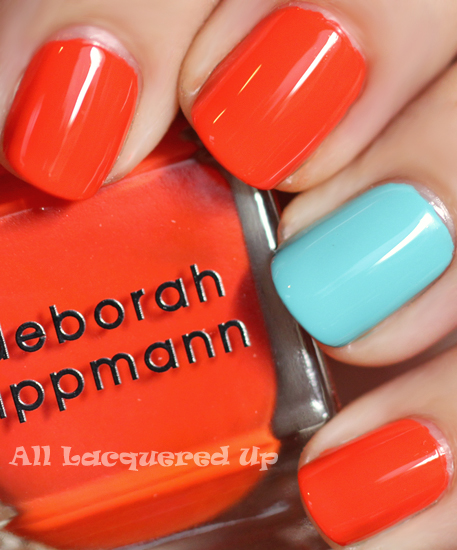 Bottom Line: Together these colors have me longing for Key West or Miami beach. Somewhere with a great party atmosphere, a beach and fruity drinks. On their own, Frisky is definitely the more unique flower. If I were calling the shots, I would say definitely pick up Frisky and snag Lara's Theme only if you don't already own Vermillionaire.
365 of Untrieds Stash/Share Verdict: Since I love how these colors look together, I'm STASHing both. I can see a Lara's Theme pedi with a Frisky mani in my future.
Deborah Lippmann Lara's Theme is available at DeborahLippmann.com and Nordstrom stores as well as Nordstrom.com and Beauty.com and retails for $16/ea for a .5oz bottle. Orly Frisky is available at salons nationwide including Sally Beauty and ULTA. Orly nail polishes retail for $7.50/ea for a .6 oz bottle.
What if your favorite accent nail combination? Do you switch up the nail you polish with the contrasting color? Thoughts on Frisky and Lara's Theme?
Disclosure: Product samples were provided by reps for Deborah Lippmann and Orly. For more info view my Disclosure Policy.