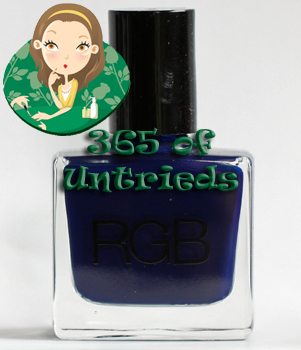 365 of Untrieds is my personal challenge to weed through the polishes in the ALU stash that I've been wanting to try but just haven't gotten around to.
When the boyfriend & I bought our house a few years ago, we started a tradition of hosting Un-Xmas parties. You see, I'm not big on Christmas but wanted to throw a party around the holidays with no presents, white elephant gift exchanges, decorations or goofy sweaters. And so Un-Xmas was born. Well now that we have our keg fridge and a fresh keg of Christmas Ale, we decided to inaugurate the Un-Xmas in July party.
The party is today and since dressing for the occasion means no holiday themed items, that includes my nails. I recently got my hands on a new shade from RGB Cosmetics called 1996, created to celebrate the 15th anniversary of Need Supply Co. and it seems like the perfect un-holiday shade.

Formula & Application: RGB Cosmetics nail polish is 4-Free (including Formaldehyde Resin). The square bottles contain the same amount of polish as Chanel or RBL bottles but they are much more compact in size. The short, round, shiny black cap is about the width of my thumb and I find it relatively easy to control polish placement but would prefer it to be slightly longer.
The brush is short, round and average in width.  Now it could be my imagination but the bristles feel a bit more flexible than what I'm used to. I wonder if RGB changed their brush. There was no dragging at all with this brush.
The formula itself is a little thick but it flows on the nail relatively easy. I achieved full coverage with two thin coats. What more can you ask from a polish?

RGB "1996″ for Need Supply Co is a dark, dark navy creme. It's actually a lot deeper than I anticipated. In the bottle it looks like a vivid jewel, drawing me in like a moth to a flame. I was SO excited to put it on, thinking it would have the same richness and depth on the nail. Unfortunately, it's just a little to deep for that.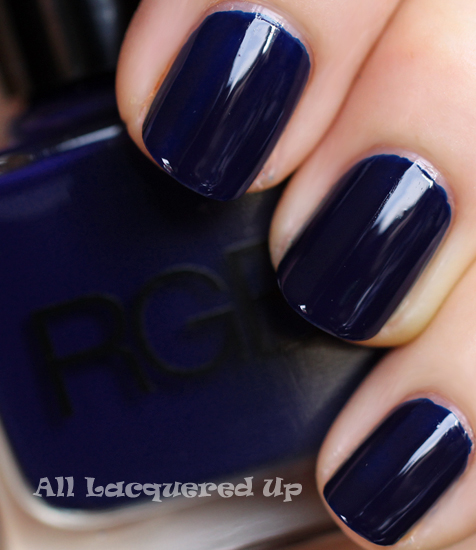 In looking for similar shades I came up with two China Glaze gems; Up All Night (left) and Calypso Blue (right).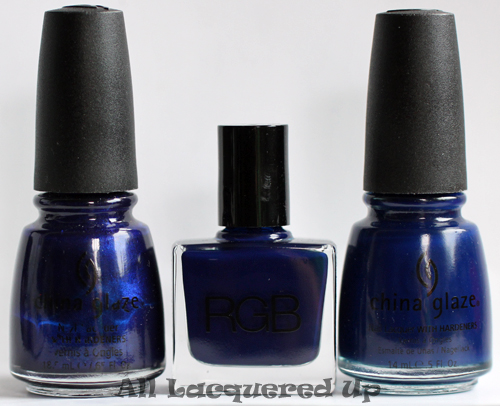 China Glaze Calypso Blue is a pretty close match for 1996. They have the same dark denim base though Calypso Blue dries a touch lighter. China Glaze Up All Night is one of my all time favorite blue hues and, ignoring the shimmer, it's a brighter sapphire shade than 1996.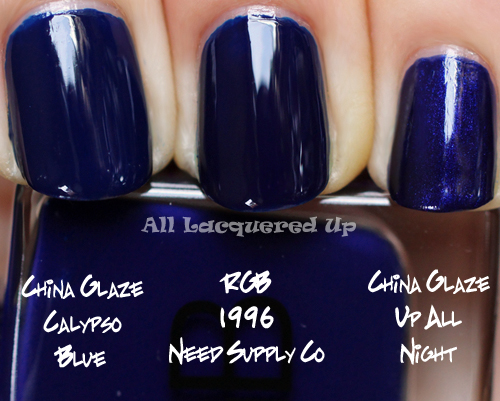 Bottom Line: 1996 is gorgeous and glossy with an excellent formula but it's just not that special. I wish it had the same flare on the nail that the bottle shade promises. I personally prefer the slightly lighter version, Calypso Blue, not only for the color but the price point.
365 of Untrieds Stash/Share Verdict: I just don't see myself reaching for it over another navy in my collection. SHARE!
RGB Cosmetics "1996″ is available exclusively at the Need Supply Co store and online at NeedSupply.com. RGB 1996 retails for $16/ea for a .4oz bottle.
Thoughts on 1996? What is your favorite navy creme? Are you celebrating Christmas in July or is that just something us crazy Ohioans like to do?
Disclosure: A product sample was provided by reps for RGB Cosmetics. For more info view my Disclosure Policy.