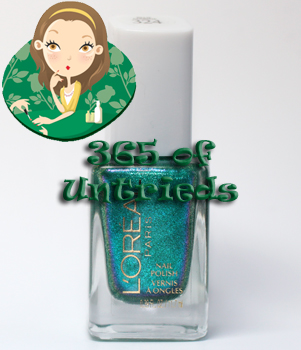 365 of Untrieds is my personal challenge to weed through the polishes in the ALU stash that I've been wanting to try but just haven't gotten around to.
I only own one bottle of L'Oreal Paris nail polish and it didn't come in to my collection until this past spring. Why is that? For starters, their core lineup of colors are so the opposite of me (pinks, reds, neutrals) that I never give it a second glance. Second, when I do happen to see some more fun colors, they usually resemble something I've seen somewhere else. I'm looking at you Passport to Paradise, aka Essie North Fork dupes.
However, L'Oreal Blue Marine caught my eye on the seasonal makeup display shelf because of the duo-chrome promise made by a flash of blue-violet in the bottle. Let's see if it delivered on that promise, shall we?

Formula & Application: L'Oreal Paris nail polish is 4-Free (including formaldehyde resin) and free of camphor, which can be an irritant. The bottles have an interesting cap with its curved back that lays comfortably against your finger when polishing. The brush is flat, thin and long. It's not as wide as OPI's, which I find to be a plus. The bristles are flexible but dense so it doesn't fan out too wide.
The formula itself is pretty thin and easily spreadable but it's low on pigmentation. Even after three coats I could still hints of VNL (visible nail line). Also because of the amount of smooth glitter in the lacquer, it is a bit problematic to remove.

L'Oreal Blue Marine is a blue-green foil-esque shimmer. The color falls somewhere between a turquoise and teal and unfortunately, that cool duo-chrome look from the bottle was nowhere to be found on the nail. I wouldn't go so far to call the finish a true foil glitter as the particles are much smaller and don't look as sparkly on the nail.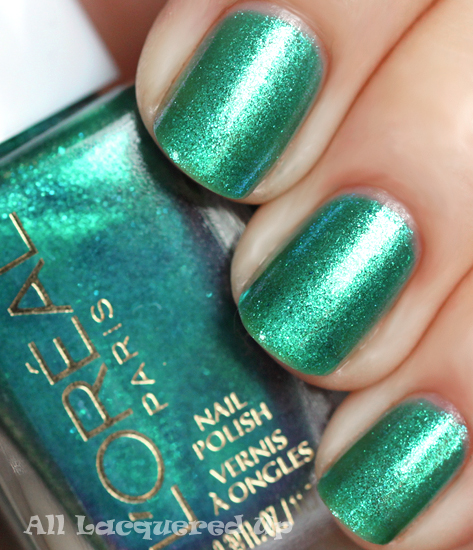 In terms of color comparisons, LA Girl Rock Star Head Banging has a similar base color as Blue Marine though Head Banging is more vivid and certainly more glitzy. Another color cousin is China Glaze Watermelon Rind though it's a bit darker with a more unique finish.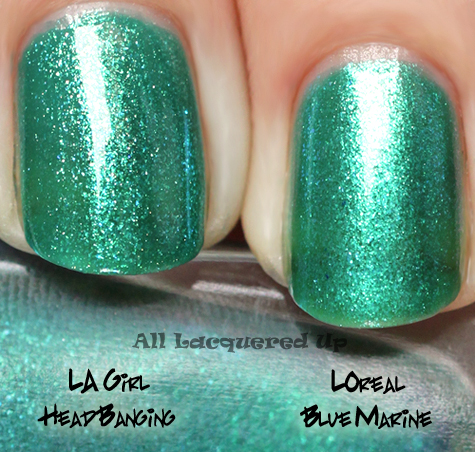 Bottom Line: While this is a color range I love, Blue Marine lacks the depth I was hoping for. Considering that I have two other polishes with a similar hue that I love, love, love, Blue Marine just doesn't stand up against them.  The thing is, I really liked the formula and application but this is a limited edition color. If L'Oreal wants me to stop and stare in the future, they really need to include more shades like this in their permanent line.
365 of Untrieds Stash/Share Verdict: I wanted to love this but it fell flat. SHARE!
L'Oreal Blue Marine was a limited edition release from Spring 2011 so I don't know if it's still available anywhere. If you like this color, I suggest you pick up LA Girl Rock Star Head Banging from LAGirlUSA.com or CherryCulture.com.
Thoughts on L'Oreal Blue Marine? Are you a fan of L'Oreal nail polish? What are  your favorite colors from the line?
Disclosure: I purchased this nail polishFor more info view my Disclosure Policy.