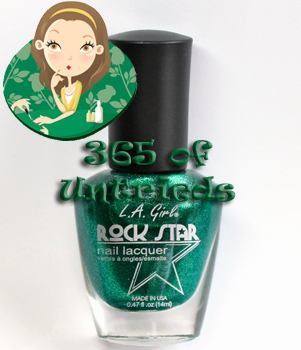 365 of Untrieds is my personal challenge to weed through the polishes in the ALU stash that I've been wanting to try but just haven't gotten around to.
Another day, another green. This gem was another discovery at my local Five Below store. Last summer at Cosmoprof, Melissa from The Daily Nail introduced me to the L.A. Girl brand but since you can't purchase products at the show, it wasn't until I saw bins of their Rock Star line polish at Five Below that I got my hands on it.
L.A. Girl Rock Star Head Banging is a perfect example of why I started ALU in the first place. It's a case of not knowing what you'll get based simply on the bottle. What appeared to be an average teal green shimmer ended up being so much more.

Formula & Application: L.A. Girl Rock Star nail polish is 4-Free (including formaldehyde resin) and does not include camphor which can be an irritant. The bottles are topped with a thick round, slightly curved cap that houses a thin, long, round brush. The bristles are pretty flexible which allows for precise application and even coverage of the nail.
The base of this polish is pretty sheer but buildable. It's not thick and goopy like a jelly nor is it watery and squishy. It's just thin, smooth, buttery perfection. I used three coats and even though you might notice slight VNL (visible nail line) in the photograph, it looks full coverage to the naked eye.

L.A. Girl Rock Star Head Banging is what I'm calling a smooth glitter. Unlike traditional glitters the base has a decent amount of pigment to it which lends to its opacity. It also has very fine micro-glitter which leaves no texture to the surface. And unlike foil glitters, there are no irregularly shaped metallic flakes. Instead you have a semi-sheer viridian base packed with tonal micro-sparkle. The finished product is one popping green glitter that doesn't give you removal issues or cause for thick layers of top coat.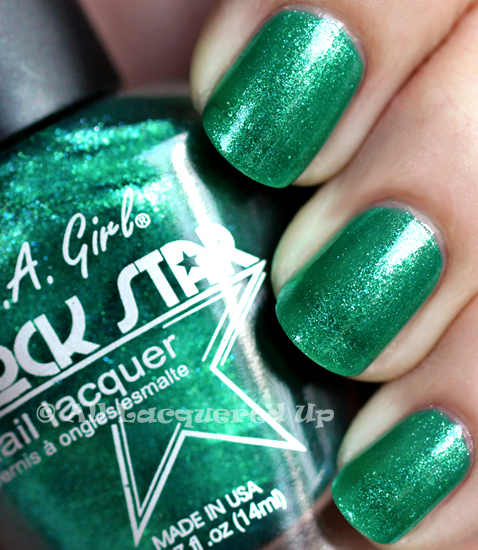 Bottom Line: This finish on this polish is so smooth I can't stop rubbing my nails. Is that weird? I love how the glitter dances on the surface like light bouncing off a lake. And any glitter that can give me high glitz without a bitch of a removal gets two thumbs up in my book.
365 of Untrieds Stash/Share Verdict: My green drawer is going to hate me but I can't help it; STASH!
L.A. Girl Rock Star nail polishes can be purchased online directly from LAGirlUSA.com or CherryCulture.com who also carries Milani, NYX and Sinful. You may be able to find L.A. Girl polishes at Five Below but availability will vary. The Rock Star line retails for $4/ea for a .5oz but they're on sale for $2.80/ea at Cherry Culture.
Have you tried L.A. Girl polishes before? What are your favorite lines and colors from the brand? Thoughts on Head Banging? If you don't own any L.A. Girl Rock Star polishes do you plan to pick up some soon?
Disclosure: I purchased this nail polish. For more info view my Disclosure Policy.