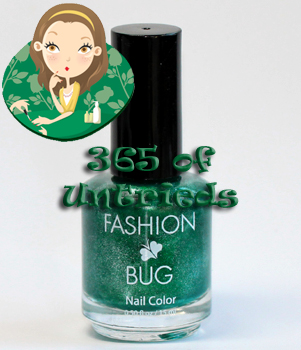 365 of Untrieds is my personal challenge to weed through the polishes in the ALU stash that I've been wanting to try but just haven't gotten around to.
Yesterday I reviewed one of the Fashion Bug polishes my mom gave me as part of my birthday present. It didn't give a great first impression of the brand so I decided to give them another chance.
With Fashion Bug Boysenberry, what looked fantastic in the bottle ended up having the opposite effect on the nail. Today's color, Fashion Bug Shamrock, is the complete opposite of that. What looked kind of "meh" in the bottle ended up being totally fantastic on the nail. Don't let that kind of frosty, faded appearance fool you.

Formula & Application: Fashion Bug nail polish is 4-Free. The round glass bottles are topped with thin, shiny plastic caps that remind me of the Claire's nail polishes. The round brush is pretty average in length and width with bristles that are slightly firm and don't spread out.
The formula of this polish is much improved over Boysenberry. The pigmentation was spot on, I barely needed two coats, and the finish was a lot better thought not perfect.  What I love is that you can apply very thin coats and get great coverage which will lead to longer wear. I feel it is worth noting that the formula doesn't self level. Much like how some of the early matte polishes would show every uneven lump, this does the same thing. Though at the end of the day, once top coat is applied, the polish looks pretty flawless.

Fashion Bug Shamrock in an electric emerald green shimmer with tiny flecks of silver micro-glitter that really pop when the light hits it. In person the color and the micro-glitter really pop. The color doesn't have a lot of depth to it, it feels kind of flat and one dimensional but it's a stunner of a green. As the name implies, it would make for one killer St. Patrick's Day manicure.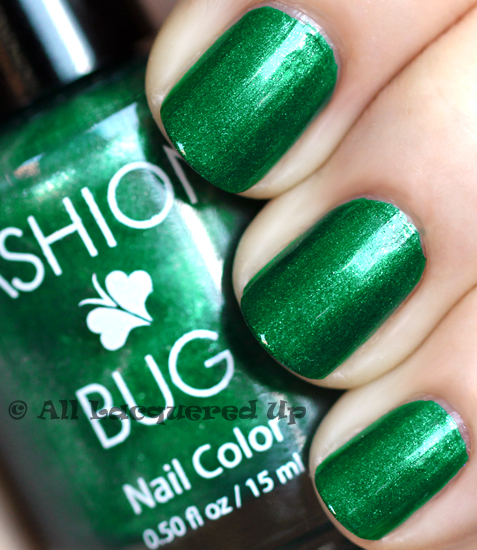 Bottom Line: What can I say, I'm a green loving nail polish fanatic. The formula would have to be some kind of terrible for me not to love it. Considering the price point and the pigmentation, what's not to love?
365 of Untrieds Stash/Share Verdict: Even if I do own a dupe, I'm STASHing this one. Great choice, Mom!
Fashion Bug nail polish is available at Fashion Bug stores nationwide. The polishes retail for $3.99 for a .5oz bottle.
Thoughts on Shamrock? Would you have passed this one by based on bottle appearance? Will this color cause you to seek out your nearest Fashion Bug?
Disclosure: This nail polish was a gift. For more info view my Disclosure Policy.