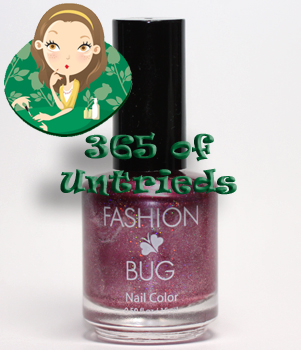 365 of Untrieds is my personal challenge to weed through the polishes in the ALU stash that I've been wanting to try but just haven't gotten around to.
Is it just me or does every store seem to have its own line of nail polish now? Icing, Claire's, Charlotte Russe, Forever 21, American Apparel, H&M, TopShop… I could go on and on. And as my mom discovered, Fashion Bug can be added to that list as well.
A while ago, at least six months or so, she mentioned spotting nail polish at Fashion Bug and said they had a lot of fun colors. I don't even know that there's a Fashion Bug near me so I didn't make any effort to hunt them down and pretty much forgot all about it. Of course she never forgets. As one of my birthday presents, Mom gave me some polishes from Fashion Bug and was very proud that she was able to get me something I didn't already own.
The four polishes she gave me included a two greens (she knows me so well), a purple and this berry concoction that was filled with holographic glitter called Boysenberry. The glitter reminded me of China Glaze Rapture so of course I had to try that one first.

Formula & Application: Fashion Bug nail polish is 4-Free. The round glass bottles are topped with thin, shiny plastic caps that remind me of the Claire's nail polishes. The round brush is pretty average in length and width with bristles that are slightly firm and don't spread out.
The formula itself seemed like it was going to be a giant win. The pigmentation was so incredible that I barely needed two coats. The bummer is in the finish. After testing the other polishes on a a nail art wheel I can say that this doesn't apply to all Fashion Bug polishes but the glitter in this one lent to a bumpy, lumpy texture and the pearl in the pigment equaled brush strokes. Even with two layers of top coat it looked like I had slept with a wet manicure on textured sheets. You'll see what I mean below

Fashion Bug Boysenberry is a red-violet pearl metallic with holographic micro-glitter. The pretty berry color and rainbow of sparkles peeking out from inside the glass bottle should have resulted in one gorgeous manicure but unfortunately it was all ruined by this crazy looking texture. I wish there was a simple explanation like air bubbles or a quick fix like a thick top coat but there's not much to be done with this one.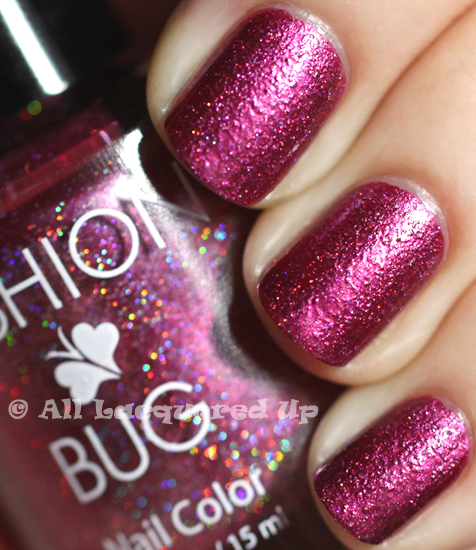 Bottom Line: I can't in good conscience recommend anyone buy this polish. It's a perfect example of how something that looks incredible in the bottle can end up a giant fail on the nail. I really wanted this to be a berry colored Rapture sibling but it just didn't work out.
365 of Untrieds Stash/Share Verdict: When I unwrapped the polishes Mom said, "We'll see how she really feels when she posts whether she'll Stash or Share it." Now this is no reflection on how I feel about the color as Mom made a wise choice in selecting it for me. I blame Fashion Bug for letting us down with the formula. Sorry Mom, this one is a SHARE.
Fashion Bug nail polish is available at Fashion Bug stores nationwide. The polishes retail for $3.99 for a .5oz bottle.
Have you tried Fashion Bug polishes before? What are your favorite colors from the brand Do you think there is a fix for Boysenberry? Out of all the clothing stores who have branded nail polish, which one do you think does the best job in terms of price, color selection and formula?
Disclosure: This nail polish was a gift. For more info view my Disclosure Policy.