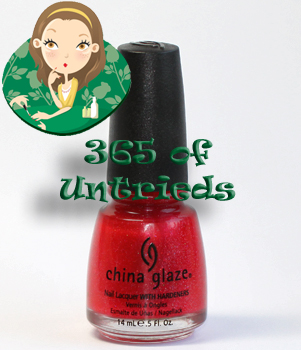 365 of Untrieds is my personal challenge to weed through the polishes in the ALU stash that I've been wanting to try but just haven't gotten around to.
In case you had not heard, California preacher Harold Camping predicted a "rapture" would come down upon us today starting at 6pm in each time zone. Since our fellow Australian fanatics were unharmed earlier today, I think it's safe to poke a little fun at the impending doom. In fact, the boyfriend and I are going to a Rapture Happy Hour and myself and a lot of my FourSquare friends checked in to "The Rapture." If we're going out, may as well go having fun.
So why not wear a Rapture inspired manicure, right? Oddly enough China Glaze Rapture is in my untrieds pile. I almost forgot I had it. It's one of the famed holographic glitter polishes from the Urban Chic collection along with Crystal Ball and Grape Crush. While I've worn the latter two shades multiple times, Rapture has yet to grace my tips.

Formula & Application: Because this is an older China Glaze nail polish it is not 3-Free.  It contains Toluene which explains its silky smooth texture. It seriously applies like a dream. The base is a bit jelly-ish so it goes on semi-sheer but I was able to get it opaque with three coats. The micro-glitter leaves some texture to the surface when dry but it's nothing a good layer of top coat can't take care of.

China Glaze Rapture pink based red shimmer packed with holographic micro-glitter. While the glitter is too dispersed to create a prismatic pattern, common to most holos, it does reflect a rainbow of colors as the light bounces off each particle. Like you have tiny twinkle lights trapped in your polish. It's pretty spectacular and extremely unique. The holo glitters from the Urban Chic collection are, to this day, some of my fave polishes ever. Grape Crush is TO.DIE.FOR.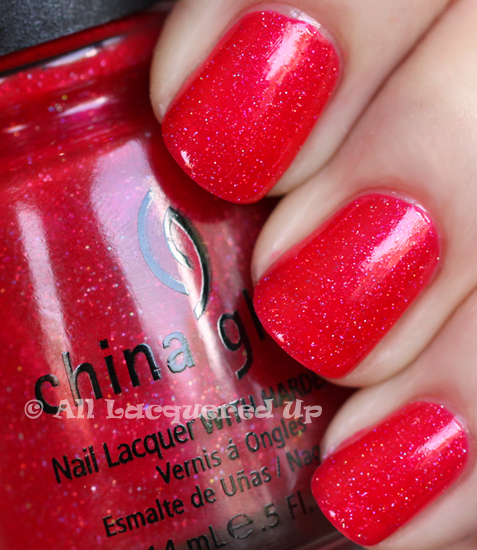 Bottom Line: If you can find a bottle, don't even think about, BUY IT. You won't regret it. I just hope China Glaze sees fit to re-introduce these colors or ones like it.
365 of Untrieds Stash/Share Verdict: You'll have to drag it out of my STASH over my cold, dead body.
While China Glaze Rapture is discontinued I have seen them for sale online at various etailers and of course eBay. One of my fave online sellers Head2ToeBeauty.com still has some bottle of Rapture listed as being in stock for just $3/ea so if you want a bottle, don't hesitate.
Thoughts on Rapture? Do you have any of the holo micro-glitters from Urban Chic? Do you think China Glaze should bring these type of polishes back? Do you know of colors from other brands that are similar?
Disclosure: I purchased this nail polish. For more info view my Disclosure Policy.