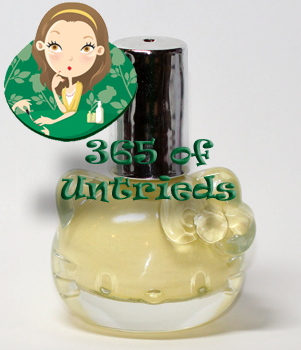 365 of Untrieds is my personal challenge to weed through the polishes in the ALU stash that I've been wanting to try but just haven't gotten around to.
One of the cult classic pale yellows is Maybelline Banana Puddin, a color that I covet but have never owned. My friend Christine has a bottle so I've seen its gorgeousness in person, I have just never worn it. From what I hear it's a real bother to work with but oh is the color worth it.
Since I first saw Banana Puddin on MUA many years ago I've had this inner yearning for the perfect pastel yellow. Something that isn't too chalky, pale or golden. Hello Kitty Banana Cream just may be it.

Formula & Application: The Hello Kitty Liquid Nail Art polishes are a Sephora exclusive and neither the bottle nor the Sephora website list the ingredients. They simply state, "This polish is formulated without toluene, formaldehyde, or DBP," so take that as you will.  The adorable Hello Kitty shaped bottles come with a long, flat brush that is average in width. Nowhere near as wide as OPI's brush. The bristles are flexible but give some resistance.
Anyone who has worked with a yellow nail polish knows that they are notoriously difficult to apply. It's the nature of the beast people. You want yellow nails, you deal with streaks or super sheer polish that needs numerous coats. Given my expectations going in, Banana Cream impressed. The lacquer leveled out well on the nail, had good pigmentation and only needed three coats. I probably could have gotten away with two but I ended up with a bit of dragging near the cuticle that I couldn't ignore. I thought I waited long enough between coats to avoid that so it's hard to tell if it's operator error or the formula.

Hello Kitty Banana Cream is a buttery yellow creme. You caught a glimpse of this color when I dotted it on my Easter manicure a few weeks back but this is the first time it's been on my nails on its own. Something about it makes me think of buttercups and fuzzy baby chicks. It just screams Spring.  It's textured like a typical creme in that it isn't squishy or jelly-like. In fact it can look a bit chalky going on but once you add a top coat that goes away.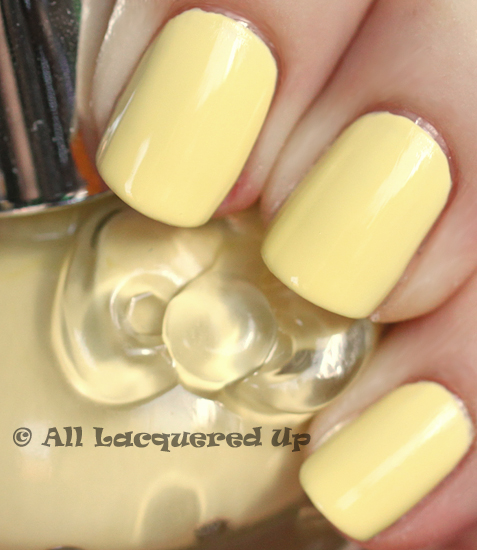 Bottom Line: I was very skeptical of the Hello Kitty polishes when they first launched. So skeptical that I only bought one in case it sucked. I figured ordering the yellow would be a true test of the brand considering the problems that plague the color family. I'm pleased to say that unlike a lot of lines that draw you in with packaging or branding, the Hello Kitty line put out a pretty great product and I highly suggest investing. Especially if you are a HK fan.
365 of Untrieds Stash/Share Verdict: No doubt about it, I'm STASHing it.
Hello Kitty Liquid Nail Art in Banana Cream is available exclusively at Sephora and Sephora.com. In store availability will vary. Hello Kitty polishes retail for $10/ea for a .304oz bottle.
Have you tried the Hello Kitty polishes? Which colors are your favorite? Thoughts on Banana Cream? Does anyone have Banana Puddin to compare? I hope to check out my friend's bottle soon to see if they're a match in person. What is your favorite light yellow?
Disclosure: I purchased this nail polish. For more info view my Disclosure Policy.