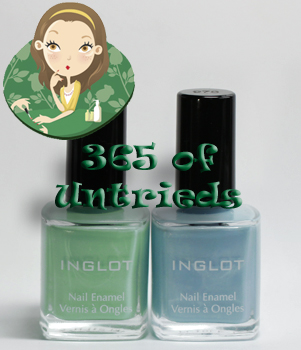 365 of Untrieds is my personal challenge to weed through the polishes in the ALU stash that I've been wanting to try but just haven't gotten around to.
Happy Easter!  Happy Sunday to those who don't celebrate.  I hope you all had a lovely weekend.  In spite of the gloomy weather we had a yummy Easter brunch with my parents which left me in a food coma for the rest of the day.  Though in spite of the day's festivities I was up bright and early to make sure my digits donned their Easter finest.
After I posted my less-than-impressed review of one of Inglot's O2M nail polishes, a reader suggested I give the pastels from their regular line a try.  I quickly placed an order and they ended up being the perfect ingredients for my Easter themed manicure. Take a look!

Formula & Application: Based on an image found online, Inglot Nail Enamel is 4-Free (including formaldehyde resin) and excludes camphor which can be an irritant. The square glass bottles are a little shorter and fatter than Essie's and are topped with a thin, smooth cap. The brush is round, fat and medium in length with flexible bristles that, in spite of their malleability, don't fan out very wide. My guess is it's due to the denseness of the bristles.
I have to say that for pastels, these colors are well pigmented and smooth. Much smoother than I anticipated. The only reason I found myself using three coats is due to the brush. It's the same issue I have with most MAC polishes. The brush inhibits coverage by causing dragging. I suggest a very light touch when applying the pastels.

To start, I alternated Inglot 969 and Inglot 970 on each hand so that the corresponding fingers on each hand had the opposite color.  Inglot 969 is a gorgeous creme de menthe hue with silver micro-shimmer.  One might call it a pearl but don't take that to mean frosty.  The shimmer does more than add depth, it's definitely noticeable.  The same goes for robin's egg blue, Inglot 970.  They are similar in finish, application and depth.  Both are stunning and a little darker than the average pale pastel.  They have a subtle intensity.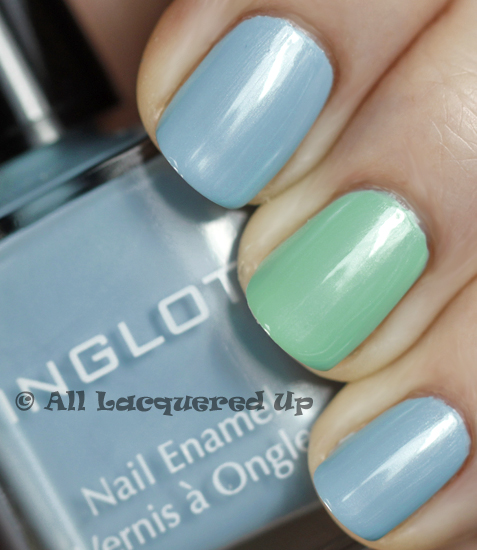 Even though I'm not big on the whole nail art thing I decided to add a little somethin' somethin' to my manicure. "Jazz hands" if you will.  Inspired by a manicure I reblogged on my Tumblr page (yes I'm on Tumblr now too), I added diagonal strips of polka dots using a dotting tool and another one of my untrieds, Hello Kitty Banana Cream.  As you can see, my dots got better as I moved from my pinkie towards my middle finger.  It takes practice.  My pal Steph from Steph's Closet got me hooked on the dotting tool and she gave me a great tip for using it.
Dotting Tip: Pour a bit of polish on a piece of aluminum foil and let it sit for a few seconds to thicken.  It makes creating dots easier.   Just make sure you work fast and add more polish between every other finger or it will become too thick and stringy.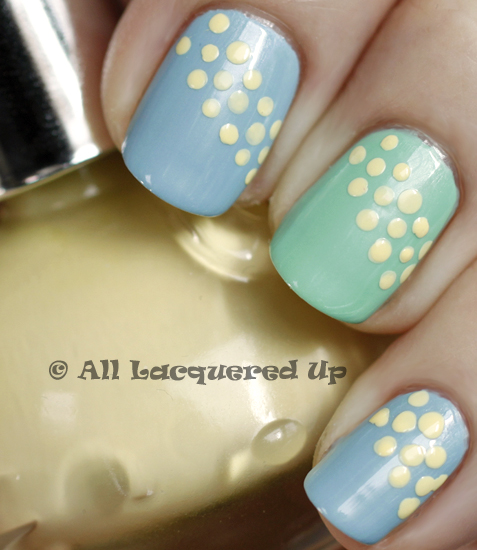 Bottom Line: I like to call colors like 969 & 970 "strong pastels" as they aren't that watered down version of blue, green, yellow, etc that the term tends to invoke. They're more statement making and with the understated but apparent shimmer they bring to the party, I'm all in on these colors. In fact, I'm regretting not buying the whole collection but I was understandably gun-shy after my first Inglot bubbling experience. I've VERY happy to report that no such bubbling occurred with these.
365 of Untrieds Stash/Share Verdict: Thanks to ALU reader Abbey for recommending the pastels and changing my mind about Inglot.  If I didn't STASH these, I would seriously lament it.
Inglot 969 & 970 are available at the Inglot stores in Las Vegas, Miami, New Jersey, NYC and Newport Beach or online at InglotUSA.com.  Inglot Nail Enamels retail for $10/ea for a .51oz bottle.
Did you do a special manicure for Easter?  Thoughts on the Inglot pastels?  Has there ever been a brand that you initially hated but ended up loving due to a specific polish?  What do you think of my attempt at polka dots?  Any suggestions for improving my technique?
Disclosure: I purchased all the polishes used in this post.  For more info view my Disclosure Policy.