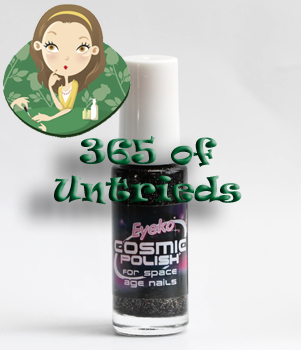 365 of Untrieds is my personal challenge to weed through the polishes in the ALU stash that I've been wanting to try but just haven't gotten around to.
My friend, and fellow blogger, Izzy from Musings of a Muse introduced me to the Japanese influenced UK brand, Eyeko, a couple years ago. She told me that had adorable, cheap nail polish and free (at the time) shipping so I couldn't resist ordering them all.
The problem… the "adorable" bottles were a pain to use.  They were essentially mini mason jars with thin metal screw-top caps with a brush attached.  Totally awkward to hold.  So I chalked them up as cute collector items but not functional.  Thankfully Eyeko saw fit to change the packaging and today I'm giving their Cosmic Polish a whirl.

Formula & Application: Eyeko nail polishes are 4-Free (including formaldehyde resin). They are also free of camphor which can be an irritant. The thin glass bottles are topped with a smooth plastic cap that is similar in height to an Essie bottle. Because the bottles are so tall and thin, the stem of the brush is long as well, ending with a round brush of average length and width.
The long stem does make polishing a little more difficult if you don't have a steady hand (like me). I ended up causing dragging on my first application attempt simply because I wasn't sure how much pressure to apply with such a long applicator. It's definitely something that takes some getting used to.
The polish itself flows on the nail flawlessly, giving great coverage in two coats. The surface dries with some texture due to the glitter but it's not significant. A regular layer of top coat took care of it.

Eyeko Cosmic Polish is a deep black polish packed with holographic glitter though it doesn't create the true holographic effect you get with holo shimmer.  The base color is a bit sheer and you can see some brown tones when applying the first coat but they fade into the background when the second layer goes down.  Cosmic Polish reminds me of the old China Glaze Platinum polishes that had holo glitter like Grape Crush & Crystal Ball. ***Note – I recently picked up a bottle of Oh So Wet! top coat to use for swatching and it leaves brush marks on the surface when dry so don't judge any unevenness as being the polish's fault.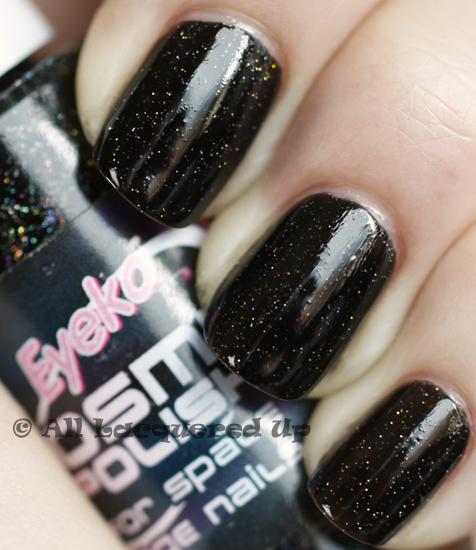 Bottom Line: This polish is a toned down version of China Glaze Cosmic which is a really chunky glitter.  I personally prefer the more subtle look of Cosmic Polish.  The fact that it reminds me of one of my all-time fave China Glaze polishes (Grape Crush) makes it a total win in my book.  The holo glitter may be a little tween-ish but I dig it. Think of how fun it will look on toes in the summer.
365 of Untrieds Stash/Share Verdict: No question, this one goes in the STASH.
Eyeko Cosmic Polish is available online at Eyeko.com.  Nail polishes retail for $6/ea for a .3oz bottle or you can pick up one of the themed 3-packs for $15.  Shipping to the US is FREE on orders over $55 and FREE on ALL orders to the UK & Europe.
Have you worn Eyeko polishes before?  Do you remember the jar packaging?  Thoughts on Cosmic Polish?  If you haven't tried Eyeko before, do you plan to order?
Disclosure: A product sample was provided by Eyeko. For more info view my Disclosure Policy.