Eyeko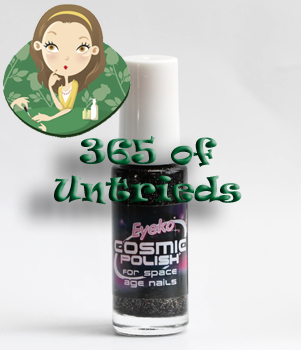 365 of Untrieds is my personal challenge to weed through the polishes in the ALU stash that I've been wanting to try but just haven't gotten around to.
My friend, and fellow blogger, Izzy from Musings of a Muse introduced me to the Japanese influenced UK brand, Eyeko, a couple years ago. She told me that had adorable, cheap nail polish and free (at the time) shipping so I couldn't resist ordering them all.
The problem… the "adorable" bottles were a pain to use.  They were essentially mini mason jars with thin metal screw-top caps with a brush attached.  Totally awkward to hold.  So I chalked them up as cute collector items but not functional.  Thankfully Eyeko saw fit to change the packaging and today I'm giving their Cosmic Polish a whirl.