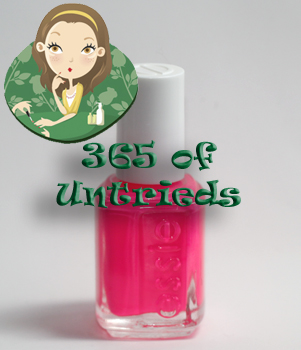 365 of Untrieds is my personal challenge to weed through the polishes in the ALU stash that I've been wanting to try but just haven't gotten around to.
Last week we talked about the J.Crew ad featuring Jenna Lyons painting her son's toe nails bright pink.  It caused quite a stir with some conservatives out there and to show support of Jenna, someone of Facebook created an event asking members to paint their nails pink on April 22nd.
Like I said in my original post about this, most people I know were more curious about the nail polish color than what Jenna was doing to her son's toes.  The color used in the ad is called "Peep Show," a shade made exclusively for J.Crew which has now sold out (not surprising). Essie Pink Parka from the Fall 2009 collection is said to be a dupe for Peep Show so I polished my nails with it today as a sign of support. ***Edited to add – Apparently I was misinformed when told that Pink Parka was a dupe for Peep Show.  Cute As A Button is a better match.***

Formula & Application:Essie nail polishes are 3-Free. The square bottles are embossed with the essie logo and the smooth plastic caps include an embossed e on top. The brushes are thin, round and shorter than most. The bristles are very flexible, allowing you to easily fan out the brush to cover your nail width.
Neons are notoriously a pain to deal with and Pink Parka is no exception. Neons actually trump yellows in the level of frustration they give me.  They tend to be thick and streaky, needing several coats.  Because the neon pigment causes the polish to dry matte, I use the same rules I apply to mattes; wait for the base coat dry completely before applying.  I ended up using three coats of Pink Parka though in spite of waiting for the base coat to dry I still ended up with some dragging on my ring finger so that got a fourth coat.

Essie Pink Parka was released as part of the Fall 2009 collection which is very un-Essie. Neons for Fall? How unexpected. When I saw Essie during Fall 2009 Fashion Week she mentioned being inspired by the Michael Kors runway that included neon pink, orange and yellow (see below). That inspiration come to life in the form or Pink Parka and Bright Tights. Of course those two shades were kind of overshadowed by the major hits of the collection; Mink Muffs and Chinchilly.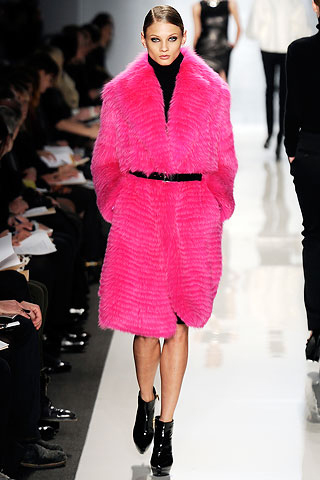 Essie Pink Parka is about as neon pink as you can imagine.  Of course, neons photograph terribly and never appear true-to-life on screen, unless some serious Photoshop magic is involved, so you have to trust that Pink Parka is eye searing.  It verges on glow-in-the-dark territory.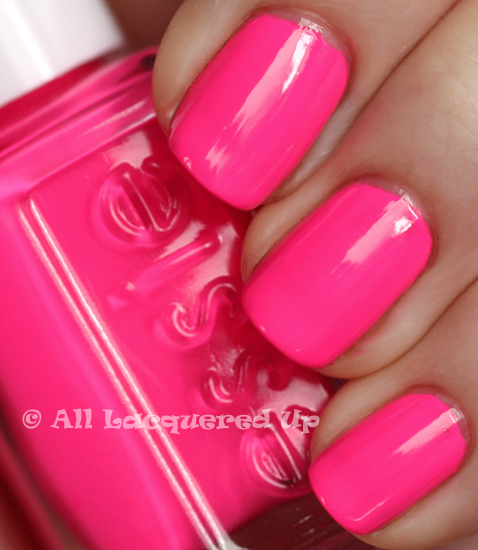 Bottom Line: As fun as neons can be in the summer, I personally opt for brights.  Simply because they are easier to apply and not as in-your-face.  I do keep a few neons on hand but I gravitate more towards oranges than pinks so Pink Parka just isn't my cup of tea.  Considering that most neons tend to apply the same as Pink Parka and this shade is discontinued, I would look for a more accessible option if you want a polish like this.
365 of Untrieds Stash/Share Verdict: SHARE
Essie Pink Parka is discontinued but can still be found online from various vendors.  Being that none of them are e-tailers I've purchased from before, I'm hesitant to link to them but a quick Google search will connect you with them.  Remember, order at your own risk.  If anyone has a reputable e-tailer to recommend that has Pink Parka in stock, please leave a link in the comments.
So who else joined me in wearing pink polish today?  Thoughts on Pink Parka?  Are you a fan of neon nail polish?  Do you have any special application tricks to share?
Disclosure: A sample was provided by Essie.  For more info view my Disclosure Policy.