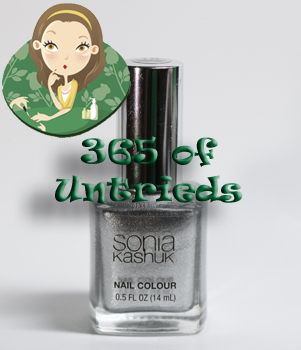 365 of Untrieds is my personal challenge to weed through the polishes in the ALU stash that I've been wanting to try but just haven't gotten around to.
While at brunch on Sunday I had my first spotting of crackle polish in the wild.  Sure we've been talking about it for months but, since OPI Black Shatter launched last January, I have yet to see it on anyone in real life outside of the beauty/fashion blogosphere.
The waitress who seated us was wearing a black crackle polish over a metallic silver and I loved the look so much, I decided to replicate it.  I went searching for an untried silver foil and came up with Sonia Kashuk Smoke and Mirrors and with the OPI Blue Shatters set to launch next month, I thought OPI Navy Shatter would be the perfect complement.

Formula & Application: Sonia Kashuk nail polishes are 4-Free (including formaldehyde resin) and free of camphor, which can be an irritant.  The square glass bottle and smooth metallic cap are identical to the Inglot Nail Enamel packaging.  The round, fat brushes even look the same but they apply the polish differently.  Where the Inglot brush tends to impede application, causing dragging, I experienced no issues with the Sonia Kashuk brush.  The bristles weren't as densely packed, making the brush more flexible overall.
Foil finish polishes like this tend to be a dream to apply.  They don't show brush marks or uneven application.  They are novice polisher's BFF.  The lacquer itself is highly pigmented and barely needed two coats.

Sonia Kashuk Smoke and Mirrors is the foiliest foil a foil can be. It's foil on crack.  Like the Orly Foil FX, these are as close to a mirror-like shine you will ever get from polish without some special trickery.  It's pure molten silver goodness.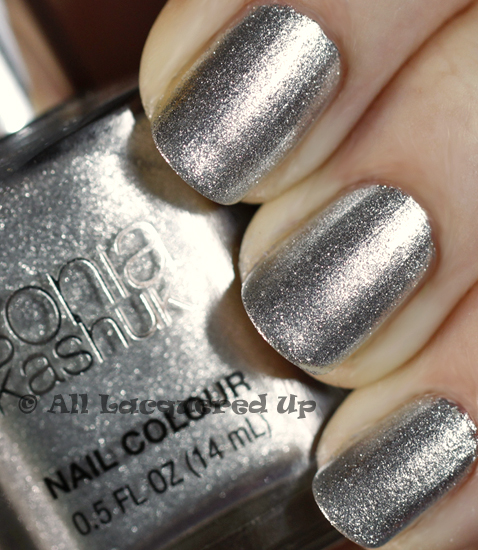 I've always been a fan of navy paired with silver or grey so if Smoke and Mirrors is to be crackified, OPI Navy Shatter is the ideal candidate for the job.  Navy Shatter is a creme but when a thin layer is applied over a metallic it takes on that finish giving it a more unique look.  The only issue I had is that, unlike Black Shatter which looks pure black no matter how thin it is applied, Navy Shatter can look almost royal which made my crackle coat look unevenly colored.  Though since the crackle/shatter look is all about the perfectly imperfect manicure, it kind of works.
Crackle Application Tips: Apply over completely dry polish.  Believe me, you won't like how clumpy and odd it looks over partially dried paint.  Thin coats yield more cracking. Try applying across the nail or on the diagonal for a fun twist.  Always apply top coat to prevent flaking.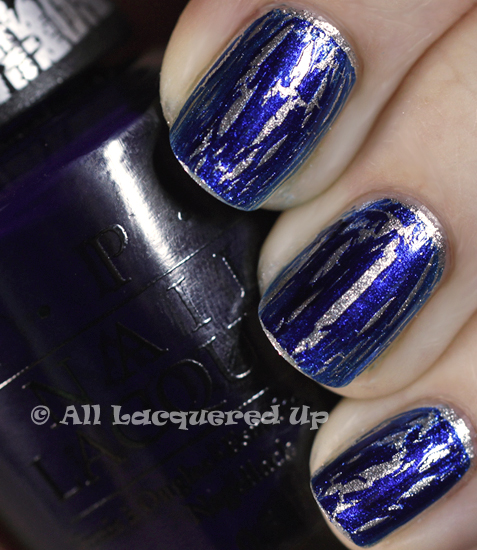 Bottom Line: With its affordable price tag and accessibility, you really can't go wrong picking up a bottle of Smoke and Mirrors.  The formula, application and finish are all complete wins in my book.  
365 of Untrieds Stash/Share Verdict: Since I already have a couple silver foils like this, I'll only keep one but I have yet to determine which one. UNDETERMINED
Sonia Kashuk Smoke and Mirrors is available at Target stores nationwide and online at Target.com.  Sonia Kashuk nail polishes retail for $4.99/ea for a .5oz bottle.  OPI Navy Shatter officially launches in May 2011 at salons nationwide including Beauty Brands, Beauty First, Chatters, Dillard's, JCPenney, Pure Beauty, Regis, Trade Secret, and ULTA. OPI Shatters retail for $8.50/ea for a .5oz bottle.
What do you think of Sonia Kashuk polishes?  How is the wear?  Do you own Smoke and Mirrors?  If not, do you plan to pick up a bottle?  What do you think of the latest OPI Shatter shade?  Have you spotted a lot of people sporting crackle manicures or do you feel like the only one who knows what it is?
Disclosure: Product samples were provided by Sonia Kashuk and OPI. For more info view my Disclosure Policy.