365 of Untrieds is my personal challenge to weed through the polishes in the ALU stash that I've been wanting to try but just haven't gotten around to.
The upcoming Royal Wedding is very polarizing. The Anglophiles are savoring every second of coverage that the nuptials of Prince William and Kate Middleton are receiving. Then there are people like me, who could care less. For the record, I'm not a complainer who wants to stop hearing about it. I respect that people care so I just tune out. What really bugs me though are the companies hawking products with their likenesses, imitations of the engagement ring, etc.
And of course there just had to be a nail polish. butter LONDON's Nonie Creme paid homage to the Royal Couple with the shade No More Waity, Katie, based on a nickname given to Kate by the press. Being that Nonie is British and her nail polish creations all have Brit-themed names, I'm giving her a pass on this one. Mainly because the color intrigued me. If the shade didn't sound special, I NEVER would have bought it.

Formula & Application: butter LONDON is known for its 3-Free formula but it is actually 4-Free (no Formaldehyde Resin). The bottle has a smooth plastic outer cap that easily slides off (thanks to a bottle redesign) to reveal a ribbed, round inner cap used for polishing. The brush is thin and round with flexible bristles that easily fan out to cover the nail.
Given the amount of glitter packed into the formula, it's no surprise that it applies semi-sheer with a jelly-ish feel.  Though unlike bL's popular JELLY line, No More Waity, Katie is buildable to opaque.  After three generous coats I achieved full coverage.  One thing to note, the polish dries a bit flat so whip out your glossiest top coat.  You may need two coats to completely smooth out the glitter texture.

butter LONDON No More Waity, Katie is at its core a smokey lavender, a lighter version of Chanel Paradoxal. It is described as greige on the website but I see no evidence of that here. Sprinkled into the base is light purple hexagonal glitter.  Something about this color feels grungy to me.  There's too much smoke in the water so to speak.  It ends up looking more punk than royal.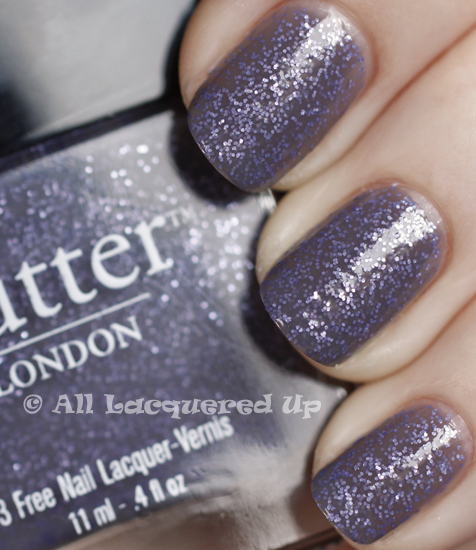 Bottom Line: While I appreciate where Nonie was going with this, for me it falls flat. The color doesn't look as special as it sounded or as special as it should be. I know people have been and will continue to scoop up this color due to the name and what it's associated with but from me it gets a pass.
365 of Untrieds Stash/Share Verdict: As much as I know I should say SHARE, the hoarder in me wants to STASH it even though I'm not in love with. I may play with some layering to see if I can make it workable.
butter LONDON No More Waity, Katie is available online at butterLONDON.com and b-glowing.com. While the bL line is carried in ULTA and Nordstrom I don't believe those chains are getting the shade.  butter LONDON nail polishes retail for $14.00/ea for .4oz bottle.
Were you sucked in by No More Waity, Katie?  Thoughts on the shade?  Are you into or over the Royal Wedding? If you don't own this shade will you be picking up a bottle?  I'd love to hear some creative layering ideas for it.
Disclosure: I purchased this nail polish. For more info view my Disclosure Policy.