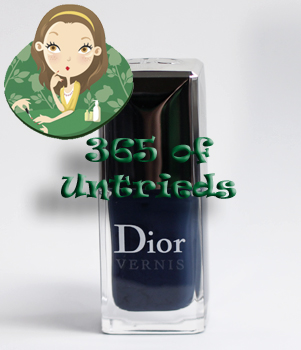 365 of Untrieds is my personal challenge to weed through the polishes in the ALU stash that I've been wanting to try but just haven't gotten around to.
This spring Dior bucked the traditional pastels & florals of the season with their Gris Montaigne Collection, focusing on greyed hues.  It's funny how just a year ago grey felt kind of "done" and yet here it is again, feeling fresh and new.
The Gris Montaigne Collection includes two nail polishes. One of them, the aptly named Gris Montaigne, was also part of an offshoot nail collection, City Gris, based on three fashion capitals; Paris, New York and London.  Gris Montaigne is joined by NY 57th and Bond Street which is my favorite of the three and the subject of today's 365 of Untrieds.

Formula & Application: Dior nail polish is 4-Free (including formaldehyde resin) and free of camphor, which can be an irritant. The rectangular glass bottles are topped with a mirror-like chrome finish cap that comes off to reveal an inner ribbed cap (similar to Chanel polishes).
Dior recently overhauled their formula and brush which is now a flat paddle style with firm, curved bristles, similar to Sally Hansen Insta-Dri & Complete Salon Manicure brushes. This style of brush has it's pros and cons; it gives great coverage but if it isn't cut perfectly it can be hard to create clean edges near the cuticle.
The firmness of the brush can also cause dragging if you use too hard a touch. Fortunately Bond Street is so pigmented that in spite of the unevenness I created with my first coat, I achieved full, opaque coverage in two coats.

Dior Bond Street is a deep slate blue creme.  It ended up surprising me as it looks so much lighter in the bottle than it dries.  Though please not that it's much more greyed in person than it appears on screen.  I like to think of it as a darker version of the beloved MAC Blue India.  They are definitely cut from the same cloth though Bond Street has a bit of teal in its base that lends to it looking a bit more blue depending on the lighting.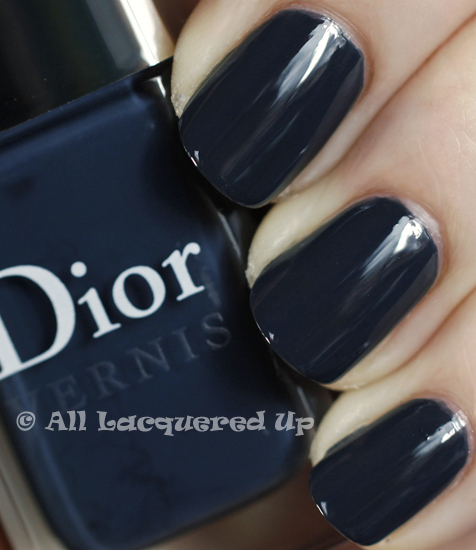 Bottom Line: The hue is rich and gorgeous and unique to my collection.  I'm as equally impressed with application and formula as I am the color so Bond Street gets an enthusiastic thumbs up from me.  Definitely worth checking out.
365 of Untrieds Stash/Share Verdict: I don't have to think twice… STASH
Dior Bond Street is available online at Dior.com.  Dior nail polishes retail for $21/ea for a .33oz bottle.
Thoughts on Bond Street?  Have you tried Dior's new formula and brush?  What has your experience been?  Will you be picking up a bottle of Bond Street?
Disclosure: A product sample was provided by Dior. For more info view my Disclosure Policy.