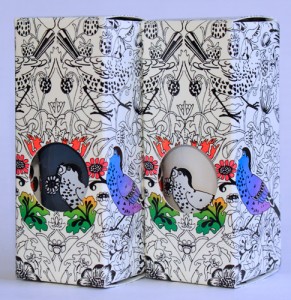 A couple months ago I flipped over the promo pics of the new MAC Give Me Liberty of London nail polish Blue India and it more than lived up to the hype.  Known for their iconic collaborations with labels like Comme de Garcons, Liberty of London has teamed up with MAC to create a makeup collection that brings the brand's prints to life.

The packaging which is based on William Morris's Strawberry Theif print from 1883 is a makeup collector's dream come true.  I'm one of those people who hoards all of MAC's specialty packaging.  I have a drawer filled with boxes from the Barbie, Heatherette, Hello Kitty, Fafi, Viva Glam etc.  I'll even buy colors that won't work for me because I'm a sucker for great packaging.  If you fit that mold, you'll die over Give Me Liberty of London.

Check out Blue India and Vestral White after the jump!

Blue India is a deep slate blue gray.  It's moody and utterly fantastic.  It's the first MAC polish in a while that truly had me giddy with excitement to try it.  I always enjoy trying new colors but I seriously raced to my polish room for a swatching.  The formula on this is a bit thin and watery so I needed three coats but I could care less.  The final result is SO worth it.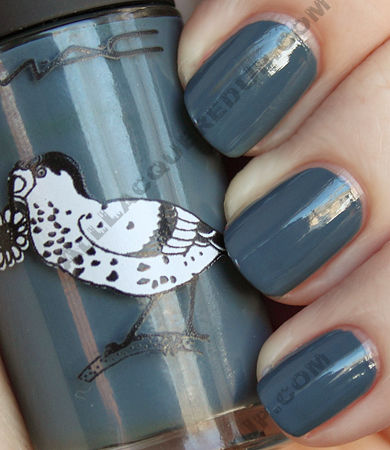 I dug through my drawers of blue polish trying to find something even relatively close to Blue India and came up short.  Slate blues just aren't the common in the nail world and the best I could do for you is Sally Hansen Gray by Gray and Barielle Slate of Affairs.  The Barielle is MUCH more blue and Gray by Gray is lighter and more gray.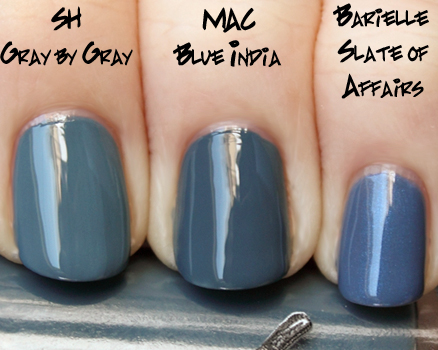 Vestral White is a creamy white and a repromoted color.  It originally launched with the Holiday 2007 collection Antiquitease and has come back a couple times since, most recently with Hello Kitty. As we all know, finding a great white polish is not easy. Like yellows they're either too sheer or too streaky. Vestral White falls into the latter category. I applied three coats and even though I let each layer dry in between, I still ended up with streaks and bald spots.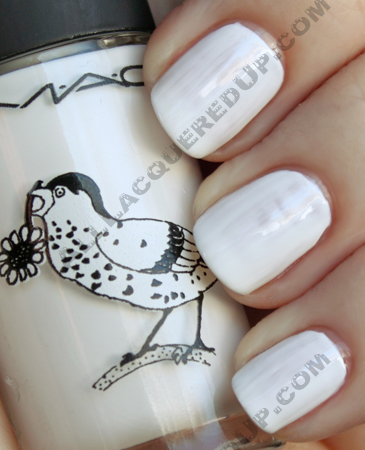 Bottom line: Blue India is an ALU "Must Have" but Vestral White gets a pass. Unless you are a collector, you can find better whites on the market.
The Give Me Liberty of London collection is on sale now at MACCosmetics.com and launching at MAC counters nationwide on Thursday. MAC Nail Lacquers retail for $12/ea.
Are you still as geeked for Blue India after seeing it swatched?  Who's planning to snag a bottle?  Do you have any similar colors hanging out in your stash?
Disclosure: A product sample was furnished to me by MAC. For more info view my Disclosure Policy.