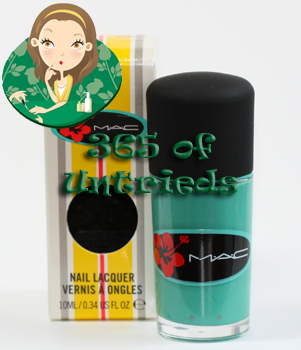 365 of Untrieds is my personal challenge to weed through the polishes in the ALU stash that I've been wanting to try but just haven't gotten around to.
This week marks the launch of the MAC Surf Baby collection. It is already for sale on MAC's website and releases in store this Thursday, May 26th.
Much like florals and pastels are heavily associated with Spring, beach themed collections go hand-in-hand with Summer. Summer 2007 brought the China Glaze Surf collection, 2008 the OPI Retro Fun In The Sun and 2010 saw RBL Surf's Up.
This year MAC is heading to the beach with one of their classic themed summer collections with packaging to match and they didn't leave the nail polish out of the fun. Surf Baby includes two new nail polish colors, Ocean Dip and Hangin' Loose and I have the former to share with you today.

Formula & Application: MAC Nail Lacquers are 4-Free (including Formaldehyde Resin).  The tall cylindrical glass bottles are topped with a round, rubberized cap and a thick, stiff, round brush. The MAC brush can be your best friend or worst enemy. It allows for perfect polish placement but if you press too hard you'll end up with patchiness or drag marks, so polish with a light touch.
Ocean Dip has a thin, squishy texture that is well packed with pigment. The lacquer flows easily on the nail and self levels. If the brush wasn't stepping on its toes, it would only need two coats. I managed to get away with two coats on two of my nails but I had to use three coats on my ring finger due to dragging issues caused by the brush.

MAC Ocean Dip is a bright turquoise creme. It's pretty straight-forward in its coloring in that it doesn't have any grey or murkiness in its base color yet it isn't screaming neon. This one leans more green than your typical turquoise without crossing over into teal territory.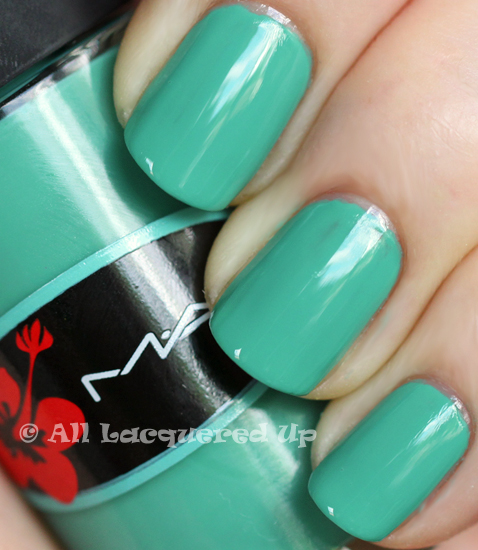 To give you an idea of where it falls in the nail polish color spectrum I pulled its closest living relatives from my stash; Essie Greenport, Models Own Slate Green and Sally Hansen Insta-Dri Sea Breeze. In the bottle I expected Sea Breeze to be a pretty close match if not an exact dupe but as you'll see below, that's exactly why you have to try on polish before making a verdict.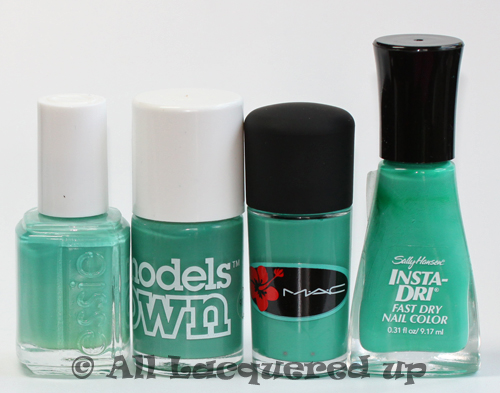 As it turns out Greenport doesn't even belong in the same category as the other three polishes. It's so much lighter and less pigmented than the rest. Sea Breeze is almost a one coater and ends up drying brighter, lighter and a bit more green than Ocean Dip. Models Own Slate Green has too much gray in its base to be a dupe. I would say that Sea Breeze is probably the closer sibling but there are no Ocean Dip twins to be found in my collection.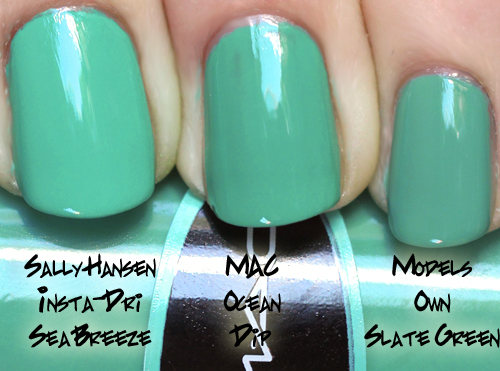 Bottom Line: Although I totally expected Ocean Dip to be just another turquoise, with multiple more accessible substitutes, it ended up being a unique color to my collection. If MAC's brush wasn't frustration on a stick it would get two thumbs up from me. I continue to hope the brush will be replaced someday soon. I would say unless you already own SH Sea Breeze, which was sadly a limited edition shade, and you can get over the brush, the color is worth having.
365 of Untrieds Stash/Share Verdict: I'm a sucker for MAC's branded bottles and the color is a beaut so it's sticking around in my STASH.
MAC Ocean Dip and the rest of the Surf Baby collection is available May 26th, 2011 at MAC counters nationwide and NOW online at MACCosmetics.com. MAC nail polish retails for $15/ea for a .34oz bottle.
Thoughts on Ocean Dip? Are you planning to succumb to the allure of the Surf Baby collection? What is your favorite MAC nail polish? Out of curiosity, those of you who don't buy MAC polish, would you change your mind if the brush was better?
Disclosure: A product sample was provided by MAC. For more info view my Disclosure Policy.