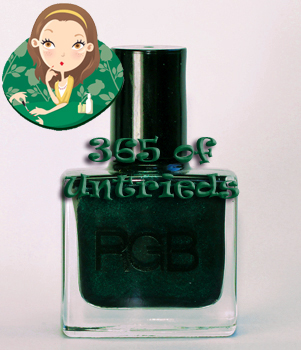 365 of Untrieds is my personal challenge to weed through the polishes in the ALU stash that I've been wanting to try but just haven't gotten around to.
It's been a while since I've worn a rich, dark green. Green is my favorite color to wear but I seem to transition from dark to light & bright throughout the seasons. An emerald green just feels too Holiday in the middle of summer.
However, I've had RGB Cosmetics Sea sitting on my desk, longing to be worn, for way too long now and I just had to give in.
***Edited to add – this was supposed to go live last night but apparently I don't know how to read a calendar. Apologies for the delay.

Formula & Application: RGB Cosmetics nail polish is 4-Free (including Formaldehyde Resin). The square bottles contain the same amount of polish as Chanel or RBL bottles but they are much more compact in size. The short, round, shiny black cap is about the width of my thumb and I find it relatively easy to control polish placement but would prefer it to be slightly longer. The brush is short, round and average in width.  The bristles are somewhat stiff, but way more flexible than the MAC brush. You won't have any dragging issues with this one.
RGB seems to have perfected the balance between a thin, workable consistency and a high pigmentation level. The consistency makes for an easy application with full coverage in two coats.

RGB Sea is an amped up forest green shimmer. The name implies that it's a seawater type blue-green but it has an electrified green shimmer that overpowers any blue in its base. It's like a blackened Emerald Sparkled, minus the glitter. Indoors the color is pretty dark and knocks on the door of "almost black" territory without completely crossing the threshold.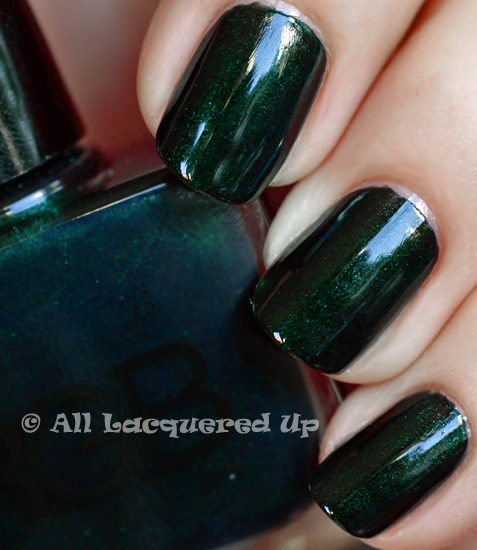 In the sun the color comes alive as the shimmer plays hop-scotch with the light.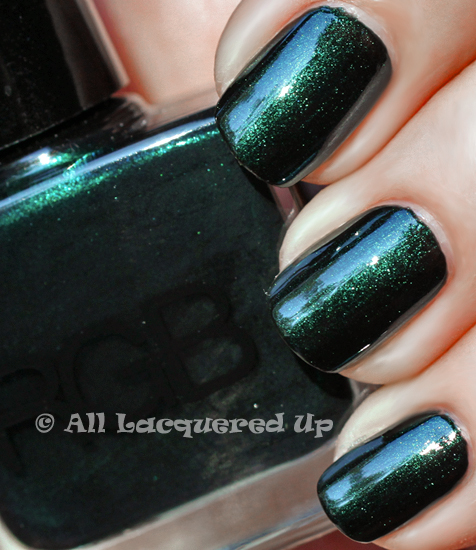 In searching for a suitable dupe, the closest I could come is Deborah Lippmann Don't Tell Mama. With the strong teal blue base of DTM they certainly aren't identical but I doubt, unless you are a green polish collector, that you would need both. Wet N Wild Morbid is a faded version of DTM so it's not a twin to Sea either.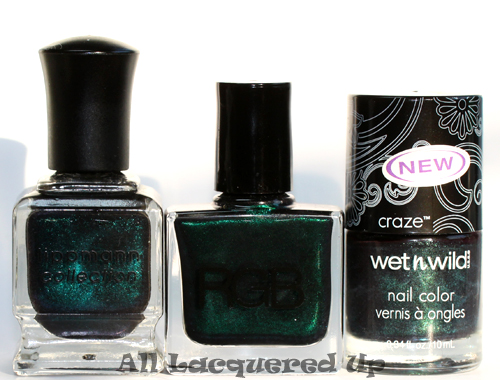 Bottom Line: RGB has a fantastic formula and the vibrancy of Sea definitely sets it apart from other colors in this genre. I, of course, can't resist it but I don't know if it's wow worthy enough to call it a must-have.
365 of Untrieds Stash/Share Verdict: I'm STASHing it for now.
RGB Sea Nail Polish is available online and at select retailers. For shopping information visit RGBCosmetics.com. RGB nail polishes retail for $14/ea for a .4ozbottle.
What do you think of Sea? Have you tried RGB nail polish yet? If no, why not? If yes, what is your favorite color from the line?
Disclosure: A product sample was provided by RGB Cosmetics. For more info view my Disclosure Policy.