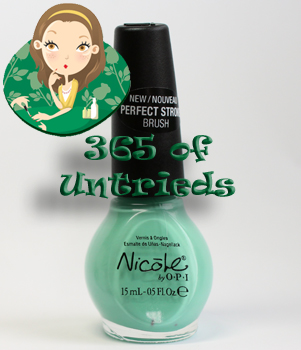 365 of Untrieds is my personal challenge to weed through the polishes in the ALU stash that I've been wanting to try but just haven't gotten around to.
You don't EVEN have to say it. I already know what you're thinking. But come on, you knew it would happen didn't you? That eventually one of those damn Justin Bieber polishes would suck me in. And if you didn't guess that it would be the green, it's like you don't even KNOW me.
The first set of Nicole by OPI Justin Bieber One Less Lonely Girl polishes had some cute shades but nothing that tempted me to twist off the cap. When I saw the bright minty green, My Lifesaver, I screamed, "UNCLE!"
Now what I didn't know when I first learned about the collection is that it was created to raise awareness and funds for Pencils of Promise which helps to build schools and increase educational opportunities in the developing world. How can I scoff at Nicole by OPI for partnering with the Biebs when it's for a good cause? His tween fans are a guaranteed sell-out audience so even though it seems odd for Justin to be associated with nail polish, at the end of the day I get it.

Formula & Application: Nicole by OPI is a 3-Free brand.  The bottle shape is distinctive with its bulbous base and long, tapered, matte plastic cap.  This was my first time using the new "Perfect Stroke" brush. The new brush is flat and curved at the tip, similar to the Sally Hansen Insta-Dri & CSM brushes only shorter and thinner. And when I say shorter, I mean tiny. Like shorter than my pinkie nail.
The bristles are pretty stiff, a la MAC, so dragging can be an issue unless you use a light touch. The only major prob I encountered was that my brush had a slightly wonky curve so it didn't give me a perfect line along my cuticle HOWEVER I checked my other Perfect Stroke brushes and they were perfect.
My Lifesaver is smooth and thin with a lot of pigment. I was able to get it opaque with two medium coats. There is evidence of dragging near my cuticles but that's just due to my inexperience with the brush. I could have and probably should have applied a third coat to give you a flawless shot of the polish but I wanted you to see how opaque two coats is.

Nicole by OPI My Lifesaver is a bright minty green creme. This is not some shrinking violet pastel. It's far from subtle. What I like is that it doesn't read as chalky and that leans slightly blue while still maintaining its green stature as you'll see in my comparison shot below.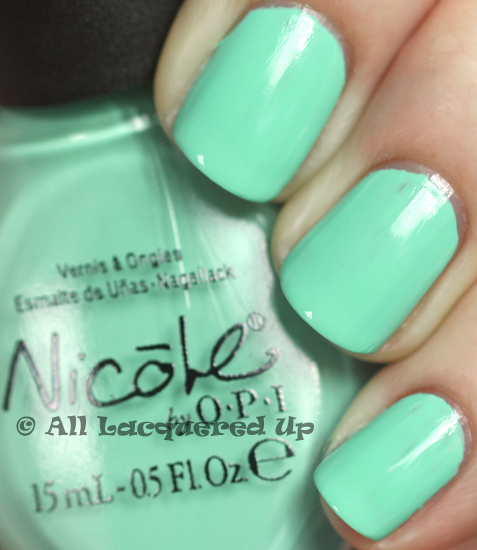 I thought for sure I was looking at a dupe of some sort when I put on My Lifesaver but it turns out it has no twins in my stash. Not even Mermaid Tears which I immediately assumed may be the case. As you can see, it falls smack dab between Orly Ancient Jade (left) and Orly Gumdrop (right). If you mixed the two and added a bit of white, you'd have a match. Neither Maybelline Minty or Barry M Mint come close. My Lifesaver stands alone.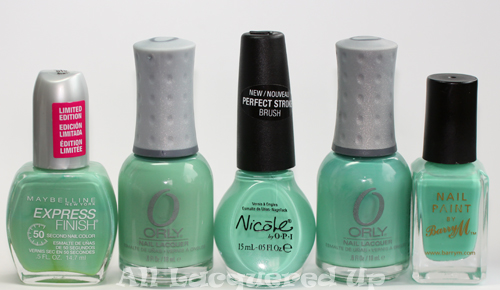 Bottom Line: In spite of the brush issue I'm impressed with the pigmentation and brightness of this color. I know we've seen what seems like a million mint polishes by now so this isn't necessarily a "must" but since most of them were limited edition and are now long gone, if you missed out on that train you can still hop on board with My Lifesaver.
365 of Untrieds Stash/Share Verdict: I recently reorganized my polishes after acquiring a third Helmer in December and my light green drawer is pretty empty so for now I'm STASHing it.
Nicole by OPI My Lifesaver is available now as part of the Justin Bieber One Less Lonely Girl collection. You can find Nicole by OPI both online and in store at Walmart, Target and ULTA. Polishes retail for $7-8/ea for a .5oz bottle.
Who else gave in to the Justin Bieber polishes? Which ones did you get and what is your favorite? Thoughts on My Lifesaver?
Disclosure: A product sample was provided by Nicole by OPI. For more info view my Disclosure Policy.