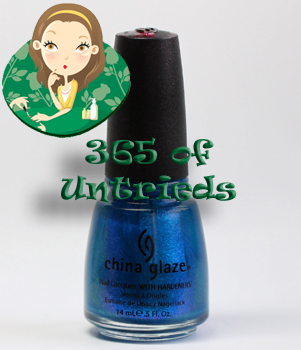 365 of Untrieds is my personal challenge to weed through the polishes in the ALU stash that I've been wanting to try but just haven't gotten around to.
Today was one of those days where I couldn't decide what nail polish I wanted to wear. We all have those days, don't we? I was blankly staring at bottles, sifting through Helmer drawers and feeling pretty uninspired. I haven't been sleeping well this week so I blame my polish malaise on that.
I finally started swatching a bunch of random colors on my nails, hoping to be wowed. I tried a few colors before cracking open China Glaze Blue Iguana from the Island Escape collection. When Blue Iguana first arrived it didn't look like much in the bottle, an average blue shimmer but it turned out to be more than that.

Formula & Application: China Glaze is a 3-Free brand with a round brush that is both medium in length and firmness with enough give to allow for ease of control. The cap is slightly tapered and made of smooth plastic that is comfortable to hold.
Blue Iguana has a semi-sheer base that looks like a jelly yet it's thin and smooth, not at all squishy. It's very easy to manipulate so precise application is pretty foolproof. Of course due to the lack of pigmentation in the base you see some VNL even after three thin coats. A fourth coat or an opaque base color is necessary if you want absolute opacity.

China Glaze Blue Iguana is an electric blue foil sparkle mix. Tiny turquoise metallic foil flakes swim with blue and fuchsia micro-glitter in a sea of royal blue. The fuchsia sparkles create a duo-chrome effect in the bottle and a slight purple flash on the nail.  You should note that the camera lens picks up on VNL much more than the naked eye. In person it's not nearly as noticeable.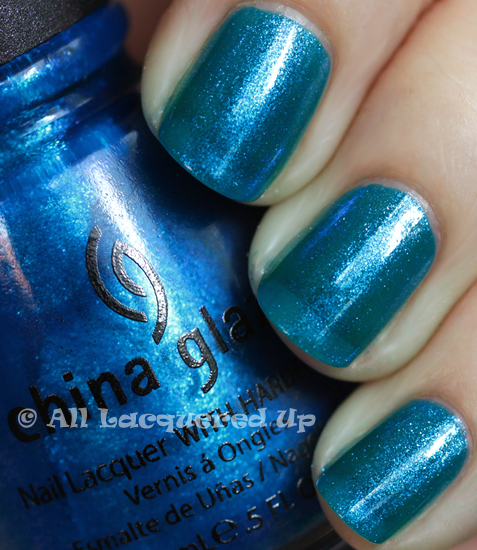 Bottom Line: While I wasn't feeling the island love when I first laid eyes on Blue Iguana I'm now ready to dive on in to this beauty. I'm more than willing to get over the VNL issues for what the pink sparkle brings to the party. While I rarely make an exception for a polish this sheer, it's one worth layering or adding a fourth coat.
365 of Untrieds Stash/Share Verdict: I can't resist STASHing it.
China Glaze Blue Iguana is available now with the rest of the Island Escape collection. China Glaze nail polish can be purchased at retailers like Sally Beauty Supply and ULTA and online at Head2ToeBeauty.com, TransDesign.com and 8ty8Beauty.com. Polishes retail for $3-6/ea, depending on the vendor, for a .5oz bottle.
Thoughts on Blue Iguana? Do you plan to pick up a bottle? Did you get any of the polishes from the Island Escape collection? What is your favorite color from the set?
Disclosure: For more info view my Disclosure Policy.