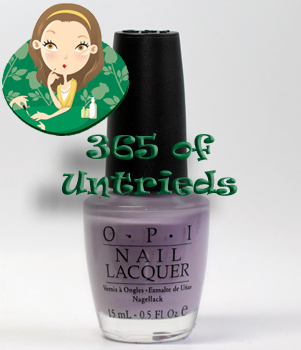 365 of Untrieds is my personal challenge to weed through the polishes in the ALU stash that I've been wanting to try but just haven't gotten around to.
A couple weeks ago I was invited to a blogger event at Legacy Village, an upscale shopping center in my neighborhood. They asked some local fashion and lifestyle bloggers to come check out some summer trends from White House Black Market and Charming Charlie and learn more about the stores in the complex.
I was super stoked to go when I found out that some of my blogging friends, including fellow nail blogger Steff from Short 'n Chic, were going to be there. Steff has a great sense of style and perusing the accessory racks with her was a lot of fun. I ended up coming home with a cute bracelet that I can't stop wearing and today I decided to polish my nails to match using OPI Done Out In Deco.

Formula & Application: OPI is a 3-Free brand. They made the switch to 3-Free in 2008. You can identify an OPI with the 3-Free formula by the green lettering on the label. Bottles with black lettering have the old formula. Always check the labels to be sure. The OPI Pro Wide brush is flat, wide and medium in length. It's of average stiffness and easily spreads out on the nail when pressed. The only downside to the Pro Wide brush is that it can be too wide for slim fingers or little toes.
The formula on this one is nice and thin and easy to work with. The pigmentation could use some improvement but at least it wasn't streaky. I ended up using three coats just to be sure it was completely opaque but if you apply your polish a little thicker you could get away with two.

OPI Done Out In Deco is a creamy pink based lilac. Now normally when I hear lilac I go running for the hills. Pink based purples are my skin tone's worst enemy. They give me what I call an "alien hands" effect. Fortunately DOID isn't too pink or too light and in indirect light it looks a lot cooler and more smoky as you'll see below.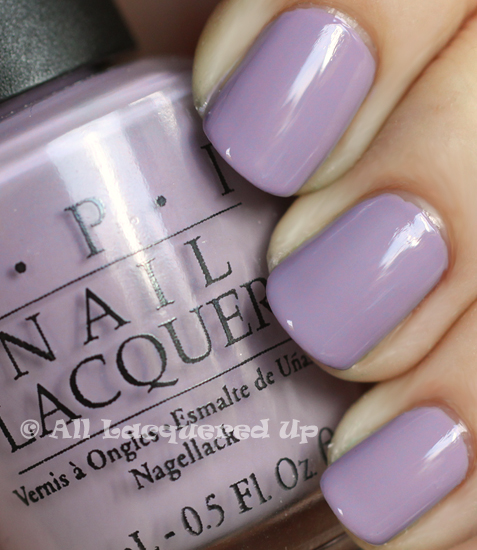 As I mentioned above, the event featured clothes from White House Black Market with accessories from our host Charming Charlie. Now even though I basically live down the street from Legacy I've never been in Charming Charlie. I didn't even know what they sold. So you can imagine how overwhelmed I was by this giant store filled with every kind of costume jewelry you can imagine plus hats, shoes, bags, etc. And the genius part is that it's all organized by color AND super affordable. Like most items cost under $20.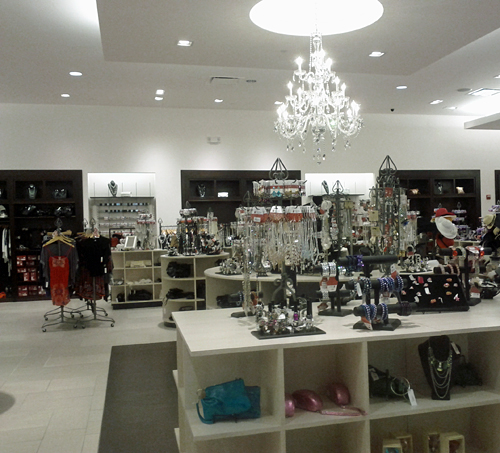 Shibani from CLE Shopaholic and Allison from Confessions of a Cohabitant model some hats while Steff from Short 'n Chic had fun with a fascinator-esque hair accessory.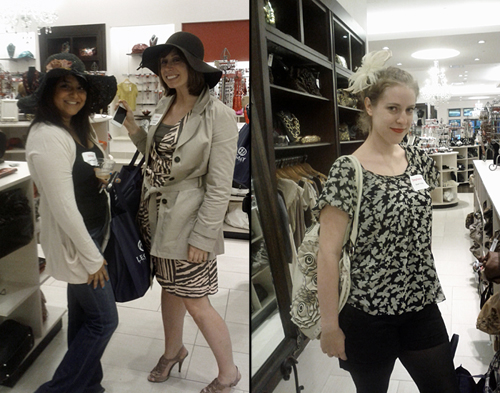 While they were having fun with hats I made a beeline for the green, blue and purple sections of the store. Surprising, I know. I love accessories but I tend to be the type of shopper who goes out looking for something to go with a specific outfit rather than just purchase random things that can go with anything. This was the perfect opportunity to change that.
Being that I have a lot of purple, gray, black and silver in my closet I thought the bracelet I chose would mix well with a lot of my wardrobe. As you can see, I'm so into purple it's even on the accent wall of my polish room. As it turns out DOID isn't a perfect match for my bracelet, OPI Parlez Vous OPI? is a better companion, but I've already worn that one and DOID feels more springy.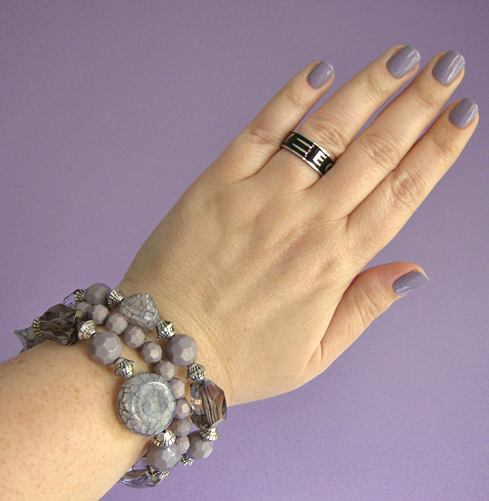 Bottom Line: Done Out In Deco ended up being much more flattering than I expected and a great spring color. The formula is great, the pigmentation is serviceable but at the end of the day I'm not jumping up and down over it.
365 of Untrieds Stash/Share Verdict: As much as I love purple this one isn't giving me butterflies so it's off to be SHAREd with someone who will love it.
Unfortunately OPI Done Out In Deco is discontinued. It was launched as a limited edition color with the South Beach collection for Spring 2009. I've seen bottles floating around online in places like eBay and Amazon but I haven't found an etailer I know who is carrying it.
Did you snap up a bottle of DOIN when it first launched? Thoughts on the color? I'm not really a matchy-matchy type of person so I'd love to hear your suggestions on what polish you would wear with my bracelet.
Disclosure: A product sample was provided by OPI. PR reps for Legacy Village provided me with a gift card to use on merchandise at any Legacy Village store and I chose to use it on accessories from Charming Charlie. Posting about the experience was neither requested nor required. For more info view my Disclosure Policy.