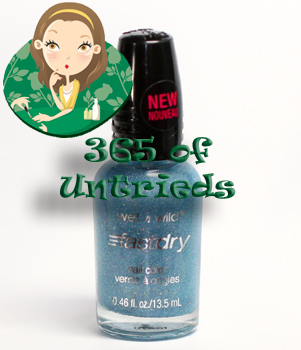 365 of Untrieds is my personal challenge to weed through the polishes in the ALU stash that I've been wanting to try but just haven't gotten around to.
I was cleaning out some random shopping bags I had laying around when I found a small Walgreens bag filled with some Wet n Wild nail polishes. I don't remember when I bought them but it couldn't have been too long ago.
I hurriedly sneaked them into my office before the boyfriend could see since, according to our agreement, nail polish cannot live outside the polish room. It was part of the deal when we bought the house. I get a room for all my nail polish nonsense as long as it doesn't creep into the rest of the house as it had done in our old condo.
Anyway, while all three colors that I picked up are very fun it was the light blue glitter that drew my focus. I was layering a few things over my OPI Done Out In Deco manicure before removing it and the combo of that and Wet n Wild Blue Wants To A Millionaire is STUNNING!

Formula & Application: Wet n Wild Fastdry nail polish is 4-Free (including Formaldehyde Resin). The bottle has an odd shape as the back looks like a hexagon and the front is a smooth half circle. The cap is also unique in that it's kind of a bulbous round shape with ridges in two sides to give you a place to grip.
The brush reminds me of a horse tail. It's fat and bushy with stiff bristles that appear to be cut on an angle. Flat out, I'm NOT a fan. It's too bulky and makes polishing more difficult. I was able to manage but I don't find it very user friendly.
The lacquer itself flowed smoothly on the nail in spite of the brush with a somewhat squishy texture. This is a pretty sheer polish which makes it best for layering but with three coats I eliminated a lot of the VNL (visible nail line). I'm assuming some ingredient that makes this polish quick drying contributes to the finish because while it does dry extremely fast, the surface is pretty dull. You definitely need a top coat with this one.

Wet n Wild Blue Wants To Be A Millionaire is a pale blue glitter. It leans a bit towards turquoise but only slightly so. The glitter is the star of the show in this polish. We're talking a rainbow of micro-glitter. It doesn't create a prismatic pattern on the nail but it stands out in pretty much any amount of light.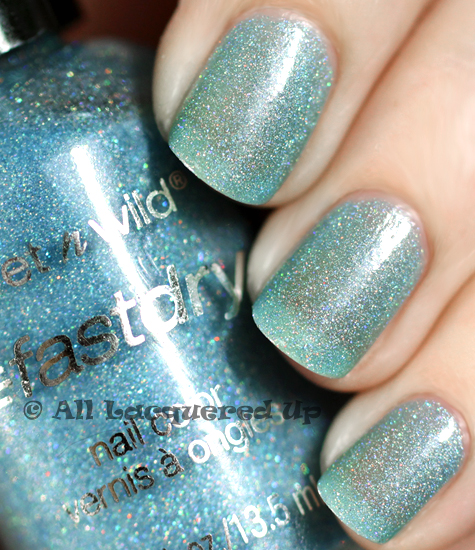 I layered it over OPI Done Out In Deco and I'm so into the combo so much I kind of want to put it on again. The Wet n Wild glitter mellows out the pinkness of DOID brings a heck of a lot of sparkle to the party. I can't get over how much I love this look.
Photographed in shade to show the smokiness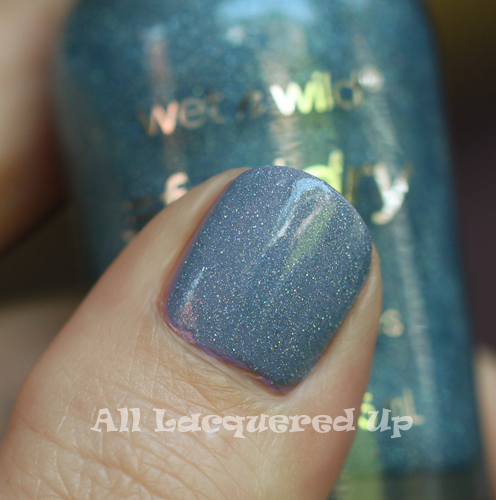 Bottom Line: As much as I avoid sheers because I hate seeing my smile line, I really love this color. I love the sparkle, the base color, everything. I can't stand the brush but I'll deal with it. And for layering, it's genius.
365 of Untrieds Stash/Share Verdict: I'd be stupid not to STASH it.
Wet n Wild Blue Want To Be A Millionaire is available at drugstores nationwide. Wet n Wild Fastdry polishes retail for $1.99/ea for a .46oz bottle though prices can vary by store.
Thoughts on Blue Wants To Be A Millionaire? Have you tried the new Fastdry polishes? What is your favorite Wet n Wild shade from any of their lines?
Disclosure: I purchased this nail polish. For more info view my Disclosure Policy.