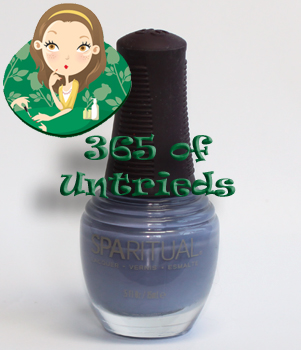 365 of Untrieds is my personal challenge to weed through the polishes in the ALU stash that I've been wanting to try but just haven't gotten around to.
I hope all my US readers are enjoying their Memorial Day weekend. I just want to give a quick shout-out to all the troops who serve every day to protect us. It is an amazing selfless act to serve your country and I thank you for that.
Back to nail polish, a reader recently asked me to feature Sparitual in the Untrieds so I chose A World of Compassion from last fall's Imagine collection. Check it out!

Formula & Application: Sparitual nail polish is 4-Free (including formaldehyde resin), vegan and excludes camphor which can be an irritant. Their round bottles are capped with a tapered rubberized cap that includes four ribbed sides for a secure grip. I'm a big fan of rubber caps not only for polish but for easily opening tightly capped bottles.
The Sparitual brush is relatively short and very thin but wow do I love it. The bristles are so nice and flexible and they spread out over the nail so perfectly. It's such a pleasure to work with this brush.
The formula of this polish is kind of thin, watery and squishy like an Essie. Is it just me or is like every polish brand taking on this texture? While that typically means the polish isn't overly pigmented, that wasn't the case with A World of Compassion. It is really well pigmented and in spite of the smooth consistency it gave great coverage in two thin coats.

Sparitual A World of Compassion is a smoky periwinkle blue creme. It has a bit of a slate feel but leans too blue to be gray and the slight purple tint makes it unique. This is one of those subtle chic shades and because it's not too greyed it ends up being pretty seasonless.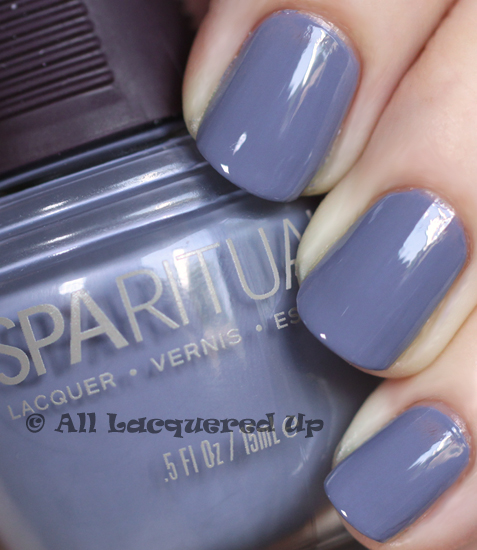 When I first put on A World of Compassion I thought, Caitlin, is that you? I mean the resemblance to Zoya Caitlin is uncanny. Now I wouldn't go so far as to call them dupes, because there is a slight variation in color, but you definitely don't need both in your collection. Side-by-side on the nail AWoC looks more purple and Caitlin looks more grey but if I wasn't looking for the difference, I wouldn't notice it.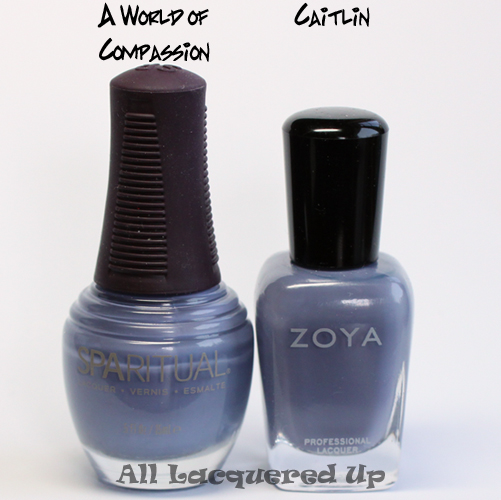 Bottom Line: I loved Caitlin so how could I not love AWoC. The pigmentation is spot on, the brush is full of win and the murky greyed blue is totally in my nail color wheelhouse. The only reason I could see not to buy it is if you already own Caitlin.
365 of Untrieds Stash/Share Verdict: This is a hard one. I already stashed Caitlin but I prefer the Sparitual brush so it looks like Caitlin is getting the boot in favor of AWoC. STASH!
Sparitual A World of Compassion is available now as part of the Imagine collection. Sparitual is carried at salons and spas but their distribution seems to be pretty limited. The closest salon to me is in Detroit. To locate a retailer near you visit Sparitual.com. Online shoppers can head to Amazon, Apothica, CosmeticMall and SkinStore to purchase. Sparitual nail polishes retail for $10/ea for a .5oz bottle.
What do you think of Sparitual polishes? Do you have any must-have colors from the brand? Thoughts on A World of Compassion?
Disclosure: A product sample was provided by PR reps for Sparitual. For more info view my Disclosure Policy.