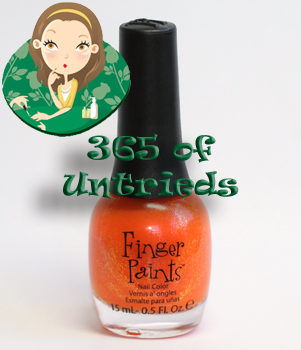 365 of Untrieds is my personal challenge to weed through the polishes in the ALU stash that I've been wanting to try but just haven't gotten around to.
Even though Summer doesn't technically start for a few more weeks, in the US, Memorial Day weekend is the unofficial kickoff to the season. It's one of my favorite times of the year. And not just because my birthday usually falls on that weekend but because it means the start of the boating season, trips to Put-In-Bay, cookouts etc. We spent yesterday touring the local wineries with our neighbors and, outside of a few drops of rain, the weather was absolute perfection.
Since orange is looking to be one of the big trends this summer I decided to pull out one of the new Fingerpaints Peace, Love & Color collection nail polishes, Outta Sight Orange.

Formula & Application: Fingerpaints is produced exclusively for Sally Beauty and it is 4-Free (including formaldehyde resin) and does not include camphor. At some point the FP formula changed because they used to be 3-Free but I don't know when that switch happened. If you are concerned about which formula you are buying, check the ingredient list under the label prior to purchase.
The Fingerpaints bottle is unique in that it's kind of an oblong shape (remember The Oblongs cartoon?) with a long, slender, slightly taped cap. The brush is long, thin and flexible. It reminds me of the old OPI brush which is probably why so many of us speculated that OPI made Fingerpaints back in the day.
The formula on this one is kind of thick, gloppy and squishy but not in a detrimental way. As long as you aren't slapping on thick coats it will build up to opaque in three coats without causing any drying issues. As I always say three thin coats are better than two thick ones as the polish will dry faster and wear longer. The same applies to Outta Sight Orange.

Fingerpaints Outta Sight Orange is a warm reddish orange jelly with glass fleck glitter. It's not uber bright or overly mellow. It doesn't show up in the picture but the glitter has this amazing duo-chrome effect in that it can look gold or fuchsia depending on the angle. It's kind of amazing.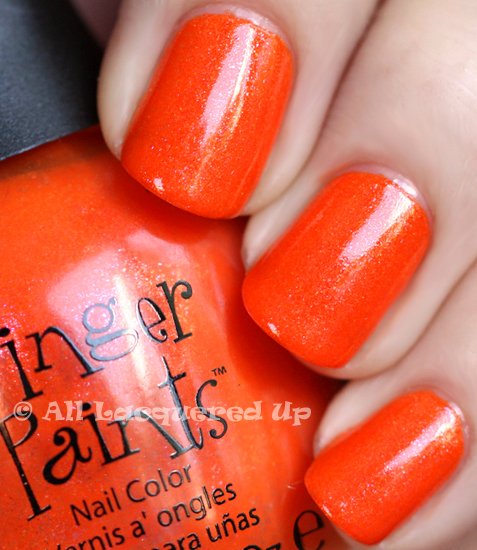 When I first saw it I thought it would be everything I hoped for in the too sheer Nicole by OPI Fresh Squeezed. They even have the same fuchsia/gold glitter. However Fresh Squeezed is lighter and much more orange. I also looked to China Glaze Orange Marmalade, a personal favorite, but in comparison OSO looks like is has no red in it at all.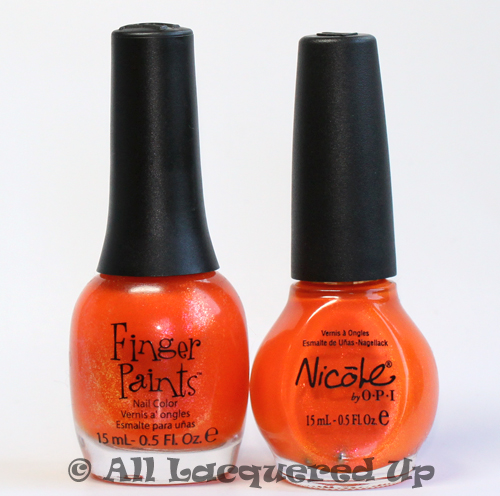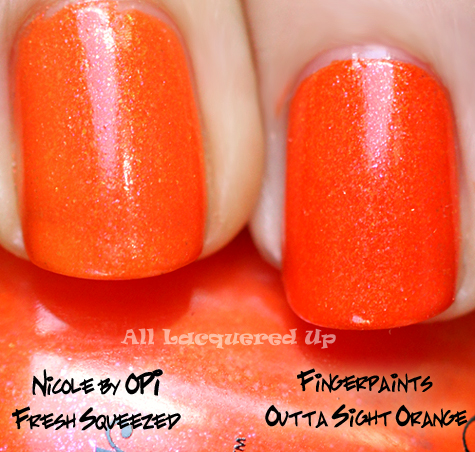 Fingerpaints Peace Love & Color Summer 2011 Collection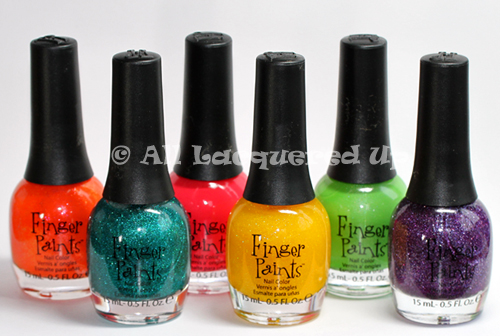 Bottom Line: Any glass fleck that can become opaque in three coats or less is a winner in my book. With the subtle reddish undertones and flecks of gold and fuchsia, there's no way a lover of orange polish won't be over the moon for it. I highly suggest you scoop up this limited edition shade before it's gone.
365 of Untrieds Stash/Share Verdict: Oh I'm definitely STASHing it. No doubt!
Fingerpaints Outta Sight Orange and the rest of the Peace, Love & Color collection are available now at Sally Beauty stores and online at SallyBeauty.com. Fingerpaints nail polishes normally retail for $4.99/ea for a .5oz bottle but they are currently on sale for $3.99/ea.
Thoughts on Outta Sight Orange? Are you a Fingerpaints fan? What are your favorite colors from the brand? If you haven't tried them yet, WHAT are you waiting for? Are you hopping on board the orange polish train this summer? Did you do anything special this holiday weekend (if you celebrate)?
Disclosure: A product sample was provided by Sally Beauty. For more info view my Disclosure Policy.