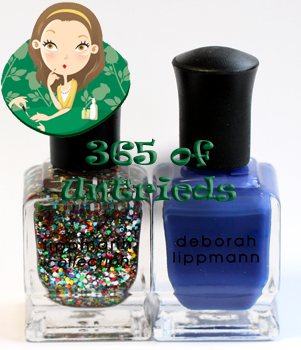 365 of Untrieds is my personal challenge to weed through the polishes in the ALU stash that I've been wanting to try but just haven't gotten around to.
It's funny how my feelings about my birthday have changed over the thirty #$%$# years I've been alive. Growing up an only child, my parents spoiled the pants off me so it's no wonder that I spent my teens and 20s turning my day into a week that was "all about me."
When I hit 30 the world was ending, of course, and now that I'm more comfortable with that first digit in my age, I find myself not caring so much about the celebration as I used to. I just remember how lucky I am to have two amazing parents who think the world revolves around me (it does doesn't it?), a boyfriend/partner who goes above and beyond to make my life complete and a wonderfully diverse cast of characters who are more like family than friends. And of course, I'm so so lucky to have all of you supporting me and sharing the polish love.
Today's polish choice was a no-brainer since today is my birthday. Cue the fanfare, ha! I started off the month with a polish named Happy Birthday so it seems fitting to close it out the same way. This time with Deborah Lippmann Happy Birthday and guest star I Know What Boys Like from the Summer 2011 color collection.

Formula & Application: Deborah Lippmann nail polish is 4-Free (including formaldehyde resin) and doesn't contain camphor, which can be an irritant. Her signature glass bottle is so distinct you would know the brand even without the name on it. It's one of the best bottle shapes in the industry. The curved cap was designed with professional manicurists in mind as it is shaped to rest comfortably between your fingers.
The Lippmann brush is short, round and average in width with flexible bristles that easily fan out over the nail plate. Both polishes have a squishy, watery feel in application. It's as though the formula is a blend of jelly and creme. For reference, Call Me Irresponsible has the same texture and reminds me of the current Essie formula. The level of opacity in these two polishes is very different so I'm going to address that in the individual reviews below.

I started my birthday manicure with a base of Deborah Lippmann I Know What Boys Like one of the new Summer 2011 polishes. When I first saw IKWBL last Fall I immediately thought of Call Me Irresponsible. I even asked if this was the blue version of that shade. In essence it is but the formula is much better in my opinion. Whereas I needed three coats with CMI, IKWBL is utter perfection in two flawless coats.
I feel like I'm using the word periwinkle a lot lately but it fits this color rather well. Though unlike the smoky versions of the shade I've talked about recently (Zoya Caitlin, Sparitual A World of Compassion) this is a rich, vibrant representation.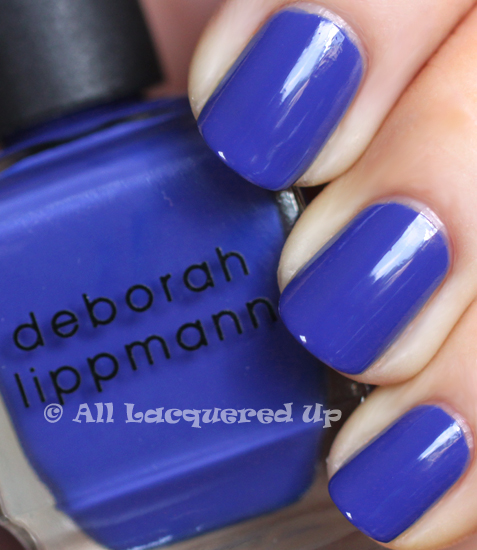 I added two coats of Deborah Lippmann Happy Birthday on top to add a little flair. Happy Birthday is nail confetti. Its clear base houses what can only be described as a sh*t-ton of glitter (nice mouth, I know). A rainbow of large hexagonal sequins are mixed with smaller square glitter. Every piece is a colored mirror begging the light to play with it. Now these types of glitter polishes are tricky to work with. If you want the most glitter impact per stroke you have to lay it down kind of thick and with authority and even then the majority of the glitter will end up closer to your tips. It's the nature of the game.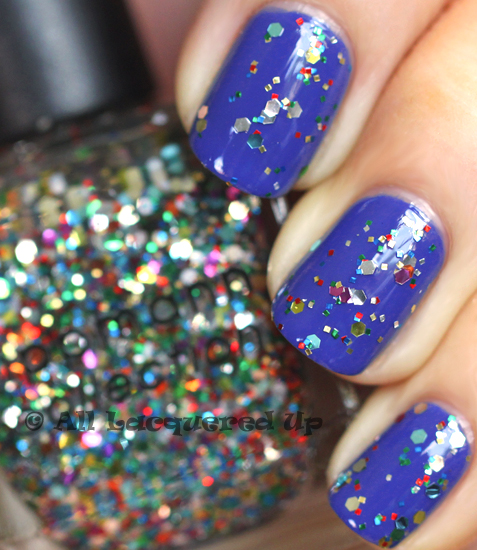 Now my original plan was to go all out with a full Happy Birthday manicure but the whiny baby in me didn't want to deal with the removal. But after I completed my layering manicure I decided I needed a bit more bling so I removed the polish from my ring finger and turned it into my glitter accent nail. To get this look I used four thick coats of polish. And as much as I worried that it would make my nail feel really thick, it didn't. The base is so nice and thin that all you really feel is the texture from the glitter, which with top coat isn't that noticeable. The sequins lay down nice and flat so there's none of that bumpy feel you get with some glitters.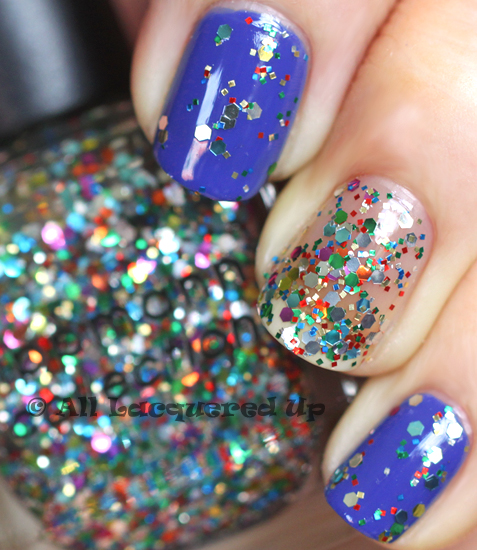 Bottom Line: I Know What Boys Like is so my style, that I can't imagine not loving it. Clearly I'm having a periwinkle moment and this vivid version is perfect for the season. As soon as I saw it last September I had a feeling that it would be a favorite and now that I've worn it, I know it's true. Now Happy Birthday does have several dupes on the market including the more budget friendly Milani Jewel FX Gems. I would say the one advantage HB has over Gems is the color range of its glitter. Gems feels a bit Christmas-y in that red, gold and green tend to stand out as opposed to HB's pops of pink and blue.
365 of Untrieds Stash/Share Verdict: While I don't know that I'll use HB as much as IKWBL I'm STASHing both.
Deborah Lippmann Happy Birthday and I Know What Boys Like are both available now at Neiman Marcus, Nordstrom and Barneys NY stores. Online shoppers can head to DeborahLippmann.com,  Nordstrom.com,  Barneys.com,  Beauty.com, and NeimanMarcus.com. I Know What Boys Like retails for $16/ea and Happy Birthday retails for $18/ea for a .5oz bottle.
Thoughts on these two shades? Do you plan to pick up either shade? What is your favorite Deborah Lippmann nail polish? What was your last birthday manicure?
Disclosure: Product samples were provided by PR reps for Deborah Lippmann. For more info view my Disclosure Policy.