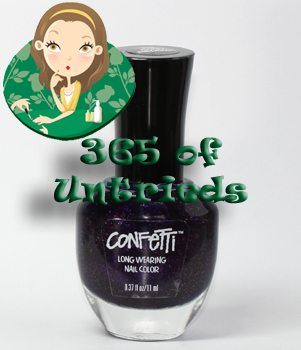 365 of Untrieds is my personal challenge to weed through the polishes in the ALU stash that I've been wanting to try but just haven't gotten around to.
May is my favorite month of the year. For one, it's when we start to get consistently nice weather in the CLE. Finally! Second, it's my birthday month. My birthday is the last day of the month so it usually coincides with Memorial Day Weekend which I consider the kickoff to the summer season. Third, May's birthstone is the emerald which is most likely the cause of my green nail polish obsession.
Sometime last summer I noticed the Confetti brand of nail polish popping up at local CVS stores. The range is affordable and filled with a lot of eye catching shades. I've had a few of them in my stash for a while now but haven't used a single one until today. My birthday may be 29 days away but why not start celebrating early by wearing Confetti Happy Birthday!

Formula & Application: Confetti nail polishes are 4-Free (including formaldehyde resin) and free of camphor, which can be an irritant. The glass bottles have a smooth plastic cap that flares out at the top, tapering near the base where you would grip it for polishing. The round brush is average in length and width with flexible bristles that easily spread over the nail.
The lacquer is pretty thin with a jelly-ish, squishy texture that flows nicely on the nail but doesn't offer a ton of coverage. Considering how dark Happy Birthday! is, you would expect more pigment but I needed three medium coats to get full coverage. Even then I could see lighter areas at the base and tip, characteristics of a typical jelly.

Confetti Happy Birthday! is a rich cool-toned grape hue packed with irregularly shaped hot pink micro-glitter. The glitter gives the promise of duo-chrome in the bottle but on the nail I just see pink with little flecks of blue peeking out from time to time. What I really like is that the glitter doesn't add texture to the polish so it dries nice and glossy even without top coat.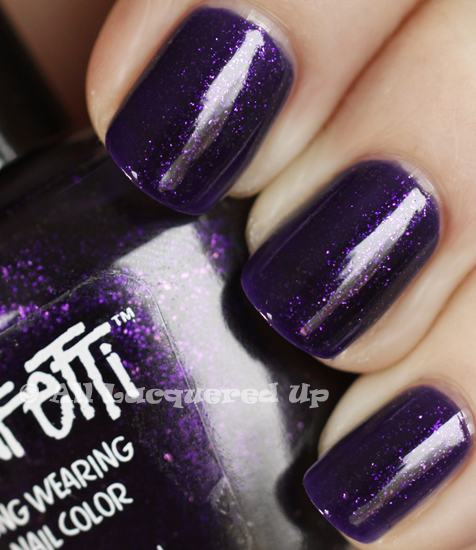 Bottom Line: I'm a sucker for this type of purple and the pink glitter really pops making this color a standout. Considering the budget friendly price point, I don't mind the need for three coats especially since I'm giving up two coverage for a smooth formula.
365 of Untrieds Stash/Share Verdict: I see not reason not to STASH it.
I found Confetti nail polishes at my local CVS but other chains may be carrying the brand as well. I read that the owners were sued by Coty (owners of Sally Hansen) and the company was shut down but I still see them so availability may vary. Confetti nail polishes retail for $1.99/ea for a .37oz bottle.
What do you think of Happy Birthday? Would you choose it for your birthday manicure? Have you tried Confetti polishes before? What are your favorite colors from the brand?
Disclosure: I purchased this nail polish. For more info view my Disclosure Policy.