Confetti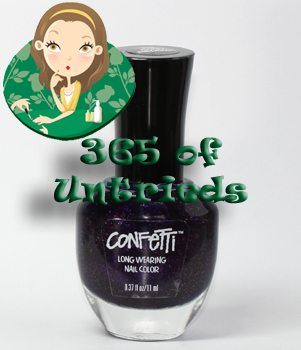 365 of Untrieds is my personal challenge to weed through the polishes in the ALU stash that I've been wanting to try but just haven't gotten around to.
May is my favorite month of the year. For one, it's when we start to get consistently nice weather in the CLE. Finally! Second, it's my birthday month. My birthday is the last day of the month so it usually coincides with Memorial Day Weekend which I consider the kickoff to the summer season. Third, May's birthstone is the emerald which is most likely the cause of my green nail polish obsession.
Sometime last summer I noticed the Confetti brand of nail polish popping up at local CVS stores. The range is affordable and filled with a lot of eye catching shades. I've had a few of them in my stash for a while now but haven't used a single one until today. My birthday may be 29 days away but why not start celebrating early by wearing Confetti Happy Birthday!