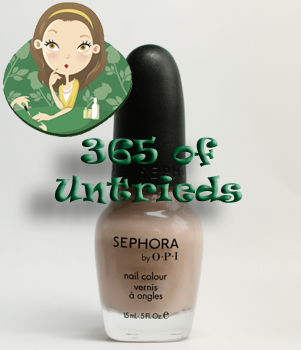 365 of Untrieds is my personal challenge to weed through the polishes in the ALU stash that I've been wanting to try but just haven't gotten around to.
While everyone was buzzing about the Sephora by OPI Glee collection, the more low-key Urban Ballerina collection quietly came on the scene. Given the hype surrounding Black Swan, I'm amazed that the collection didn't get more lip service.
As a little girl I was always obsessed with dance and dance movies, watching films like Fame and Flashdance way before I was old enough to see them. I even took ballet lessons for a hot second before admitting that I lacked the natural talent and coordination required.
Now even though I'm known for my love of bold nail color, I have moments where I want a more subdued feminine look so I took Sephora by OPI Let's Plié for a spin on the dance floor.

Formula & Application: Sephora by OPI nail polishes are 3-Free. The distinctive bottle shape is capped with a smooth, thick, rounded cap. My only major complaint with the cap is that it's so slippery that it can make opening the polish difficult. Keep a rubber band on hand to twist it open.
The brush is thin and round and reminds me of the old OPI brushes (pre Pro-Wide era). For some reason, this brush in this color didn't spread out so I needed more strokes than usual to cover the name.
Let's Plié applies nice and thin but it's lacking pigmentation so it goes on semi-sheer and streaky. So streaky in fact that I ended up applying four thin coats to get it opaque. Even at four coats, the finish wasn't perfect. It ended up looking kind of chalky.

SOPI Let's Plié is a peachy nude with silver mica. It looks like a pearl in the bottle but on the nail, the tiny shimmer particles are more apparent. It reminds me of those fabulous Chanel subtle shimmer polishes that are so popular.
I don't want the word peachy to scare my cool toned Fanatics away. The base color isn't as peachy as Deborah Lippmann Before He Cheats. In fact, it's a pretty close match to the recently launched spring hue, CND Perfectly Bare.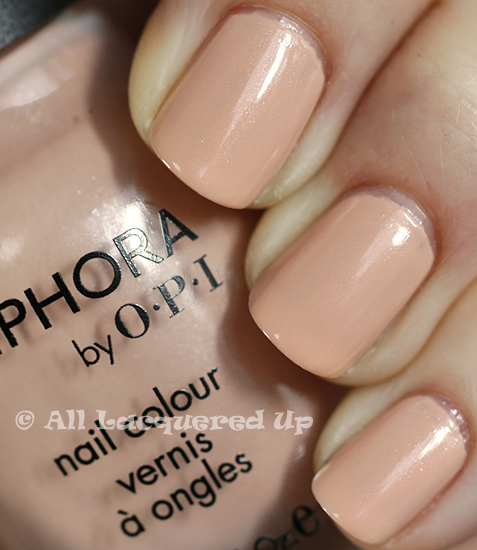 Bottom Line: While the color is beautiful, I might even consider it my "Mannequin Hands" shade, the pigmentation and application issues are a major downside.  Four coats is unacceptable unless the color is truly unique and irreplaceable.
365 of Untrieds Stash/Share Verdict: SHARE
Sephora by OPI Let's Plié and the rest of the Urban Ballerina collection is available now at Sephora stores nationwide and online at Sephora.com.  Sephora by OPI nail polishes retail for $9.50/ea for a .5oz bottle.
Did the Urban Ballerina collection catch your eye? Thoughts on Let's Plié? Do you have any four coat polishes are special enough to deal with the need for extra coats?
Disclosure: I purchased this nail polish. For more info view my Disclosure Policy.