OPI is hitting us hard this May with THREE new launches; Pirates of the Caribbean: On Stranger Tides, Blue Shatters and Serena Glam Slam! France. While I was expecting to want to tear right into the Pirates polishes I was taken completely aback by the two Glam Slam! Duos.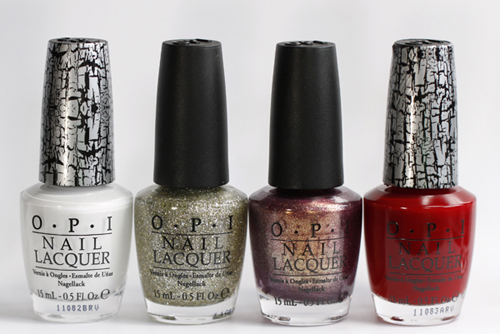 If you've read my previous shatter/crackle reviews you know I'm not all in on this look but the base colors in this collection really drew me in.  Unlike the Katy Perry collection that left me pretty indifferent, the polishes in this collection are Game.Set.Match. wins!

Formula & Application: OPI nail polishes are now 4-Free (including formaldehyde resin) and free of camphor, which can be an irritant. This is a new development as OPI's pre-Texas were only 3-Free. I just wish OPI had changed the color of the print on the labels so buyers can identify 4-Free polishes like they did when they made the switch to 3-Free.
The OPI Pro Wide brush is flat, wide and medium in length. It's of average stiffness and easily spreads out on the nail when pressed. The only downside to the Pro Wide brush is that it can be too wide for slim fingers or little toes.
Being that we're talking about two very different kinds of polish in each duo, I will address the formulas individually. Spark de Triomphe is a clear based glitter. Because the glitter particles vary in size and are so densely packed into the base, it quickly builds to opaque with only three coats though I opted to use two coats as it doesn't need to be opaque under the crackle.  I feel using three would just make the finished product too thick.  Rally Pretty Pink is a foil glitter that flows easily on the nail.  While the pigmentation is good, the two coats I used would probably require a third if I were wearing the color on its own..

OPI Rally Pretty Pink has a rosy pink base packed with pink and gold foil micro-glitter.  The gold is very predominant in this shade and it really pops under the shatter but the pink is definitely noticeable.  On the nail, the two colors combine to create a peachy duo-chrome effect.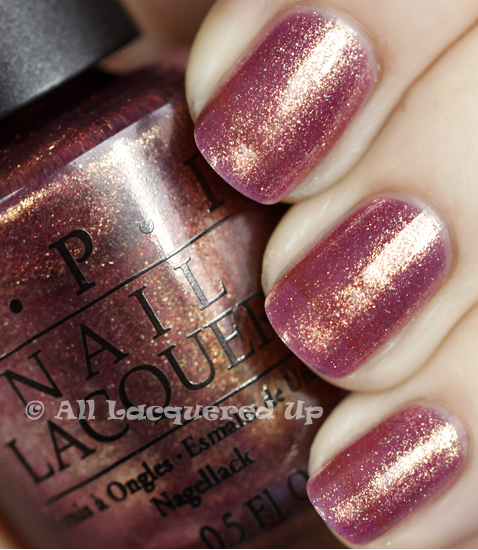 Now when I saw this duo in the package, I thought OPI Red Shatter made absolutely no sense.  That it would look like a mistake.  Boy was I wrong.  Applied over Rally Pretty Pink, the gold foil glitter really stands out making for a gorgeous combination.  I'm showing Red Shatter without top coat on my middle finger because I loved the contrast between the matte shatter and gold. It gives the look an Old World feel.  I later added a layer of Essie Matte About You top coat and the effect is even more gorgeous.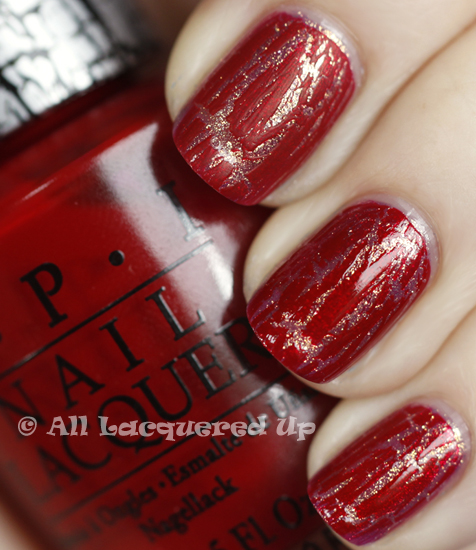 OPI Spark de Triomphe is the bright shining star of this collection.  This clear based glitter is chock full of so many kinds of glitter; silver and gold micro-glitter, silver and gold foil pieces, gold hexagonal glitter.  It's a cornucopia of glitzy goodness.  The overall effect comes off more gold than silver but the gold is more champagne than yellow. Adding the silver particles definitely keeps this one neutral.  One could use this as a topper but the glitter is SO jammed in the base that it really steals the show from whatever color you layer it over.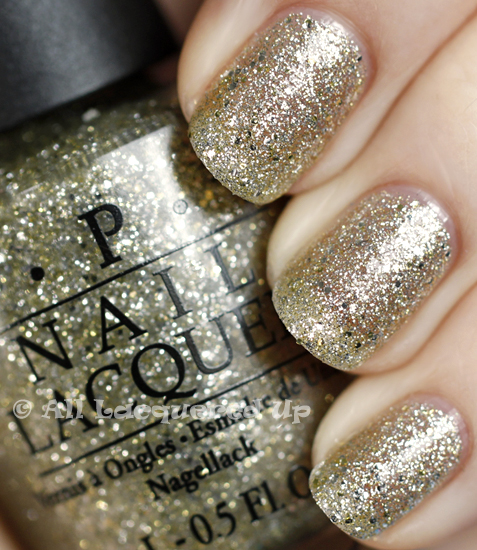 When the duos first arrived, I swatched them on a nail art wheel and all I could think was how OPI White Shatter was going to ruin the gorgeousness of Spark de Triomphe.  Covering it up seemed like a crime.
Inspired by an image I saw on Tumblr, that a reader told me came from a blog called Chloe's Nails, I used a piece of scotch tape to block off the majority of the nail from the shatter hoping that would be a better option. Though as one follower commented it looked like dried sour cream. Not great.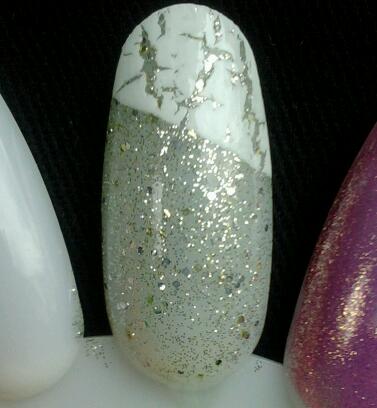 So in an effort to find a better Shatter match for Spark de Triomphe I tested it with OPI Blue Shatter, OPI White Shatter and OPI Silver Shatter over top. While Blue Shatter pairs nicely with SdT, it makes the look feel heavy. White Shatter looks better than I thought but I should have used a lighter coat so more of the glitter would show through. Silver Shatter was a complete and utter fail. If SdT was more gold it would make for a better contrast but as is, it just looks a mess.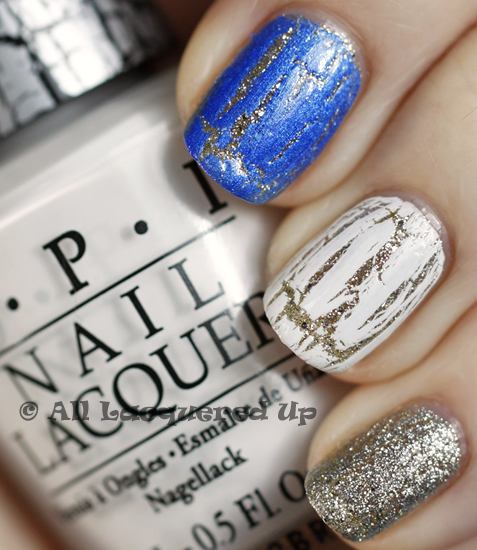 When using Shatters remember these tips:
Use over COMPLETELY DRY nail polish.
The thinner the layer, the more cracks you will get when dry
Shatter polishes dry matte/satin and can flake off so use a top coat
Shatters thicken faster than traditional polish and according to OPI you can thin them.  Just make sure you add the thinner slowly, rolling to mix well between each thinner addition

Bottom Line: Spark de Triomphe is my must-have polish of the four. It's utterly gorgeous and back-up worthy (that's saying a LOT). Rally Pretty Pink is so not my style yet I'm so attracted to it. I don't see myself wearing it often but there's no way it's leaving my stash. Neither Shatter color is something I would opt for but Red Shatter does look good over Rally Pretty Pink. If you can find open stock of the polishes, definitely snap up the base colors even if you don't like Shatter.
OPI Glam Slam! France is available now at professional salons and spas nationwide including national chains Beauty Brands, Beauty First, Chatters, Dillard's, JCPenney, Pure Beauty, Regis, Trade Secret, and ULTA. OPI nail polishes retail for $8.50/ea for a .5oz bottle.
Thoughts on the Glam Slam! duos? If you had to choose, which duo would you get? Which colors do you plan to buy? Would you put a Shatter over Spark de Triomphe or wear it on its own?
Disclosure: Product samples were provided by OPI. For more info view my Disclosure Policy.