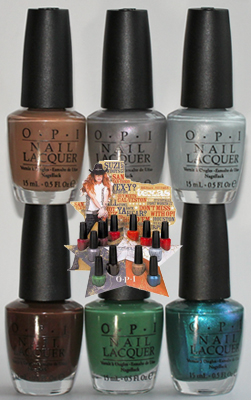 The stars at night are big and bright
Deep in the heart of Texas
~Deep in the Heart of Texas lyrics by June Hershey
Tell me you can hear those lyrics and NOT clap your hands. Go ahead, tell me! This Spring, OPI is venturing down south to the Lone Star state of Texas. In the past OPI has focused on areas within the US (Painted Desert, New England) or specific cities (New York City, Chicago) but this is the first time I can remember where and entire state has been the inspiration for a collection.
The OPI Texas Collection for Spring/Summer 2011 is standard in that it consists of twelve polishes but for the first time there is a definitive dividing line between each set of six shades.  OPI is introducing their take on the beloved jelly texture with six "sorbet" style polishes; semi-sheer colors with a lucite look.  Before we tackle the sorbet lacquers let's examine the creme & shimmer polishes.

Formula & Application: OPI is a 3-Free brand. They made the switch to 3-Free in 2008. You can identify an OPI with the 3-Free formula by the green lettering on the label. Bottles with black lettering have the old formula. Always check the labels to be sure. The OPI Pro Wide brush is flat, wide and medium in length. It's of average stiffness and easily spreads out on the nail when pressed. The only downside to the Pro Wide brush is that it can be too wide for slim fingers or little toes.
This half of the Texas collection consists of three cremes, one opaque shimmer and two semi-sheer micro-glitters. The cremes all applied with a squishy texture that reminded me of China Glaze while the opaque shimmer (I Want To Be A-lone Star) had a creamier feel. The opacity with all four is spot on with each color.  They only required two coats.  The micro-glitters didn't fare as well.  After three coats I could still see my smile line through each one.

I Vant To Be A-lone Star is a pale pastel blue packed with silver shimmer.  It straddles the line between baby blue and white.  I was really impressed at how well it applied considering how light the color is.  A polish this light tends to either be thick and streaky or watery and semi-sheer.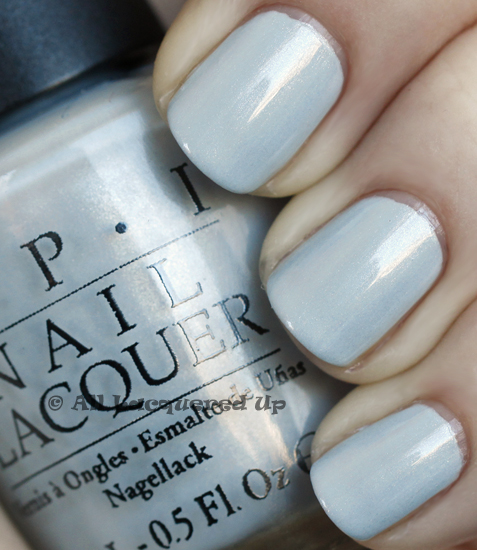 I'm sure a lot of you thought the same thing, that I Vant To Be A-lone Star is a dupe for China Glaze Sea Spray or Essie Sag Harbor.  We were all wrong.  The other two are darker with less obvious shimmer.  Unlike its pale blue predecessors, I Vant To Be A-lone Star's shimmer isn't hiding from anyone.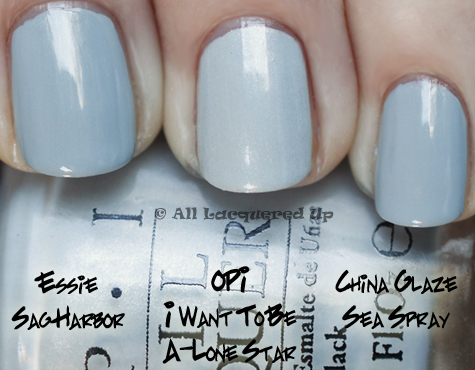 San Tan-tonio is a sandy beige color.  It's a bit warmer than it appears on screen and reminds me a lot of CND Desert Suede.  Something about this type of color makes me think of bad foundation.  It's just not flattering with my skin tone.  I could see this looking stellar on someone with an olive or darker complexion.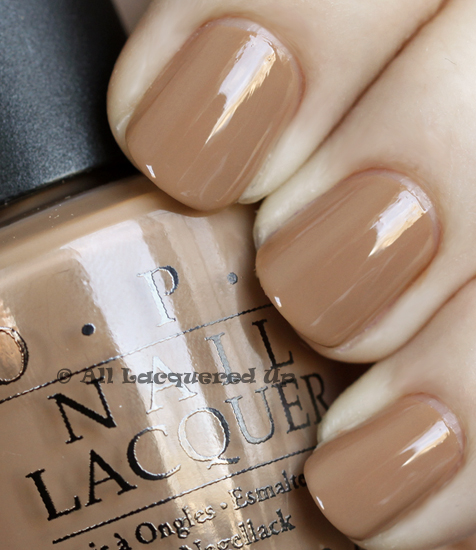 OPI Austin-tatious Turquoise looks like a vibrant aquamarine hue in the bottle but on the nail it comes off lighter with a dirty gray undertone.  The blue metallic shimmer and micro-glitter paired with the semi-sheer turquoise base looked promising it's pretty muddled on my nails.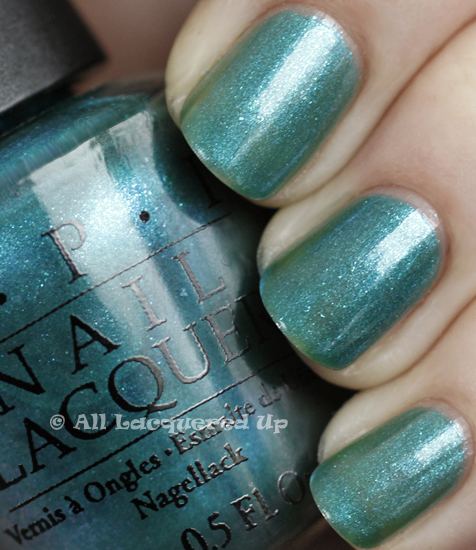 It's Totally Fort Worth It has a shimmery pale grey base filled with pink micro-glitter.  Like Austin-tacious Turquoise it has a muddy quality that appears a bit dirty.  Normally I'm all about a "greyed" anything but it doesn't work in this case.  Throw in semi-sheer coverage and I"m all "Mismas out!"  Sorry, it's Idol season.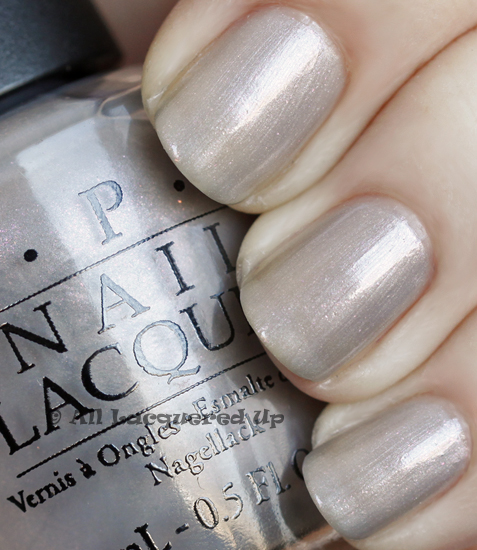 Suzi Loves Cowboys is one of the truest brown cremes I've come across in a while.  There's no dominating red or black base color pulling it towards warm/cool territory.  It's like a liquid Hershey bar.  The squishy jelly-like texture had me thinking it might need three coats to go opaque but I was happy to only need two.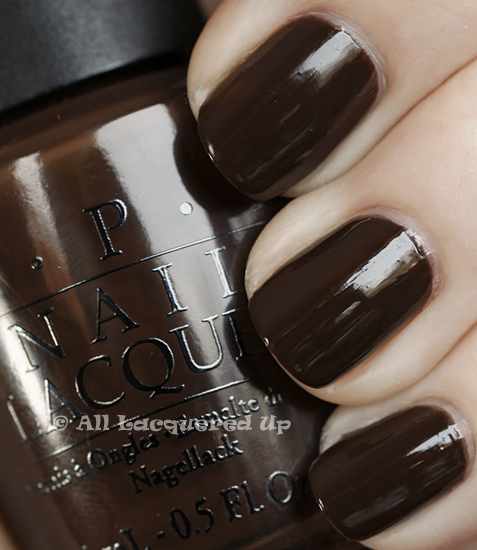 Don't Mess With OPI is a rich grass green creme.  For some reason when I uploaded my swatch image, WordPress changed the colors making it look WAY more muted than it appears in person.  I can't get it to load with the proper shade so I really wouldn't go by this picture.  DMWO is pretty bright in person but not like kelly green bright.  It's definitely darker like what I think of as a shamrock green.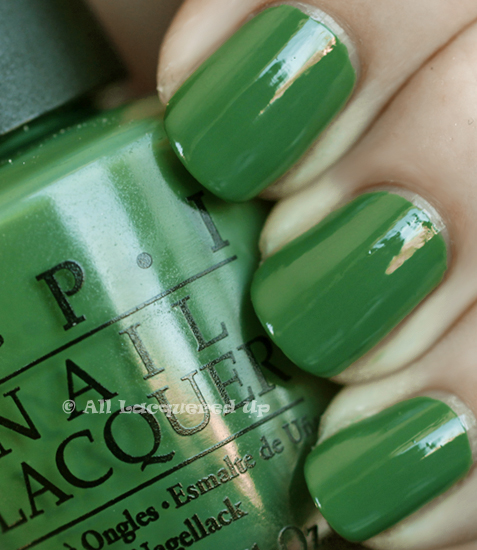 I did a comparison with China Glaze Starboard and Essie Pretty Edgy and again, the colors didn't appear right after the image was uploaded (If you know why this happens, EMAIL ME!).  What I can tell you is that both Starboard and Pretty Edgy are lighter shades than DMWO.  I would say Starboard and Pretty Edgy are more closely related with Starboard being more muted compared to the astroturf-esque Pretty Edgy.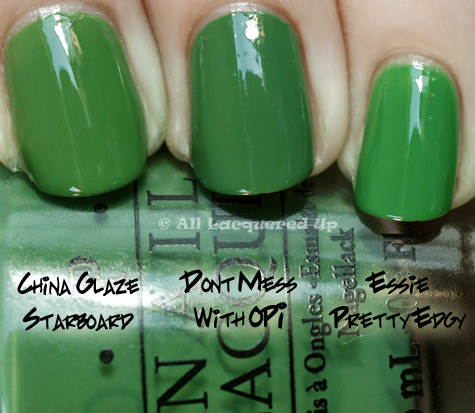 Bottom Line: Regardless of whether these colors represent the state of Texas well, there doesn't seem to be a cohesive theme here.  Maybe I just don't get it.  Now you know I'm always on board where greens are concerned so Don't Mess With OPI gets a definite thumbs up.  I love the obvious shimmer in I Vant To Be A-lone Star and having a solid brown creme like Suzi Love Cowboys is a great addition to any collection so those both get my stamp of approval.  The rest are a pass.
The OPI Texas Collection is available now at salons and spas nationwide.  OPI nail polishes retail for $8.95/ea for a .5oz bottle.  You can find OPI at national chains including Beauty Brands, Beauty First, Chatters, Dillard's, JCPenney, Pure Beauty, Regis, Trade Secret, and Ulta.
Thoughts on this half of the Texas Collection? Do the Texan fanatics out there feel this collection represents everything great about the Lone Star State? Which colors made your list of must-haves?
Disclosure: Product samples were provided by OPI. For more info view my Disclosure Policy.