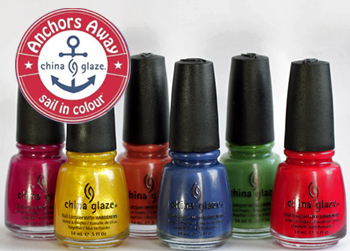 The Knotty Nauticals set from the China Glaze Anchors Away collection for Spring 2011 is filled with rich, bold cremes and glimmering glass flecks.

It's common knowledge in the boating community that there is a long standing rivalry between power & sail boaters.  As a kid I would watch Ohio's version of Jimmy Buffet, Pat Dailey, rile up the power & sail boaters at the Beer Barrel on Put-In-Bay. This was long before it burned to the ground and rose from the ashes to become the world's longest bar. And yes, I was a kid in a bar.  Let the Sweet Home Alabama analogies begin.

Anyway, Pat would taunt each side with stereotypes.  That sailors are wine sipping fuddy-duddy's who look at the water as a relaxing escape.  That power boaters are beer chugging, party people who look at the water as a mode of transport, something to rip through.  Granted these are heavy generalizations but in some cases they hold true.

In my eye the Sand & Sea set is a smooth afternoon cruise on a sailboat and the Knotty Nauticals are a wind-whipping, wild ride on a speed boat.  They represent both sides of the boater in me who appreciates the zen of sailing but loves the thrill of zipping across the lake.

Formula & Application: China Glaze is a 3-Free brand with a round brush that is both medium in length and firmness with enough give to allow for ease of control. The cap is slightly tapered and made of smooth plastic that is comfortable to hold.
In this half of the collection, the majority of the polishes are cremes and they all flowed on the nail perfectly in two even coats.  They are more squishy/jelly-ish than creamy but I think that lends to their ability to even out on the nail which is great for novice at-home polishers who don't have their application down pat.
The two glass fleck polishes both applied with a similar squishy consistency but with differing opacities. It is the nature of glass fleck polishes to apply semi-sheer but they are usually buildable to opaque but this wasn't the case with the yellow (Lighthouse). Even after three coats, my smile line still shows through.

Starboard is much more vivid in person and I'm honestly REALLY unhappy with how it photographed.  This murky Cleveland weather is not my camera's friend.  Starboard is a leaf green that isn't quite as bright as Essie Pretty Edgy yet not as dark as OPI Don't Mess With OPI though it's more pigmented than both of them.  A comparison will be included in my OPI Texas review.  Maybe it's just me but I find it odd to include Starboard (right side) in the collection and leave out Port (left side).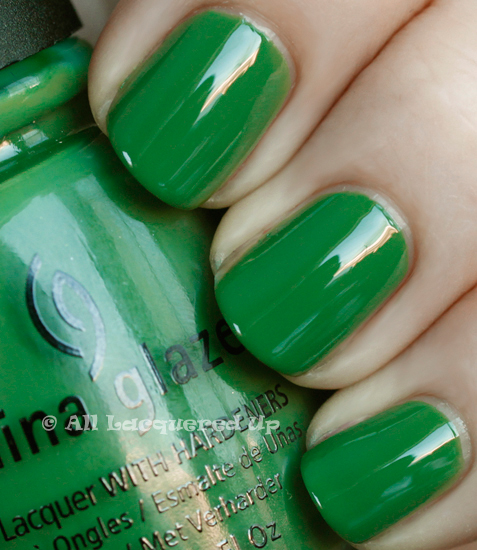 Ahoy! is a raspberry glass fleck a la Raspberry Festival from the Summer Days collection only this one isn't as packed with clear glass particles.  The glass fleck effect is more subtle and mixed with gold micro-glitter.  The result is a rich, pigmented polish that looks more opaque than the Summer Days lacquers.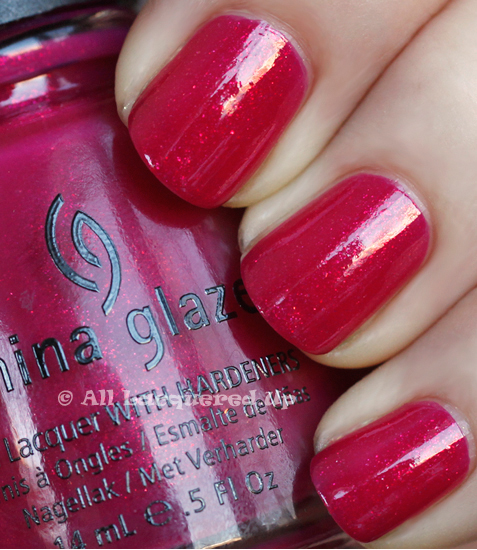 Hey Sailor is a "come hither" cherry red creme.  Seriously, what is it with men & red nails?  The boyfriend always takes notice when I use red polish. For some reason Hey Sailor looks tomato red in the bottle but reads more blue based on my nails.  Now my brief affair with red polish may be over but what would a nautical themed collection be without a classic red and this one fits the bill.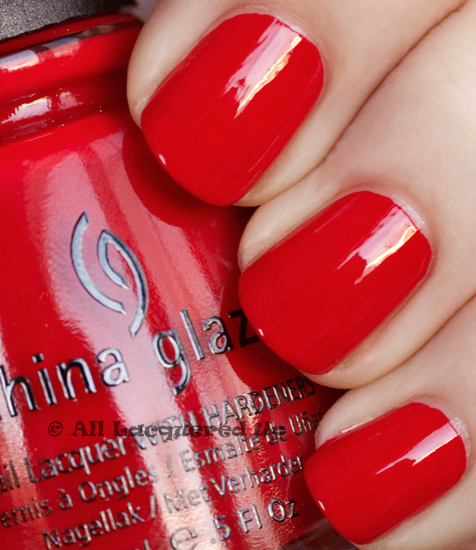 Lighthouse is the other glass fleck polish and it is more of a traditional glass fleck than Ahoy!  This yellow gold  applies pretty sheer so it can be used in one layer as a top coat or built up to semi-opaque.  Another option would be to wear it over a yellow creme so the true color of the base can pop.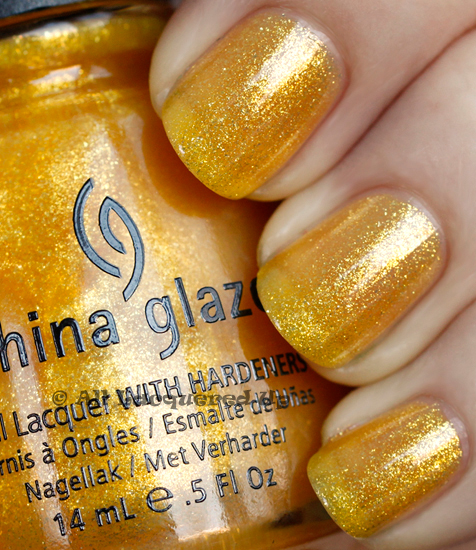 I already know that First Mate will be my new BFF once sandal season rolls around.  A rich blue creme, it falls somewhere between royal and navy.  It's one of those idyllic blues that effortlessly walks the line between bright and almost-black.  It's so easy for a navy to cross over into that "too dark" territory and this one will never go there.  Better yet, it's not so bright that your nails will be screaming "BLUE!"  I'd say it's the perfect marriage of Bermuda Breakaway and Calypso from the Bahama Blues collection.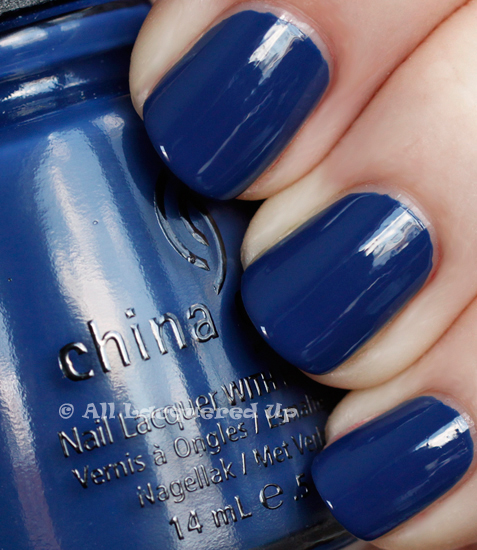 Life Preserver is a muted orange creme but thanks to its melon-y undertones it definitely feels more spring than fall.  There's no way anyone would accuse you to hanging on to Halloween wearing this shade.  While it's not necessarily a shade I would gravitate towards naturally, I saw it paired with First Mate in a mani/pedi combo last summer and I've been thinking about it ever since.  The pairing looked classic and so boat-y.  There's no doubt in my mind that it will be the first combo I wear once the weather warms up.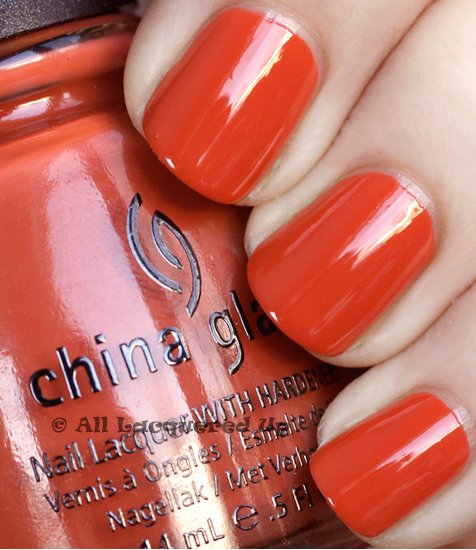 In fact, I was inspired by that mani/pedi combo and the signal flag for the letter "T" to create my own nautical themed manicure.
I polished all my nails in First Mate and turned my ring nails into little "T" flags with China Glaze Snow and Life Preserver.  I wish the white line was a bit thinner but I didn't have easy access to my nail art brushes.  Either way, I'm happy with it.  What do you think?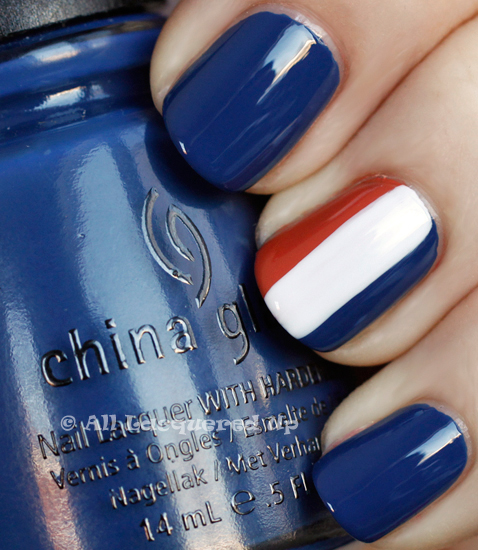 Bottom Line: Individually the polishes in this half of the collection aren't exactly ground-breaking but they make sense as a unit.  I love everything about First Mate and the opacity of Ahoy! makes it a winner in my book.  Since I'm a girl who can never have enough greens, Starboard gets the thumbs up from me but if you already have OPI Don't Mess With OPI you might find it a bit redundant.
China Glaze Anchors Away is available now and can be found at stores like ULTA and online at TransDesign.com, 8ty8Beauty.com and Head2ToeBeauty.com. China Glaze polishes retail from $3-6 depending on the retailer. Sally Beauty will not be carrying Anchors Away instead they have exclusive collections Treasures (in stores now) and Tronica (coming in March).
Which set from Anchors Away is your favorite?  Knotty Nauticals or Sand & Sea?  Do you agree that First Mate & Life Preserver make a killer color combo?  Which polishes made your shopping list?
Disclosure: Product samples were provided by China Glaze.  For more info view my Disclosure Policy.