Now that I'm home from New York Fashion Week, I finally had a chance to catch up on the Grammys and check out the fashions and nails.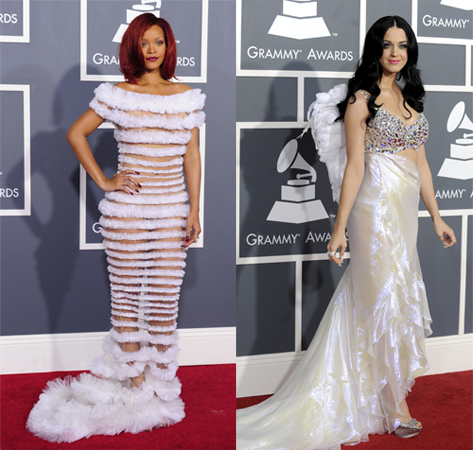 Being a huge Joan Rivers fan, I actually watched E!'s Fashion Police before the actual show.  Joan cracks me up and I love how Kelly Osborne & Giuliana Rancic lose it almost every time she opens her mouth.  The actually Grammy show was kind of meh but I did love Cee Lo Green & Gwyneth Paltrow singing "F*ck You" and seeing Eminem perform.  I have an out of character crush on Eminem and ended up watching his performance twice.
We're in the height of award season and of all the shows, The Grammys, tends to be the most noteworthy nail-wise.  We already learned about Lady Gaga's bright yellow nails from Deborah Lippmann and now Celebrity Manicurist Kimmie Kyees shares her work on Grammy night with clients Katy Perry and Rihanna.

Changing outfits during an award show is nothing new for celebrities but how about changing nails? Katy Perry switched up her nail game at The Grammys, going from an ethereal red carpet design to a more Valentine's Day friendly look for her performance.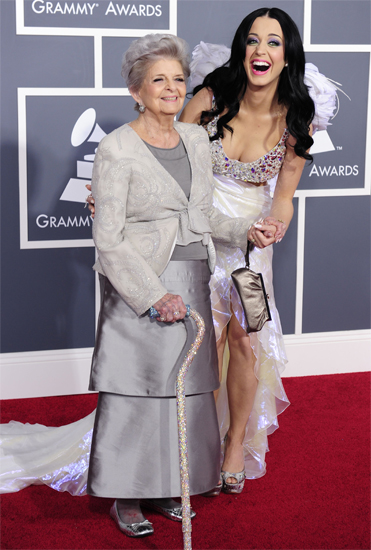 Katy opted for a neutral color on her toes, using China Glaze Nude.  Kimmie added a layer of Shellac Top Coat to speed up the dry time and prolong wear.
Since Katy wanted additional length on her nails Kimmie used Dashing Diva Professional Pre-Glued Nails for both looks. The pre-glued nails allow for an easy change during the show.
For her red carpet appearance, alongside her grandmother, Kimmie applied Orly White Out topped with CND Perfectly Bare Effect (launching in March) and glitter from an irridescent glitter stick. Kimmie noted that the glitter matched the blue shimmer in her dress.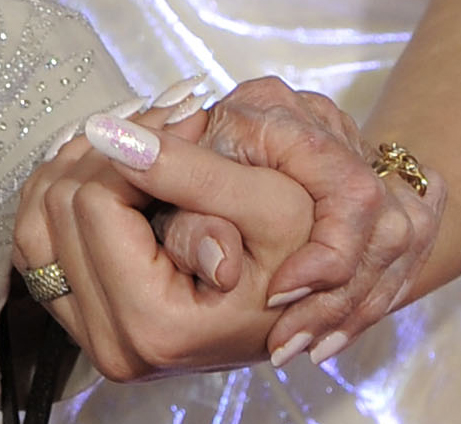 When it came time for her performance, Katy changed her tips to a heart themed design that was just as sweet as her singing 'Not Like The Movies' while video of her wedding to Russell Brand played in the background.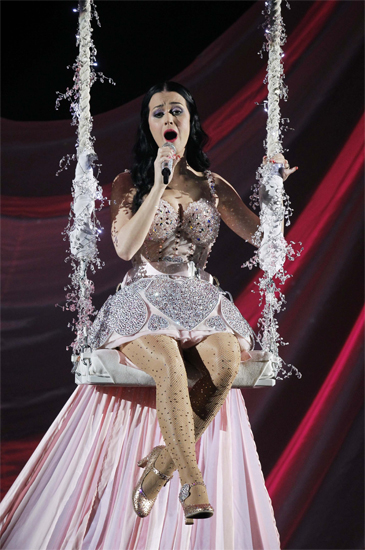 To create the look, Kimmie started with a base color of Orly Polo Princess.  On the pinkie, middle and thumb nails she applied felt red and pink hearts.   On the pointer and ring fingers, she waited till the pink was completely dry and took a Milani precision art brush dipped it into Seche Vite and outlined a heart shape with the top coat and sprinkled glitter into the clear coat.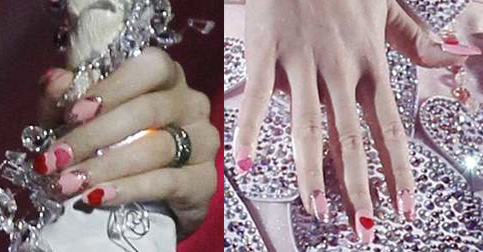 Rihanna kept her nail look a bit more simple. She chose the rich, reddish-brown OPI I'm Suzi & I'm A Chocoholic for her fingers.  It looks beautiful with her dark lip in the same tone.  Her toes were painted with CND Wildfire but she wore closed toe shoes/boots so we never got to see them together.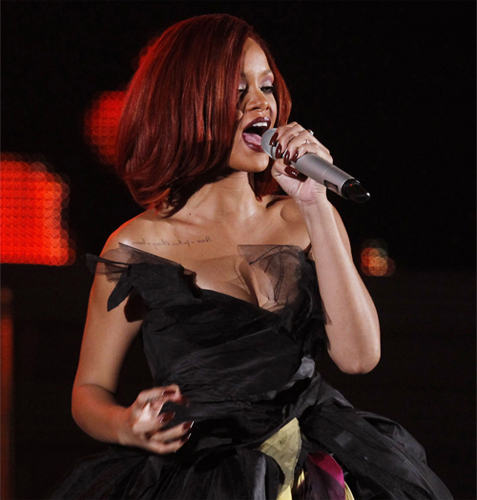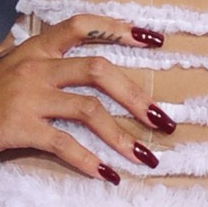 What do you think of Katy and Rihanna's nail looks from The Grammys? Were there any outstanding nail looks that I missed?
image credit: WireImage