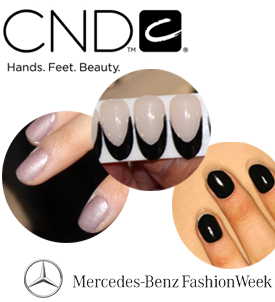 Sunday was Day 4 of Fashion Week and I was off and running at the crack covering a show at 8am.  I'm so not a morning person but for nails, I make it happen.  On this day CND worked with two talented female designers, Malandrino and Behnaz Sarafpour .  While I wasn't able to see the Malandrino show, based on the tweets from my fave fashion bloggers, every piece was covet worthy.

New York urbanites and Parisians alike will delight in today's CND manicures which honor the sophisticated, jet-setting woman

From a pale, purple tinged grey nail to graphic, futuristic French manicures based on shoes, we see two classic looks made modern.

At Behnaz Sarafpour, CND's Wanda Ruiz created Manolo Manicures inspired by two styles of namesake custom-designed shoes by Manolo Blahnik for the show using clear French tips and Blackjack; and other tips with Blackjack smile lines and Putty on the base of the nail. These modern twists on a classic 40′s French manicure accentuated romantic, messy buns and shiny nude lips. Nails popped in a presentation with gorgeous black leather and lace, and timeless tweed.
I spoke with MAC VP of Makeup Artistry Gordon Espinet about the makeup look at Behnaz. Gordon is not only brilliant and talented, he's an absolute pleasure to interview. He is economical in his word choice yet he paints a vivid picture, interjecting his own take on the look he creates for a designer. It's not just about references, it's about taking that look and translating it to where we are today in beauty.
Gordon says there is a movement back to luxury. That "luxury" had become somewhat of a naughty word, for obvious reasons, but that it seems okay to say again. We're in a time where 60s and 70s references abound; icons like Brigitte Bardot and Twiggy. He's seeing a lot of eyeliner and neutrals. That it's really about looking sophisticated, super glamorous and elegant.
At Behnaz he used new cream shadows, applying a peach highlight, patina beige on the outer half of the lid and vanilla on the inner corner. He said it's not about them looking like done up women. It's about having that sexy radiance that only luxury can give you. The winged liner in this look is almost like a little girl would wear. More innocent. Brigitte Bardot versus Audrey Hepburn.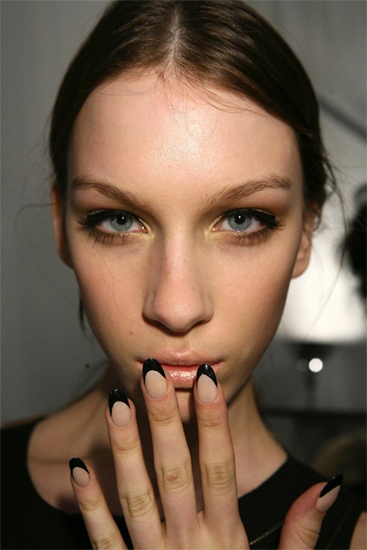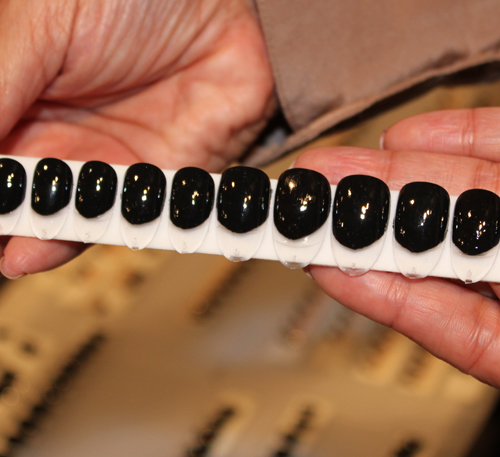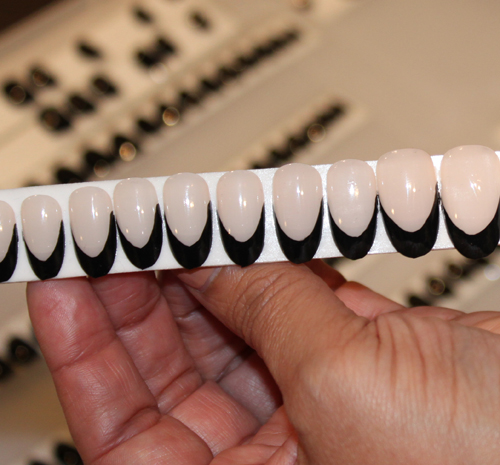 The Behnaz Sarafpour Twitter account shared one of the two Manolo Blahnik shoes she collaborated on. These inspired the clear French tips.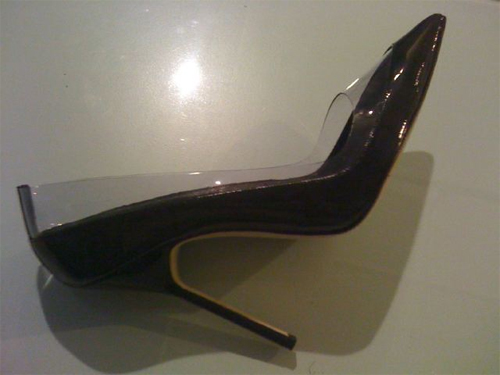 At Malandrino, smokey eyes and tousled curls were accentuated by CND's Angi Wingle's Urban Haze manicure. Nail color was custom blended using base shades of Silver Chrome and Brilliant White with drops of Asphalt, Putty, Desert Suede, Eclectic Purple and Bicycle Yellow. The Parisian chic finished look was satinized with Super Matte for asphalt gray with purple haze overlay to accessorize sumptuous furs, wide brimmed and dandy hats, and elegant, femme fatale silhouettes.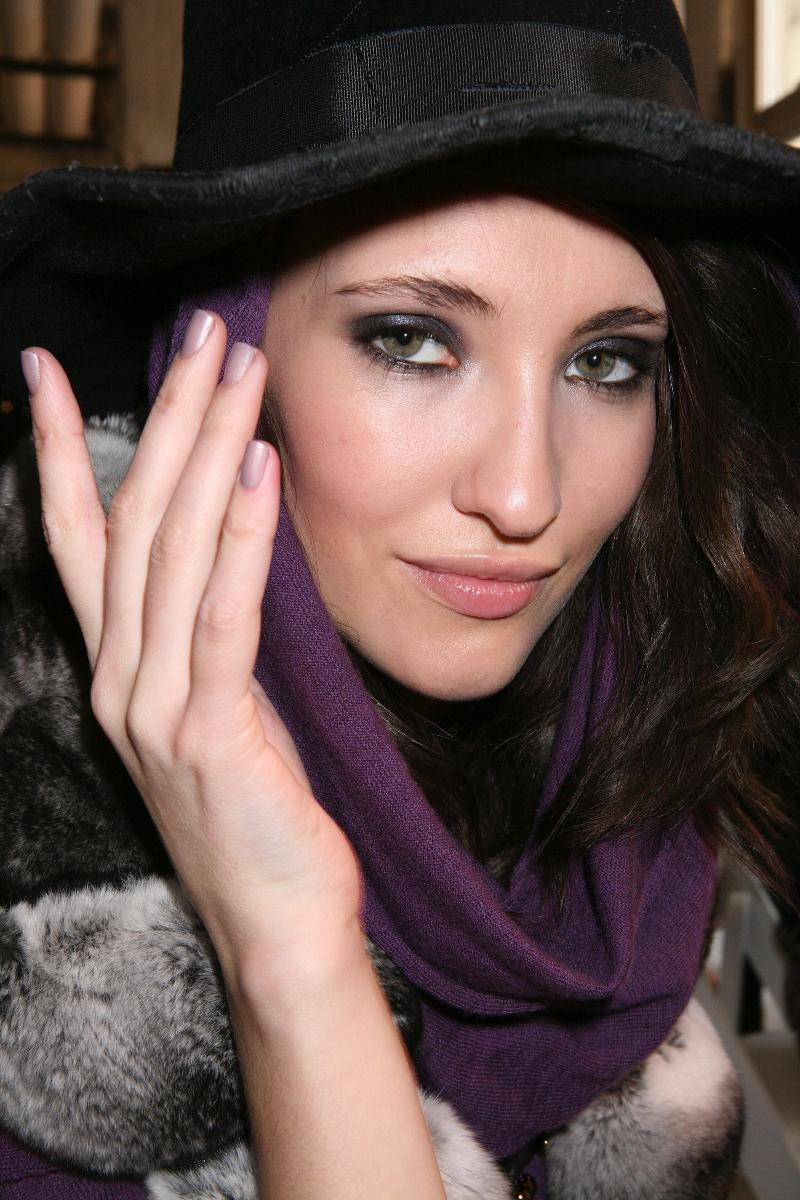 Maybelline New York Makeup Artist Gato Zamora described the look at Malandrino as, "A Parisian girl, very young, very fresh in the 70s with a touch of sophistication."  He shared that the secret of the look is to create a very smooth, healthy canvas using the new Maybelline Fit Me Foundation.  The luminous complexion paired with sweet juicy lips contrast the very dark eyes that are smoky with a pop of purple in the middle. To create the eye he used Maybelline Eye Studio Color Plush Silk Eyeshadow in Purple Icon.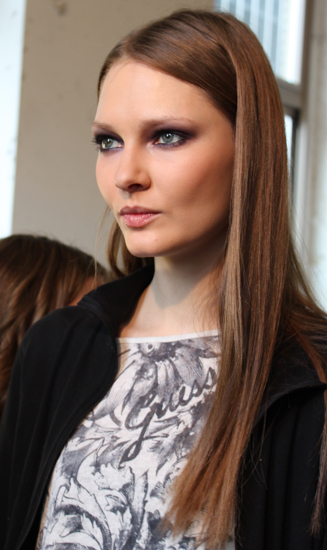 On a side note, I picked up a bottle of Fit Me Foundation after reading a raves from my beauty Twitter friends and it really is fantastic.  It applies so smooth like a tinted moisturizer but gives great coverage.
The custom nail color was hand mixed on site. CND's Angi Wingle frankened 5-6 different options for the designer to choose from not long before I arrived.  Her and the rest of the CND team were still mixing up bottles to use only a couple hours before showtime.  Rather than mix up a traditional lavender, to pair with the purple pop on the eye, Angi smoked it out to make it modern.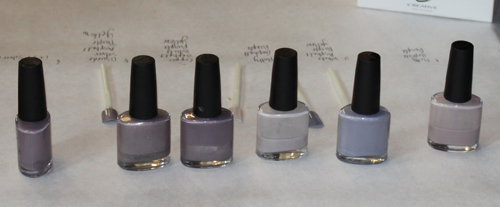 The result is a greyed lavender in the same vein of my latest obsession, Rescue Beauty Lounge Insouciant. Only despite what the images may portray, CND's Urban Haze leans more grey than purple in person.  Angi described it as a "purple haze cement" color. She said they softened the color with a coat of Super Matte top coat to add a satin finish.  She notes that she's seeing a lot of use of Super Matte and suggests that nails are moving from accessories to fabric.  That a glossy nail is an accessory, like jewelry, but a satin finish gives it a fabric texture.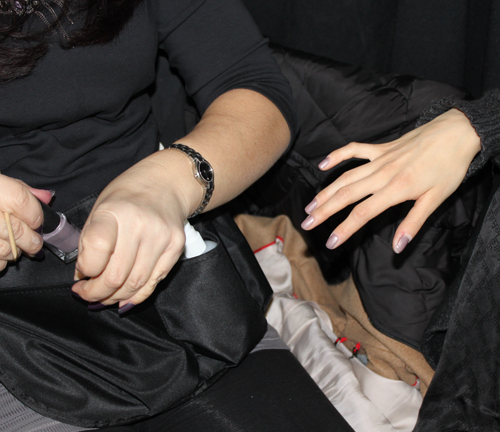 Given my love of Insouciant, is it any surprise that the Urban Haze manicure is my favorite look of the day? It's definitely a mix I want to recreate. If you want the chance to make your own bottle at home, leave a comment telling me which of the two CND looks you like best. One winner will receive one bottle each of Silver Chrome, Brilliant White Asphalt, Putty, Desert Suede, Eclectic Purple, Bicycle Yellow and Super Matte.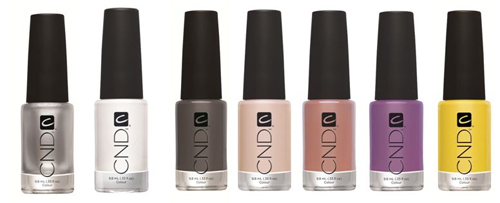 Entries will be accepted until Midnight EST, today February 15th. Leave a comment and make sure you include your email address in the comment form, but not the actual body of the comment (for privacy reasons).
Also, I spoke with Angi Wingle and when the fashion week crazy is over, she's going to find a way to minimize the mix so you can recreate Urban Haze at home without as many polishes. Stay tuned for updates.