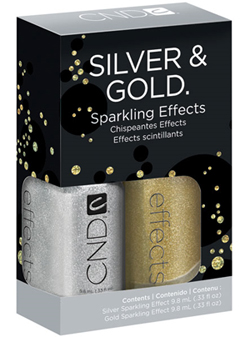 Have you missed me Fanatics? I've missed you. This ALU post outage was brought to you by the letters "T" "W" and "C" (Time Warner Cable). Apparently my modem was so ancient the tech was amazed it still worked. Obviously TWC can't say "I'm right on top of that Rose." a la Christina Applegate in Don't Tell Mom The Babysitter's Dead.

Venting aside I have a fun holiday item to share with you from CND.  If you haven't picked up the vibe already, Holiday 2010 is one big old glitter party. And in the case of the CND Silver & Gold Sparkling Effects Duo, all that glitters IS gold (and silver).  These two limited edition Effects, one cool & one warm, are sure to add the right kick of glam to your holiday manicures.

This set is just one of the many prizes included in the Think Pink – Donate & Win Giveaway so keep reading for a glimpse at what you could win.

Application & Formula: CND is a 3-Free brand and they relaunched their polish line in Fall 2009 with a new bottle and formula.  I did an extensive review of the formula and new flat brush HERE.  For the best wear I use CND Stickey base coat and CND Super Shiney or Air Dry top coat though I've found that Olan Quick & Slick gets it done as well.
Both of the Effects in this set have clear bases filled with micro-glitter so they won't change the color you layer them over.  The particles are pretty well dispersed so you can layer multiple coats of the Effect to get more coverage.  One coat gives touch of glitz while 2-3 coats will pack a more blingtastic punch.  The glitter pieces very fine and dry to a smooth finish so there's no bumpiness here.

Silver Sparkling is just as the name implies, a sheer wash of silver micro-glitter. I chose to layer it over one of my fave pale polishes in the CND Colour collection, Blueberry Whip. It's one of the colors I instantly connected with when I initially saw the Colour & Effects lineup and I can't believe I've never shown it on the blog.  There's something about the way Silver Sparkling looks over Blueberry Whip that feels winter-y.  I could totally see wearing the color alone to work and then adding a layer of Silver Sparkling for a party later that night.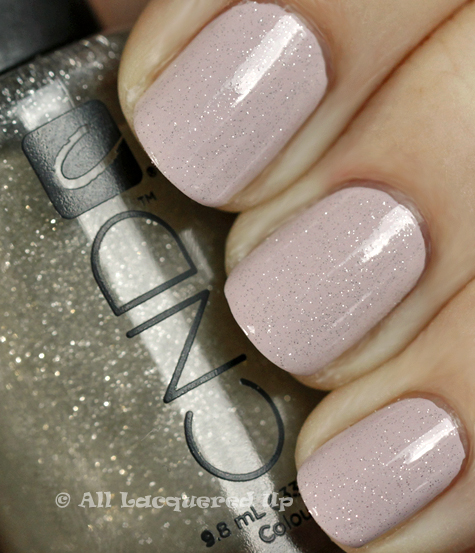 Gold Sparkling was not quite what I expected. While the predominate color is gold, there are random multi-colored pieces interspersed as well.  In the bottle you might see a bit of a prismatic effect, think Out The Door Northern Lights, but on the nail it's a subdued disco ball.  I layered it over CND Veronica the one color from the Jason Wu Collection that I didn't show you during Fashion Week.  Veronica, named for 40s screen siren Veronica Lake, is a holiday red if I've ever seen one. It's a shame it won't be on shelves until next May but while you're waiting you could try CND Bloodline instead.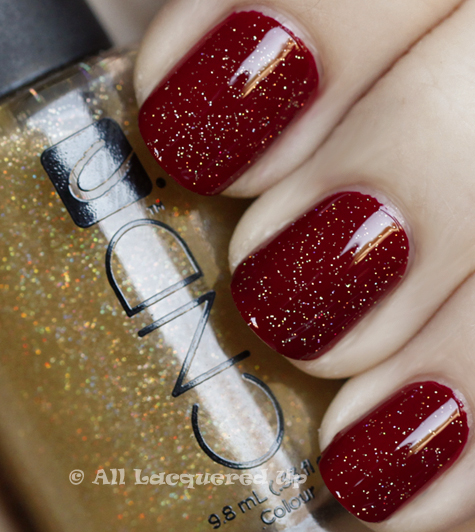 Bottom Line: If you're looking for an easy way to make your favorite polishes more bling-y for the holidays, glitter top coats like these are the perfect addition to your nail wardrobe.  I would think a polish like China Glaze Golden Enchantment would be similar to Gold Sparkling but seeing as I don't own it, I can't say for sure.
The CND Sparkling Effects Holiday Duo is on sale now at salons and authorized CND retailers nationwide.  To find a retailer near you check CND.com.  The duo retails for $22 for two .33oz bottles.
What do you think of this duo?  Would it make a good stocking stuffer for yourself or a fellow fanatic?  What other clear based gold & silver top coats do you love?
Disclosure: Product samples were provided by CND.  For more info view my Disclosure Policy.