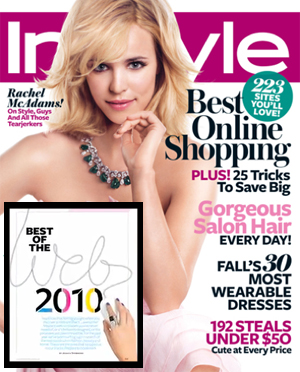 I am beyond thrilled to share with you that All Lacquered Up was selected as one of the best beauty blogs on the web in the annual InStyle "Best of the Web" feature.  Out of the thousands of beauty blogs out there, the editors at InStyle chose four blogs for their list and I'm honored to be one of them.

If you would have told me back in 2007 when I started this site that it would ever be mentioned in any magazine, let alone InStyle, I would have laughed at you.  What a journey this has been.  ALU wouldn't be what it is without all of you so I thank you for being a part of the site's continued success.

Congrats to my fellow "Best of the Web" beauty bloggers Now Smell This, Makeup Artist Tricia Sawyer and Celebrity Hairstylist Mark Townsend.