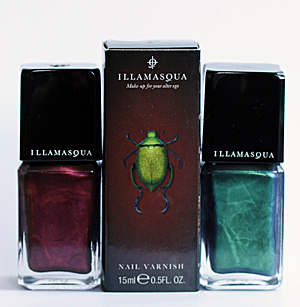 In case you haven't heard, the Sephora Friends & Family Sale started yesterday.  You get 20% off your online order with the code FF2010.  If you're still contemplating an order you might want to think about including one of my fave UK brands, the Sephora exclusive Illamasqua.

The Fall 2010 Art of Darkness collection is out and it includes two new nail colors, Viridian and Scarab.

Application & Formula: Illamasqua is a 3-Free brand based out of the UK that sells their products exclusively at Sephora in the US.  The bottle has a removable outer cap that reveals a small ribbed inner cap that can be used for application though I prefer to just leave the outer cap on while polishing.  The brush is thin and round and reminds me of the OPI brush pre-Pro Wide.
Both of the polishes in this collection are well pigmented requiring only two coats.  The because there is a bit of metallic pearl to them the finish does show slight brush strokes but nothing as major as a traditional metallic.  It's more like the pearl coat on a car.  The polish is of an average viscosity flowing on the nail with ease of control.  I had no trouble getting perfect coverage with three strokes.

Viridian is a mysterious hue in that it looks like a dark peacock blue-green one second and emerald green the next.  It's quite unique and unlike anything I own.  I know that seems absolutely absurd given my green obsession but I really don't have any colors like this.  Not that I'm complaining.  The finish looks velvety thanks to the tonal pearl shimmer.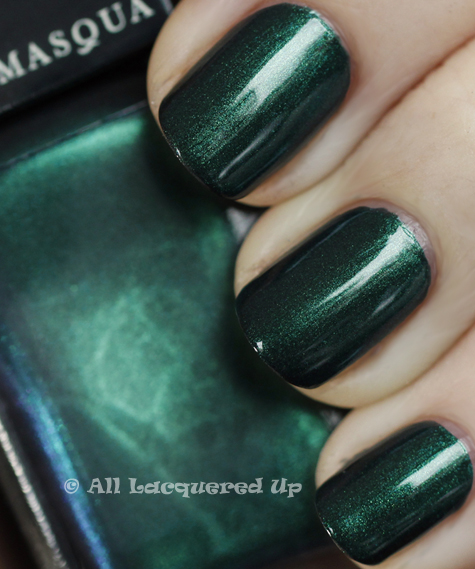 The best comparison I could come up with is China Glaze Emerald Fitzgerald which has that same blue undertone though EF is a bit deeper and more blue to my eye.  The finish is also different in that EF has micro-glitter that Viridian is missing.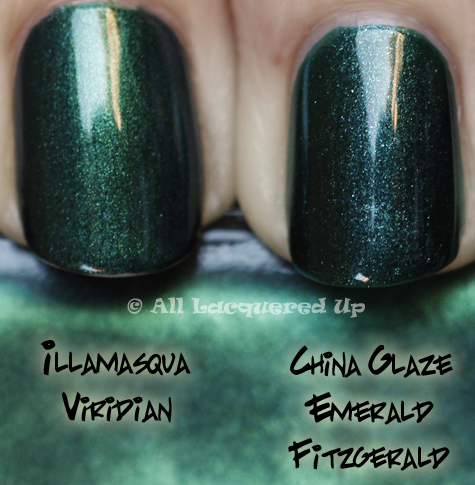 Scarab is a rich burnt red shimmer with the same velvet finish as Viridian.  It has a blackened base but it dries light enough that you can tell it's red and that makes it pretty unique in my book .  Now I don't know if it's Steff from Short N Chic's influence but I'm having a red moment right now.  Steff is also from Cleveland and recently moved nearby so we went to dinner last week and her love of red seems to be rubbing off on me.  Someone take my temperature, this is so not me!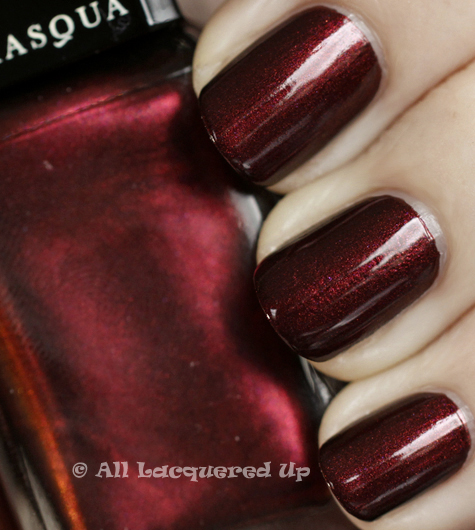 Even though I'm not typically a red nail girl I do own way too many reds and I couldn't find anything comparable to Scarab due to the warm of its base color.  In the bottle I thought it might be a twin for OPI Changing of the Garnet but that one has more berry in it and I threw in China Glaze Foxy just to give you an idea of how it looks next to something more current.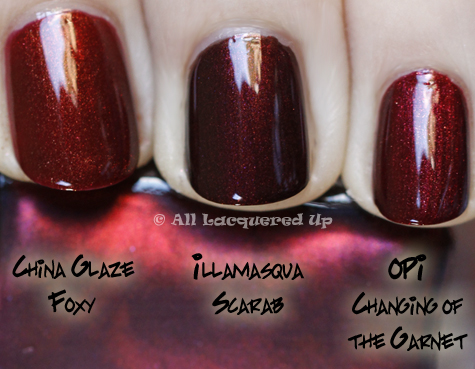 FYI: This comparison pic was taken post nail trauma so the lighting is a bit different than when I took the first three.

Bottom Line: If you love Illamasqua polishes you're going to adore these.  The formula and pigmentation are spot on and the finish is rich and luscious, perfect for Fall.  I'm digging both these colors so they both get the thumbs up from me.
Illamasqua's Art of Darkness collection is on sale now at Illamasqua.com (£13) and Sephora.com ($14).  For additional store locations check the Store Locator.
What do we think of these?  Is anyone including Illamasqua in their Sephora F&F order?  What else are you getting during the sale?  What's your favorite Illamasqua Nail Varnish?
Disclosure: Product samples were furnished to me by Illamasqua. For more info view my Disclosure Policy.