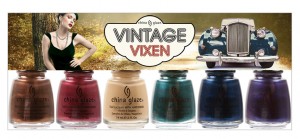 In spite of the fact that women were called "dames" and "broads" there's something about the 1940′s that intrigues me.  I wouldn't want to live in that time but I'm completely fascinated by the style and beauty of that era.  The pin curls, the heavily powdered and made up faces, the structured clothes.  Women put so much work into their look.

Though what the ladies of the 40′s seriously missed out on is nail color.  As we all know, there is more to life than blood red talons. Thankfully when China Glaze looked to the 40s for inspiration, they pulled shades from all aspects of that decade to bring us the colorful Cat's Meow set from the Vintage Vixen collection.

Application and Formula: China Glaze is a 3-Free brand with a round brush that is both medium in length and firmness with enough give to allow for ease of control. The cap is slightly tapered and made of smooth plastic that is comfortable to hold.
The lacquers in the Cat's Meow set have excellent pigmentation and a smooth, even consistency with one notable exception.  Goin' My Way was my problem child.  It's got metallic tendencies in a bad way.  It required three coats and was a bit too streaky for my liking.  The rest applied flawlessly in two coats.
Goin' My Way is a deep bronze metallic shimmer.  It straddles the line between bronze and brown.  It's as though a milk chocolate bar was sprayed with a fine gold dust.  Actually I would LOVE this as an eyeshadow.  Anyone know of a shadow this color?  Like I said above, Goin' My Way has issues.  As much as I wanted to like it, the inconsistent application and brush stroke madness were not to my liking.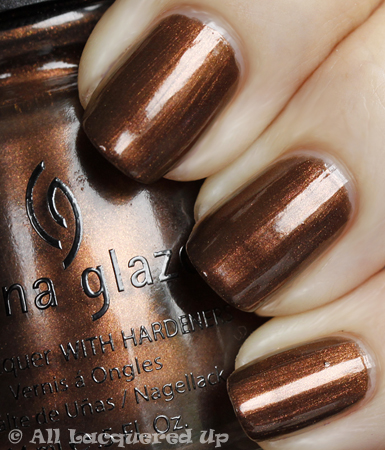 Riveter Rouge is a rich burgundy frost packed with silver and red micro glitter.  The only downside to this polish is that the glitter rises to the surface creating a bumpy surface.  I think if the base had been more jelly-ish it would have encapsulated the glitter making it more glass flecked looking.  I needed two good layers of top coat to make it smooth.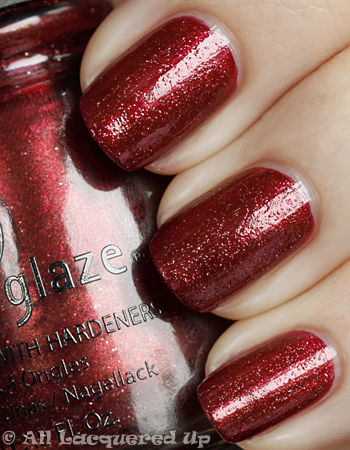 Like her Hotsy-Totsy sister Ingrid, Classic Camel is a creme polish packed with glass fleck looking micro-glitter.  In the buttery yellow beige creme, the gold flecks are much more apparent than in Ingrid.  In the bottle it looks like a cashmere coat liquefied but when the sun hits it, the gold brings the color to life.  It feels very cozy with an injection of glamour.  Now as much as I love this color I think it will be very polarizing in that a lot of fanatics with pink undertones will find it unflattering.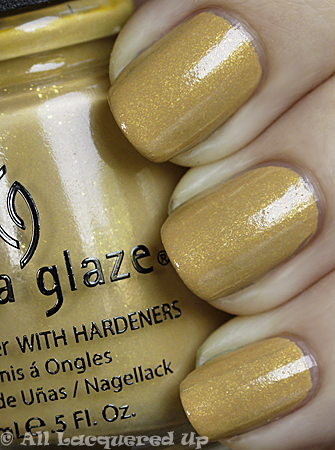 I find Emerald Fitzgerald to be the fall version of Watermelon Rind.  The semi-sheer glass-flecked base has been replaced by a dense frost with a veil of metallic shimmer giving it a more intense look.  This isn't an emerald as much as it is a dark teal green or pine hue.  There's definitely a strong blue undertone that keeps it from being a true emerald.  Regardless, it's green and that's for me!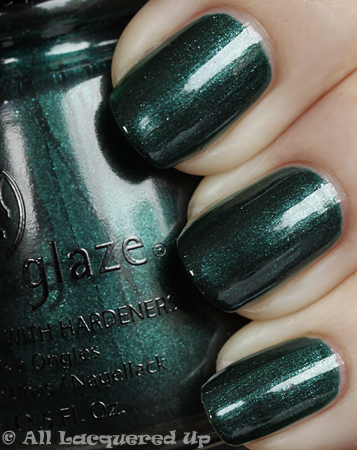 Midnight Mission the perfect starry midnight sky blue.  The deep denim blue frost is jam packed with silver micro-glitter and dries to a glassy, smooth finish.  All I have to say is Starry Starry who?? I'm not dissing the man, the myth, the legend but Midnight Mission has a serious leg up on that dc'd gem in pigmentation and sparkle power alone.  It's even more fantastic in person and will give SSN a run for its money.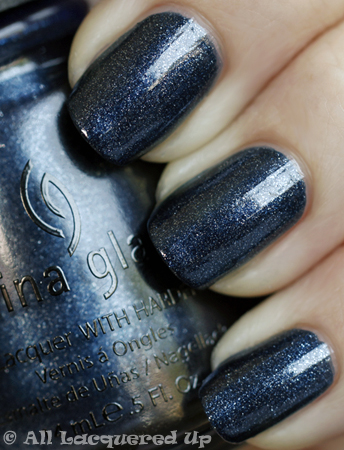 First Class Ticket's frosty indigo base is saved from being labeled as a brush stroke madness thanks to the purple shimmer.  The uber-glassy finish is mesmerizing though it actually looks a bit darker than this in person.  I don't know if I'm on purple overload or what but this just does nothing for me.  I know, I know so out of character.  Is my forehead hot?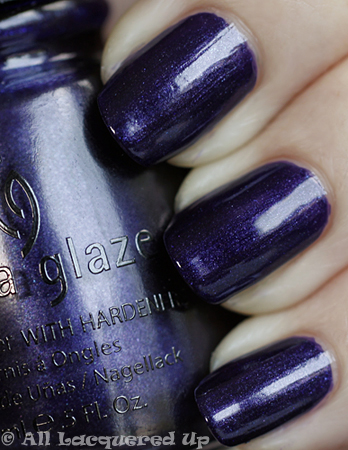 Bottom Line: I bet you expect me to extol the virtues of Emerald Fitgerald and don't get me wrong, it's a great green but I'm all about Midnight Mission.  If I liked kids, I'd have babies with it.  As Grace Adler said about Jews & their love of chicken, "It's real and it's deep."  Classic Camel gets the runner-up crown just because I find it to be so unique and chic with a touch of glam.
Comparisons: As I mentioned in my Hotsy Totsy review, I'm switching things up a bit. So many times after I post a collection with comparisons you all come up with suggested dupes that I completely forgot about. So from now on, I will ask for comparison suggestions and then combine your list with mine into a separate comparison post with the colors that are most like the shades in question.
The China Glaze Vintage Vixen collection launches in July and can be found online at etailers like Head2ToeBeauty.com and in stores at Sally Beauty and ULTA.
Now that you've seen the whole collection what colors are stand-outs to you? Let's play choose or lose; Hotsy Totsy or Cat's Meow? Pick one!  Don't forget to share your comparison suggestions for both sets.
Disclosure: Product samples were furnished by China Glaze.  For more info view my Disclosure Policy.