Happy Saturday Fanatics! I'm busy getting ready for the arrival of one of my best college pals (a fellow nail polish fanatic) so I don't have a ton of time to post today but I just got my first Nfu Oh haul in and I had to share a quick bottle shot. I seriously can't believe it took me this long to jump on the bandwagon. The colors are stunning and the bottle seriously deserved its ALU Senior Superlative for Best Dressed. I may be late to the party but late is better than never, right?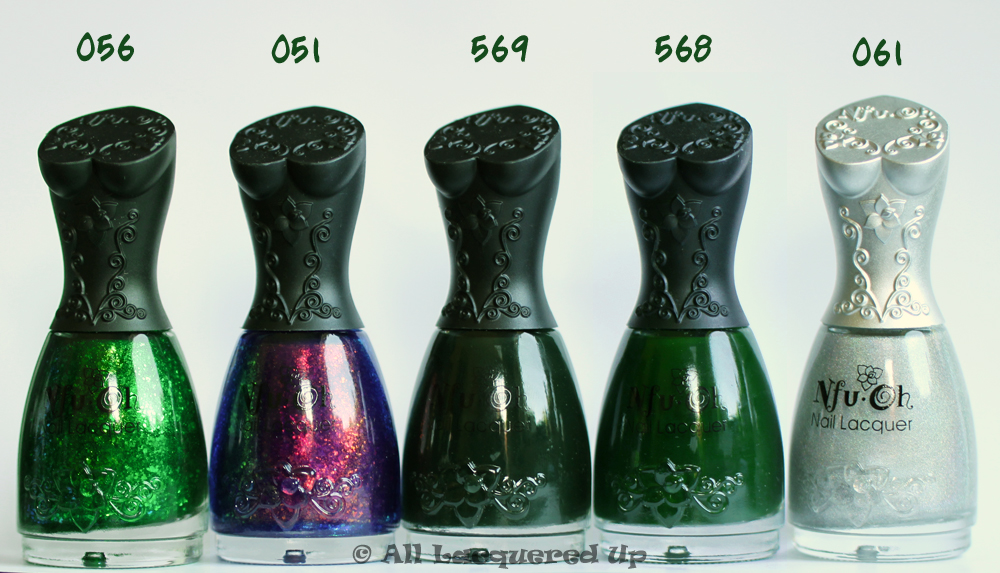 I ordered the Nfu Ohs from FabulouStreet.com where they retail for $12.50/ea. Shipping was FREE on my order but I don't know if there is a certain limit you have to hit for that.  Free shipping applies to US orders only.
Are you dying over the flakies or what??  And those greens?  Kill me now.  I understand that 569 is supposed to be a better quality dupe for the original NARS Zulu.  Comparisons will be made.  In the meantime, where are my Nfu Oh fans?  What are your favorite colors from the line?
PS I know I owe you my review of the China Glaze Vintage Vixen "Cat's Meow" set but due to inclement (read shitty) weather yesterday I was unable to finish my swatches.  The review will go live tomorrow.  Promise!
Disclosure: I paid for these polishes myself.  For more info view my Disclosure Policy.