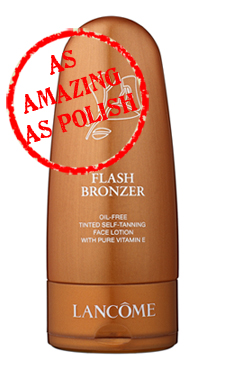 It's time for another installment of As Amazing As Polish, my opportunity to gush about the products that I feel truly are as AH-MAZING as nail polish.
Long time readers, I'm sure you have noticed how sporadic these posts are.  It's not out of laziness or forgetfulness, it's just that as beauty junkie who is constantly testing new products it takes a rare flower to get a rave from me. Lancôme Flash Bronzer Oil-Free Tinted Self Tanning Face Lotion (what a mouthful!) definitely deserves that kind of praise.
You may or may not remember that I'm a reformed indoor tanner.  After having a couple suspicious moles removed a few years back I gave up the habit but have been seriously missing the golden brown color ever since.  I can't help it, I like how I look with a tan.  I think a lot of people that aren't blessed with flawless, porcelain skin would agree.
Since I gave up the fake & bake I've been on the hunt for a self-tanner I can fall in love with and it's been one massive fail. I've tried gradual self-tanners but hated smelling like ass every night to look barely sun-kissed.  I've used traditional self-tanners only to end up with streaks or Oompa Loompa feet. Embarrassing!  I've tried spray booths, lotions, creams, mists, tanning mitts, etc. and like Goldilocks I never found the right fit until now.

With the exception of the summer months I had pretty much resigned myself to being the pale girl my parents created.  Without indoor tanning, I just couldn't stomach the process of self tanning.  Exfoliating, dealing with the stench DHA (dihydroxyacetone) causes when it reacts with your skin, avoiding orange palms and streaks.  It's all too much.  But if I could find a product that smells pleasant, is mistake-proof in its application and gives noticeable results without requiring daily maintenance I would reconsider my stance.  Enter the newest product in the Lancôme Flash Bronzer lineup, their Oil-Free Tinted Self Tanning Face Lotion.
When I was in New York for The Makeup Show I was invited to a press event for Lancôme's new mascara, Définicils Precious Cells, and the Flash Bronzer Face Lotion was one of the items I was sent home with to try.  Now for the past couple years I've been relying on Jergens Natural Glow Face simply because it is cheap and none of the more expensive products I bought had impressed me.  They either broke me out, made me look orange or did nothing for me color-wise.  The Jergens smells horrible but didn't upset my skin.  The color is pretty light though and I hated using it every night instead of my usual anti-aging creams.
Long story short, I packed the the Lancôme Flash Bronzer when I went to Put-In-Bay for my birthday.  I applied it the night before we sailed over to the island and was a bit shocked by how muddy brown the lotion appears.  It even looked a bit odd when I first applied it on my face.  But once I started to rub it in the lotion gave my skin a noticeable, even glow.  Even being the key word here.  The tint definitely helped ensure an even application.  The product promises results in thirty minutes but since I apply it before bed I can't attest to that.
What I can tell you is that I woke up the next morning a glowing, bronzed goddess.  I was seriously amazed plus I didn't have the BF complaining about self-tanner smell or any marks on my pillowcase.  The best part, my golden tan lasted the five days the package promises.  I just moisturized as normal and the color held its own then gradually faded away.
To give you an idea of how fantastic the color is, let's look at a Before & After. The picture on the right of me and the lovely Paula from Older Girl Beauty was taken the weekend of The Makeup Show in May. I'm all pale, pasty and red. No bueno. To the left is a shot of me and my BFF, not to be confused with the BF, at Put-In-Bay in late June. Much better!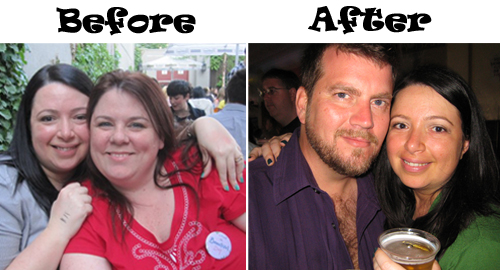 Ever since that weekend in May, I've been addicted to Flash Bronzer.  I've been using it regularly for over a month now and haven't had a single skin issue or bit of patchiness.  It's like I'm back to my blissful days of UV tanning, minus the skin cancer risk and sun damage.
As those of you who follow me on Twitter & Facebook know, I'm heading to Vegas for the Cosmoprof show again and you better believe I'll be breaking out the Flash Bronzer.  In fact I'm so impressed with the face version, I'm heading to my Lancôme counter to pick up a bottle of Flash Bronzer Body Gel to tan the rest of me and a backup bottle of Flash Bronzer Face.  I had been using Estee Lauder's Bronze Goddess and it gave good color but was streaky, smelly and took forever to dry.
Lancôme Flash Bronzer Oil-Free Tinted Self Tanning Face Lotion is available now on Lancôme-USA.com and at Lancôme counters nationwide.  It retails for $30 for a 1.7 fl oz bottle.  I've been using my bottle religiously for the past month and a half and it's still going strong.
Who else has tried the Flash Bronzer line?  What are your favorite self-tanners?  I had hoped to find a comparable product from L'Oreal since they have the same parent company but the Sublime Bronze line just doesn't work as well for me.  Anyone have an affordable self-tanning option that doesn't smell, clog pores or streak?
Disclosure: A product sample was furnished by Lancôme. For more info view my Disclosure Policy.
image credit: Heather Park & All Lacquered Up