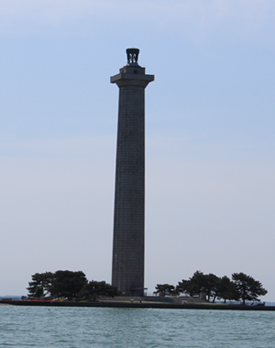 Greetings from South Bass Island, home of The Beer Barrel, the world's longest bar, and Perry's Monument, a tribute to Commodore Perry who lead the forces to a victory in the Battle of Lake Erie during the War of 1812. I'm here for Memorial Day weekend with the boyfriend and my parents to enjoy the holiday and celebrate my birthday.

Put In Bay, the village on South Bass Island, has been dubbed the "Key West of Lake Erie." It's a big party destination with a ridiculous number of bars considering the small size of the island (approx. 4 sq miles). The thing is, there's so much more to do here besides drink and this weekend I explored one of the more relaxing attractions the island has to offer, the Isola Day Spa.

*warning foot picture ahead*

I woke up early Friday morning at the yacht club in Sandusky expecting to quickly shower and get ready for our sail over to Put In Bay. The problem, I forgot my allergy meds at home and needed to make a quick run for some Claritin, which is such a pain. The fact that I need to be registered like a sex offender just to keep from scratching my skin off is ridiculous. I get why they do it, it's just a hassle.
Anywho, as fate would have it, I stumbled across a full display of the summer Borghese polishes so I was FINALLY able to snag a bottle of Pistacchio.  Score!!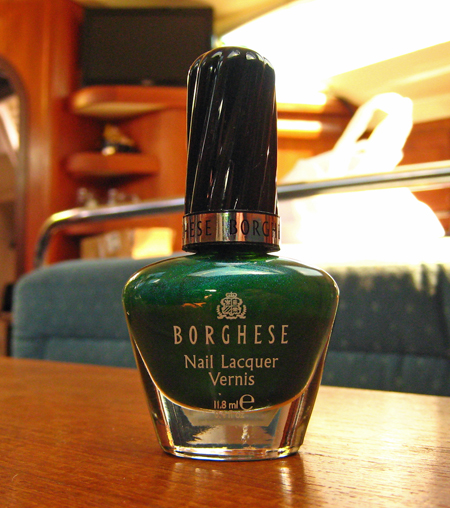 Back on board, we set off motoring, not sailing, to Put In Bay thanks to the wind coming at us head on. Even though it was a smooth ride, First Mate Roxy was decked out in her finest safety gear.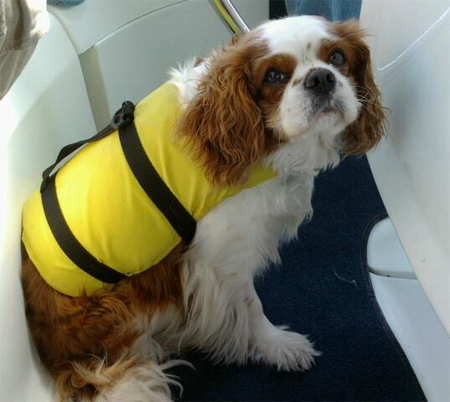 "Captain Fast" aka ALU Dad was at the helm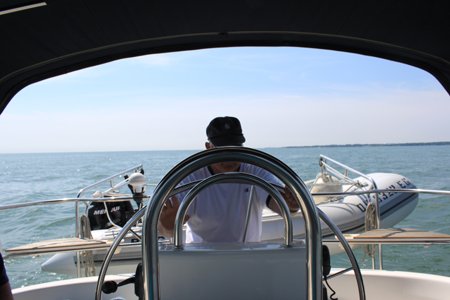 Land ho! Downtown Put In Bay! The US Brig Niagara from the War of 1812 Battle of Lake Erie is in port and to the right you see The Boardwalk famous for their shrimp bisque and stunning views.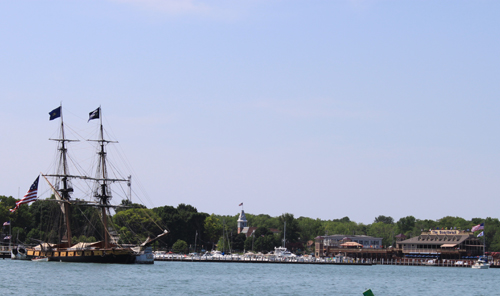 Soon after we docked, ALU Mom and I walked over to the Isola Day Spa which is part of the Great Islander Hotel just behind the Beer Barrel. It's a really convenient location for anyone staying downtown or at a dock. I called the day before to book our pedicure appointments but the spa accepts walk ins and the majority of their business comes from that.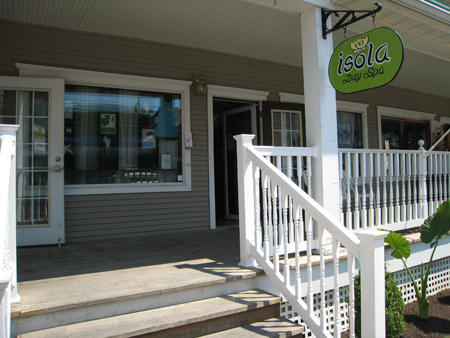 As soon as you walk in, you're transported from the craziness outside. The music, the drunk party crowd, the golf carts, the boat horns, it all fades away once you step into the tranquil reception area and grab a glass of iced tea or lemon water.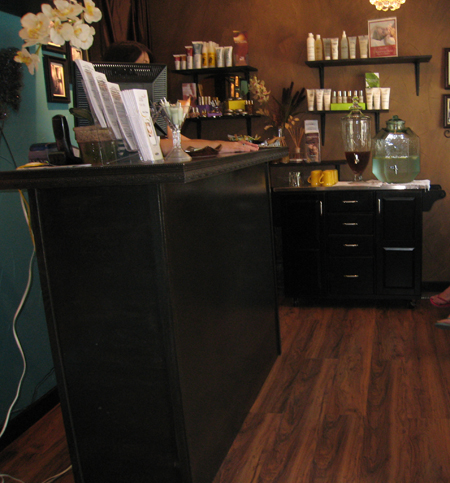 The treatment rooms have a very soothing vibe that includes soft music and two massage pedicure chairs so you can have your treatment done with a friend. Mom and I settled in for a little pampering and we were both really pleased with the level of service. Even though we are both ticklish, the exfoliating scrub and massage with hot towel wrap left our feet baby soft.
Isola carries a decent range of OPI polish including the spring Hong Kong collection. I noticed a few bottles of the old CND range and a China Glaze or two but they are mainly an OPI salon. Even the base and top coats were OPI. Not my first choice but I'm not complaining.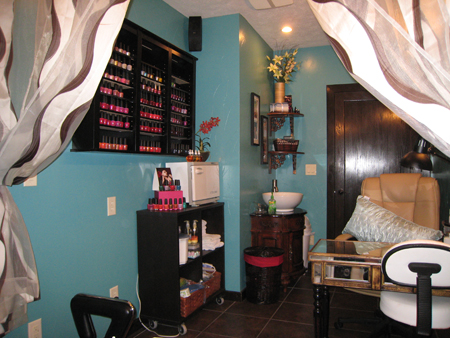 Of course not knowing what my color choices would be, I brought my own polish; Zoya Mimi from the Sparkle collection. I've been on such a purple kick with my toes and I don't see myself getting over it any time soon.
Now this was my only complaint about my pedicure. The polish application was sub-par. She left some polish on my skin and removed the toe separators too soon so I ended up with some color rubbing off on my skin. Fortunately I had some remover and the polish back at the boat to fix her mistake but for me, that was a fail. Just because you apply speed spray a minute after applying top coat does NOT make it OK to remove the toe separators and send your client out into the world. Don't be in such a rush Isola.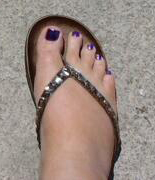 The rest of the weekend has been a blur of bar and restaurant stops as evidenced by my numerous FourSquare checkins on Twitter. Bar hopping is all part of the fun on Put In Bay and we've definitely done our share.  Fish bowls of fruity goodness at The Fish Bowl, pints at the Irish pub Hooligans, electric lemonades at The Gazebo, big Corona's at Joe's Bar, Beer Barrel pizza, lobster bisque.  It's a very decadent and intoxicating time.
Oh and there was the family outing to the War of 18 Holes miniature golf course where we got schooled by the boyfriend. I'm telling you, this course is like the mini-masters of putt-putt.  It's HARD.  Despite my mom's two holes in one she tanked the last two holes to end up in third place just ahead of me. I think I play better with a pre-golf trip to Heineman's Winery across the street. Or maybe it's that everyone else plays worse on wine which gives me an actual chance at winning.
I had to make a stop to the sunglass shop to replace my severely scratched shades and when I tried on the pair below I asked the boyfriend if they were "ridiculous or fantastic?"  He said, "YES!" which meant they were made to be mine.  As much as I love shopping for and trying on designer sunnies, I just can't justify dropping coin on them.  I'm too rough on my specs and I eventually lose or destroy them somehow.  So I make an annual pilgrimage to the outdoor stand on PIB to procure a new pair.  What do you think? Ridiculous or fantastic?  Or both?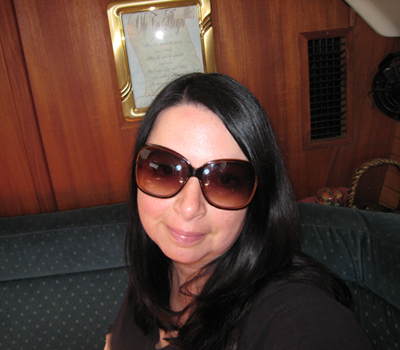 I did make another new discovery on this trip, the Put In Bay Winery. I'm told it opened last year but somehow I never made it there on any of my visits to the island. Located near downtown, the PIB Winery is an estate winery that has three wines of their own making and a slew of others from wineries around the region including Pelee Island Winery in Canada.  The grounds are just lovely with tables littered around the front and back lawns and a gazebo to keep you out of the sun.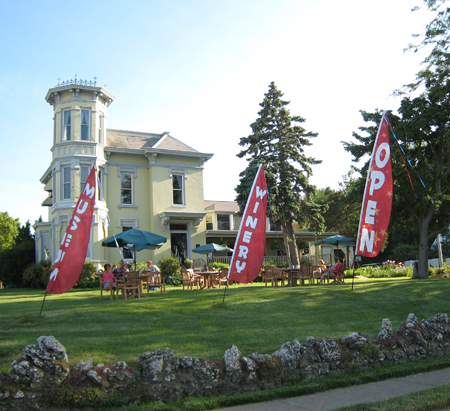 The back lawn even has a cornhole set.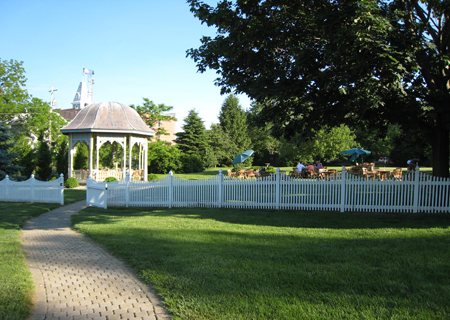 The weather has been so beautiful I seriously don't want to leave. We haven't had a Memorial Day Weekend this gorgeous in a while. I hope you are all enjoying a wonderful weekend and those of you in the US, Happy Memorial Day. Tomorrow we sail back to reality and the day-to-day grind but until then, I'll be living the island life.
How did you celebrate Memorial Day? Did you do a patriotic mani/pedi? If you have a service person in your life, remember to thank them for all they do for us.