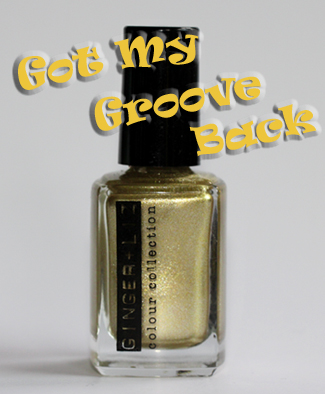 Foil metallic lovers, I've got another bottle of hotness for you.  Ginger + Liz have been hinting via Twitter about "sisters' for their hit shade Swagger and got my first peek at them on my recent trip to NYC.

One of the things I find interesting about the G+L line is that all their polish names have a back story and both of Swagger's sisters are named after special people in G+L's lives.  Got My Groove Back is triplet number two in what I'm calling G+L's metallic foil series and it's a beautiful champagne gold.

Triplet number three, Tuck Me In, is a sparkling silver but apparently she's the cranky sibling since she isn't ready for her debut.  I saw the actual color in NYC and it's stunning but the formula is currently being tweaked.

Check out my full review and swatches of Got My Groove Back after the jump!

Got My Groove Back is a soft beige gold.  We're not talking hard-to-wear yellow gold here.  It definitely has that champagne vibe though it's richer than say OPI I Only Drink Champagne.  It's actually one of the most flattering golds I've ever worn.  I can't stop staring at my nails!  My gold obsessed mom is going to have to throw down with me if she wants my bottle.
The formula on this one is top notch as it applies flawlessly in two thin coats.  I seriously could not have asked for a better application.  The flat brush glides the polish on the nail leaving behind slight brush strokes but not the kind that are associated with traditional metallics.  That's what I like about the foils.  They make polishing a breeze.  And maybe it's just me but foils seem to dry faster.  I don't worry about my natural clumsiness as much.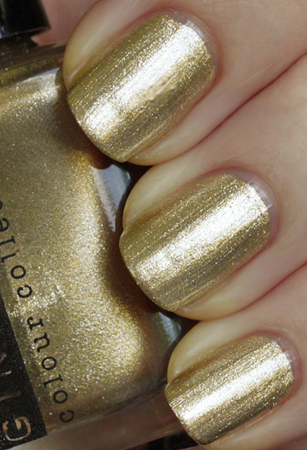 Sunlight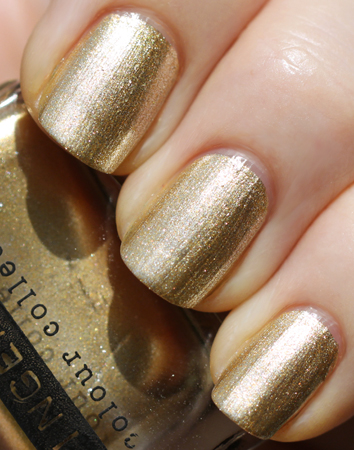 In my hunt for dupes I found a pretty close match in butter LONDON The Full Monty.  The bL shade is a hint warmer in tone but the finish is identical.  Orly Luxe on the other hand has a shinier, more mirror-like look but the colors are pretty similar.  It may be a tad darker.  The camera really can't capture the glory of foils so the differences are hard to pick up on screen.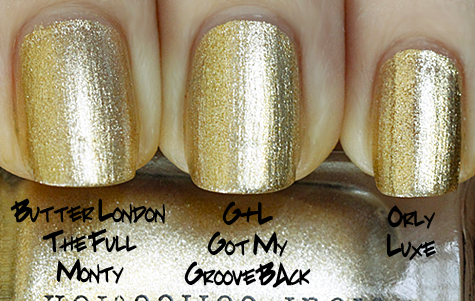 Bottom Line: If you love foils, you'll love this color. If you've had problems finding a gold that isn't too pale or too yellow, this shade is for you. If you own Orly Luxe or butter LONDON The Full Monty you can take a pass unless you're gaga for foils and starting a collection.
Ginger + Liz Got My Groove back is available for Pre-Order now with a ship date of June 7th. Ginger+Liz polishes retail for $12/ea on GingerandLiz.com.
Also, Ginger + Liz would like to offer an exclusive discount just for ALU Fanatics.  Pre-order Got My Groove Back for only $10/ea using the code ALUGROOVE at checkout (limit two per customer). That's a $2/bottle savings. Code vailid through June 16th.
So my little foil lovers… what do you think of Got My Groove Back?  Anyone plotting an order?
Disclosure: A sample of Got My Groove Back was furnished by Ginger + Liz. For more info view my Disclosure Policy.