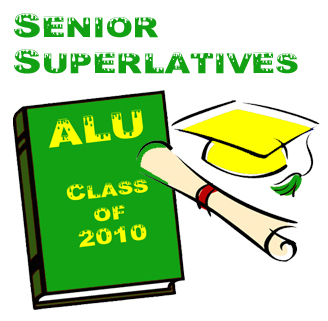 As a high school student, I was super involved (read nerd).  I joined a ton of clubs, was in the band and

played

attempted to play sports.  Of all the activities I was involved in, I had the most fun being a part of the Yearbook Staff.  My senior year, I was co-editor in chief with one of my friends and we had a blast.

Each June as the school year draws to a close I can't help but wax nostalgic a bit, especially since one of my friends is a Senior Class Advisor who plans prom and all sorts of fun year-end activities.  It makes me want to get out my yearbooks and reflect on the good times we had all those years ago (man I'm old!).

This year instead of looking back I thought it would be fun if we brought one of the classic rituals of high school to the polish world with a Senior Superlatives poll.  Vote for your favorite brands in a bunch of unique categories and help celebrate the Nail Polish Class of 2010.

Of course what fun would this be without a giveaway.  So check out the categories, vote in the ALU Senior Superlatives Class of 2010 poll and see what one lucky voter will WIN after the jump!
Categories
All the categories are based on the typical Senior Superlatives with a nail polish twist.  Vote for your favorite brand in the following categories…
Most Popular – Vote for your favorite nail polish brand
Most Likely To Succeed – Give props to a smaller brand you believe will be the next Essie or OPI
Best Personality – Award the brand that does the best job of interacting with consumers via Twitter, Facebook or Blog Posts.
Most Artistic – Shout out to the art department!  This one goes to the most creative color range.
Most Athletic – Which brand beats the rest in terms of wear, application, dry time etc?  Vote for the all around champ in regards to formula.
Best Smile – One of the first things you notice on a human face is the same thing you notice on a nail polish bottle, the logo.
Best Dressed – Which bottle shape is so gorgeous it's worthy of being put on display?
Prettiest Hair – Whether it's flat, round, long or short, which brand makes your favorite nail polish brush?
Nicest Eyes – Vote for your favorite nail polish cap design.
Class Clown – Who doesn't love a good laugh?  Polish is supposed to be fun, right?  Tell us the brand with the funniest color names.
Biggest Flirt – Do some polish names make you blush or feel a bit frisky?  Vote for the brand that comes up with the cheekiest names.
Giveaway
One lucky voter will be drawn at random to win a prize package that includes the OPI Hong Kong collection and the Zoya Flash AND Sparkle collections. That's 24 brand new bottles of fun to play with.
EDITED TO ADD – Seche generously added to the pot by offering up their Perfect Nail System (Retain, Rebuild, Recondition) and the famous Seche Vite, Restore and Ridge Filling Base Coat (an ALU fave!).
Rules
One entry per person. Multiple entries will be disqualified. Entries without actual answers in the survey will be disqualified. Open to everyone. Survey closes on June 14th at 11:45PM EST.