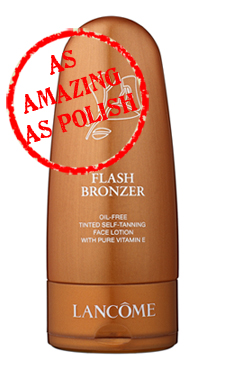 It's time for another installment of As Amazing As Polish, my opportunity to gush about the products that I feel truly are as AH-MAZING as nail polish.
Long time readers, I'm sure you have noticed how sporadic these posts are.  It's not out of laziness or forgetfulness, it's just that as beauty junkie who is constantly testing new products it takes a rare flower to get a rave from me. Lancôme Flash Bronzer Oil-Free Tinted Self Tanning Face Lotion (what a mouthful!) definitely deserves that kind of praise.
You may or may not remember that I'm a reformed indoor tanner.  After having a couple suspicious moles removed a few years back I gave up the habit but have been seriously missing the golden brown color ever since.  I can't help it, I like how I look with a tan.  I think a lot of people that aren't blessed with flawless, porcelain skin would agree.
Since I gave up the fake & bake I've been on the hunt for a self-tanner I can fall in love with and it's been one massive fail. I've tried gradual self-tanners but hated smelling like ass every night to look barely sun-kissed.  I've used traditional self-tanners only to end up with streaks or Oompa Loompa feet. Embarrassing!  I've tried spray booths, lotions, creams, mists, tanning mitts, etc. and like Goldilocks I never found the right fit until now.
Click here to view more pictures and read the rest of this story.