Grammy Awards

If there is one night each year I expect celebs to bring it with fun nail color and art, it's the Grammys. Last night, however, was a bit of a snoozefest.
Don't get me wrong, there were some gorgeous looks and a sprinkling of nail art but where were the hashtag-worthy styles? There was no Lady Gaga in an egg, no side boob controversy. Outside of Pharrell's "Dudley Do Right" hat situation and one head-scratching manicure from Lorde, the Grammy red carpet could have belonged to any other award show.
Continue Reading »
Now that I'm home from New York Fashion Week, I finally had a chance to catch up on the Grammys and check out the fashions and nails.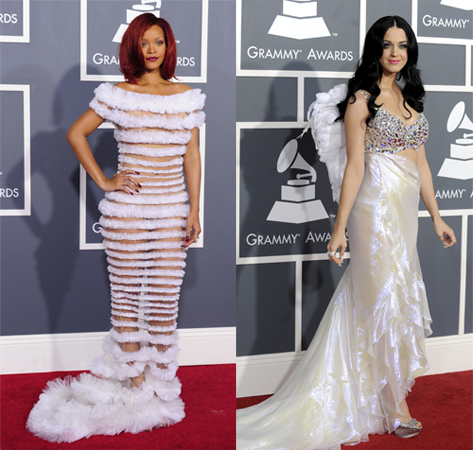 Being a huge Joan Rivers fan, I actually watched E!'s Fashion Police before the actual show.  Joan cracks me up and I love how Kelly Osborne & Giuliana Rancic lose it almost every time she opens her mouth.  The actually Grammy show was kind of meh but I did love Cee Lo Green & Gwyneth Paltrow singing "F*ck You" and seeing Eminem perform.  I have an out of character crush on Eminem and ended up watching his performance twice.
We're in the height of award season and of all the shows, The Grammys, tends to be the most noteworthy nail-wise.  We already learned about Lady Gaga's bright yellow nails from Deborah Lippmann and now Celebrity Manicurist Kimmie Kyees shares her work on Grammy night with clients Katy Perry and Rihanna.
Continue Reading »
So I'd be lying if I said I wasn't sad that

Rihanna

was a no show at last night's

Grammy Awards

. I know there's a whole scandal a-brewing and I certainly hope she's OK but the red carpet just wasn't the same without her. Let's all hope it's one big misunderstanding.

Being that I look to the Grammy's as the one awards show where standout nails are acceptable, I must say that overall I was a wee disappointed though not where Adele is concerned.

I was so happy to see her perform and WIN though I was just as delighted to see her go for it with her nails. Am I big fan of the talon look? No! But she didn't go too long (Fantasia, I'm talking to you) and she kept the design simple; a reverse french with black tips.

See who else stood out (both good and bad) after the jump!
I've been hearing mixed reviews on Katy Perry's look but I just adore her. Her opaque, baby pink tips , ornate dress and heavily lined eyes are working for me. She could take the spray tan down a notch.

Get The Look: OPI Mod About You
Cyndi Lauper and Karina Pasian (pictured below) both went the stark white route. Honestly, it's the only part of Cyndi's ensemble I can sign off on. Mod white tips are very fresh for spring.
Get the look: Sally Hansen Insta-Dri Whirlwind White
Is it just me or does Audrina Patridge look NOTHING like she does on The Hills? I almost didn't recognize her. I actually love her makeup, dress and nails (so so on the hair). She accented her teal gown with a deep taupe nail.

Get the look: OPI You Don't Know Jacques
I thought for sure M.I.A. would go into labor during the ceremony. Her due date was yesterday but she strutted her preggers self down the red carpet awash in all sorts of brightness.

Get The Look: Misa Happy Happy
Leona Lewis was a bronzed goddess and her coral red tips added just the right punch of color.

Get the look: Essie California Coral
I'm totally coveting LeAnn Rimes' dress. It's not something I would normally dig but I'm transfixed by it. I love that she coordinated her tips & toes in a complementary blue hue.

Get the look: China Glaze Blue Paradise
I'm not gonna lie and say I know who Kelly Renee is. I have no clue. But her turquoise and gold nails certainly made me take notice. I'll admit that I've rocked the one odd nail out look before but this just didn't work for me. Props for trying but it made no sense with her outfit.

Don't get the look: Try a black/gold, black/nude combo instead.
Did you watch last night? Whose nails stood out to you?